Inside Origin Beer Project, an Alt-Prop Brewery at Buttonwoods
Cheyne and Erika Tessier launched their alternating proprietorship brewery, Origins Beer Project, at Buttonwoods Brewery.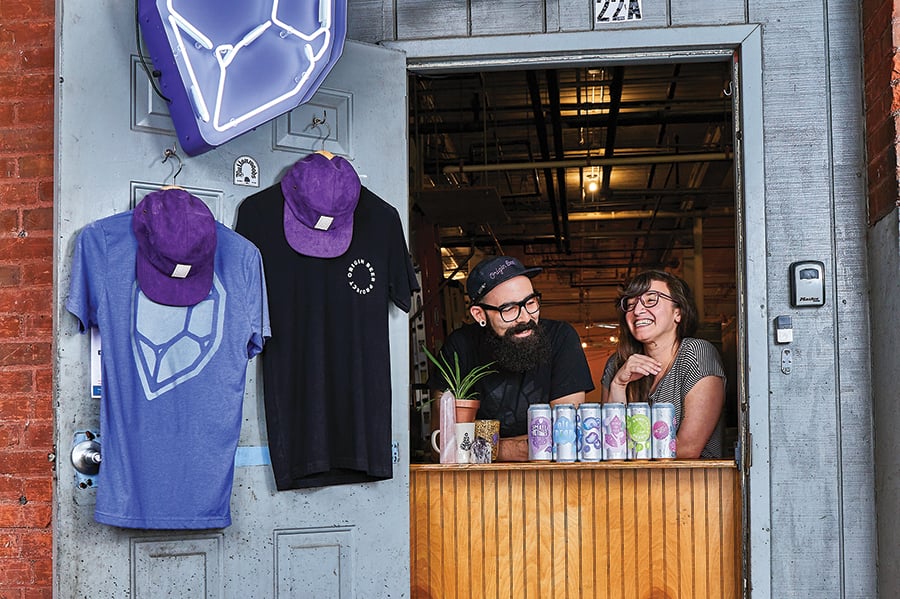 Cheyne and Erika Tessier launched one of Rhode Island's only two alternating proprietorship (alt-prop, or tenant or partner brewing) breweries in rented space at Buttonwoods Brewery.
How did you come to launch the Origin Beer Project out of Buttonwoods?
Cheyne Tessier: Erika, my wife, and I co-own Origin. I had come from Proclamation Ale, and Morgan was looking for somebody at Buttonwoods, so I left that position, and came on three years ago. Meeting Morgan goes back further at Beervana. We walked around before the fest opened. We didn't know who he was at the time, but we were like why don't we hang out at this festival and get to know each other over beer.
Morgan Clark Snyder Jr.: I got a ticket the morning of. I didn't even know what Beervana was.
Cheyne: His vibe was what I was into as a home brewer: saisons and farmhouse styles. I already had a seed of an idea for a brewery, so Morgan and his father both knew I was working toward something. Two and a half years into working here is when we started looking more seriously. Erika and I had looked at a lot of spots but they fell apart because of the pandemic. We had talked about an alt-prop sort of thing, which is what Origin is. As far as our model goes, it allowed us to open with little to no capital; we used everything we had in our bank account with a little assistance from Morgan Sr. for a small loan for a fermenter. We decided to start now and operate out of here. It allows us to split some costs, start with low overhead and low investment, and build the brand.
How do you and Erika work together?
Cheyne: Erika and I are fifty-fifty. She has a lot of front-of-house experience, including working for distributors, being a salesperson, working in bars and liquor stores, and I am mostly back of house when it comes to the three breweries I've worked for, Cape Cod being first, then Proc and now Buttonwoods. We're working on getting our brand solid in a time when it is difficult to make connections. But being located in Buttonwoods totally brings in more people because it's two breweries in one.
I know you and Morgan both like the same kind of beers, so how do you set your brands apart?
Cheyne: I feel like it's pretty easy right now.
Morgan: I am much more stylistically rigid with Buttonwoods. When we do our lagers they are to a T, perfectly executed for European styles. Our hop-forward stuff is strictly hops for the most part, with the occasional fruit additions, whereas Cheyne tends to reach into the herbs and fruits and other unique additions. He aims more toward the creative, culinary-focused and food-centric side whereas I look at it as more of an overall beer production.
Cheyne: We have also found a niche in lower ABV (alcohol by volume) beers — anywhere from 2 to 3.5 percent. Lower than normal session-strength beers are popular in the marketplace right now.
What beers are you planning for the fall for Origin Beer Project?
Cheyne: There is a low-ABV 3 percent grisette called Dystopian Fields that's made with pineapple sage, spruce tips, and rosehips. It was named as the next installment to Dystopian Past and Dystopian Present. Late Night Victories is a black lager fermented with oak.
Where does the name for your brewery come from?
Cheyne: Part of it is having a story to tie you to the beer. Telling the story of what the beer is and why it is, overly romanticizing it. It's more about the project behind the beer and the community aspect of it. Relationships are formed around food and beverage, which is an ever-evolving, fluid thing.
530 Wellington Ave., Cranston, 307-3236, originbeerproject.com
---
Read more:
What's Brewing: Craft Breweries in Rhode Island.
The ultimate guide to beer and breweries in the Ocean State.
Hi Neighbor!: Q-and-A with Narragansett Beer's Lee Lord and Tony Barber
The head brewer and director of operations spill on the brewery's new Providence digs and their backgrounds in beer.
Two Former Stay-at-Home Moms Teamed Up for Apponaug Brewery, a Riverfront Brewpub for All
The Warwick brewery has a tasting room and plenty of outdoor seating.
Lagers, With a Side of Laughs, at Buttonwoods Brewery
Insta-comic and brewer Morgan Clark Snyder Jr. serves up tasty European-style lagers at his Cranston brewery.
Inside Origin Beer Project, an Alt-Prop Brewery at Buttonwoods
Cheyne and Erika Tessier launched their alternating proprietorship brewery, Origins Beer Project, at Buttonwoods Brewery.
33 Years of Rhode Island Beer
A selective timeline of Rhode Island craft brewing.
More Than Just a Label: The Fine Art of RI Beer Can Design
How some notable Rhode Island beers got their names and who's behind the designs.