33 Years of Rhode Island Beer
A selective timeline of Rhode Island craft brewing.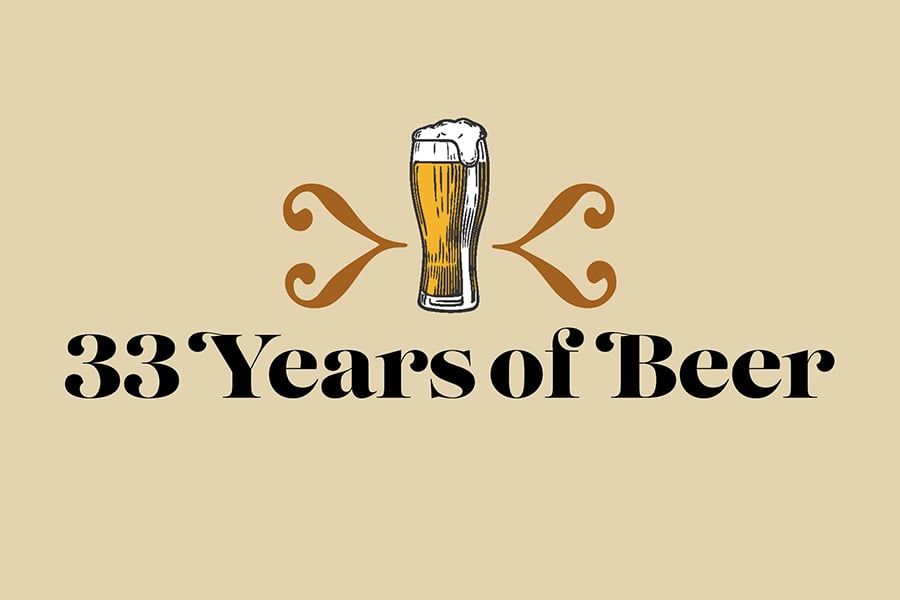 1988
Hope Brewery, Rhode Island's first craft company, headquartered on Elmwood Avenue in Providence (though the beer is contract-brewed in Wilkes-Barre, Pennsylvania), starts its four-year run.
1993
Union Station Brewery, the state's first brewpub (part of the John Harvard's chain), opens in Providence.
1994
Trinity Brewhouse, the state's first locally owned brewpub, opens in Providence.
1999
Coastal Extreme Brewing Company — branded as Newport Storm — sets up shop in a converted garage (in Middletown). It's now known
as Newport Craft Brewing and Distilling.
2005
Mark Hellendrung buys the rights to Narragansett Beer and relaunches the "Hi-Neighbor!" label.
2009
The first Beervana Fest is held at the Roger Williams Park Botanical Center.
2011
Grey Sail Brewing of RI (Westerly) and Revival Brewing Co. (Providence) debut six days apart in November.
2012
Foolproof Brewing Company (Pawtucket) and Ravenous Brewing Company (then-Woonsocket, now Cumberland) set up shop.
2014
Openings: Tilted Barn Brewery, the state's first farm brewery, in Exeter; Proclamation Ale Company in West Kingston (it moved to Warwick in 2017) and Whalers Brewing Company in Wakefield; and Crooked Current Brewery in Pawtucket, helmed by Nichole Pelletier, the state's first female brewmaster.
2016
Breweries get a big economic boost when beer laws are updated to increase the limit on off-premise beer purchases and taproom sales. Also, Long Live Beerworks becomes the first traditional brewery (non-brewpub) in Providence since the James Hanley Brewing Co. closed in 1957.
2017
The Guild, a "craft cooperative"/contract brewer, opens in Pawtucket with a local 'Gansett outpost; Ragged Island Brewing Company opens in Portsmouth; Buttonwoods Brewery opens in Cranston; and Shaidzon Beer Company, "where Proclamation used to be," opens in West Kingston.
2018
A banner year — six new breweries debut: Providence Brewing Company (now in Providence at Farm Fresh Rhode Island's new food hub), Taproot Brewing Company (a farm brewery, Middletown), Beer On Earth (North Kingstown, now in PVD), Apponaug Brewing Company (Warwick), Smug Brewing Company (Pawtucket), and LineSider Brewing (East Greenwich).
2019
Bravo Brewing Company (Pascoag), Lops Brewing (Woonsocket), and Twelve Guns Brewing (Bristol) join the frothy fun.
2020
Positive news amidst the pandemic: Moniker Brewery (Providence), Rejects Beer Co. (Middletown) and Six Pack Brewing (Bristol) open.
2021
'Gansett plants its own flag with a brewery/taproom/beer garden by Providence's India Point Park; West Passage Brewing Company (North Kingstown) and Pivotal Brewing Company (coming soon to Bristol) are the newest additions.
---
Read more:
What's Brewing: Craft Breweries in Rhode Island.
The ultimate guide to beer and breweries in the Ocean State.
Hi Neighbor!: Q-and-A with Narragansett Beer's Lee Lord and Tony Barber
The head brewer and director of operations spill on the brewery's new Providence digs and their backgrounds in beer.
Two Former Stay-at-Home Moms Teamed Up for Apponaug Brewery, a Riverfront Brewpub for All
The Warwick brewery has a tasting room and plenty of outdoor seating.
Lagers, With a Side of Laughs, at Buttonwoods Brewery
Insta-comic and brewer Morgan Clark Snyder Jr. serves up tasty European-style lagers at his Cranston brewery.
Inside Origin Beer Project, an Alt-Prop Brewery at Buttonwoods
Cheyne and Erika Tessier launched their alternating proprietorship brewery, Origins Beer Project, at Buttonwoods Brewery.
More Than Just a Label: The Fine Art of RI Beer Can Design
How some notable Rhode Island beers got their names and who's behind the designs.