Two Former Stay-at-Home Moms Teamed Up for Apponaug Brewery, a Riverfront Brewpub for All
The Warwick brewery has a tasting room and plenty of outdoor seating.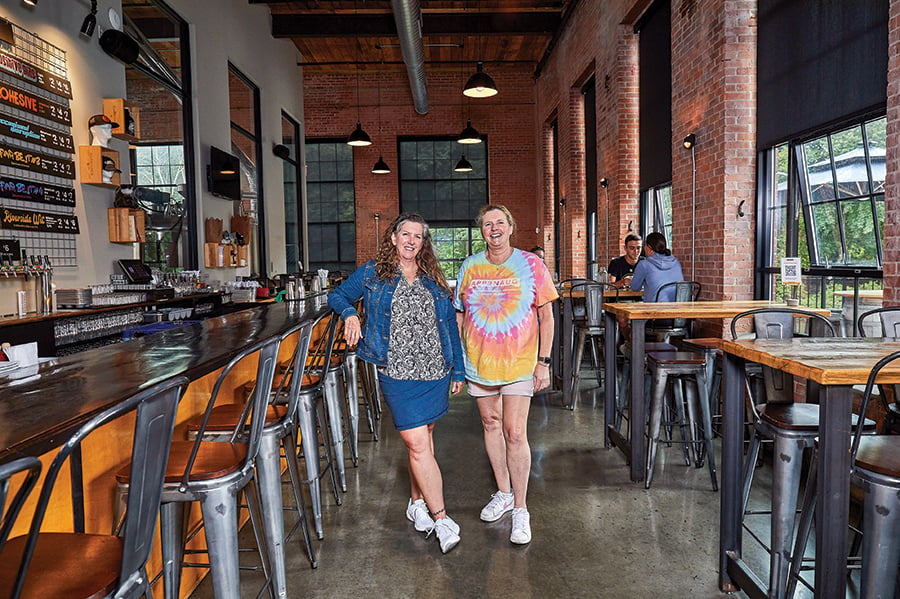 Two women launched a riverfront Warwick brewpub with a tasting room and plenty of outdoor seating.
Tamara McKenney and Kris Waugh are former stay-at-home moms and friends who were gearing up to be empty nesters. They wanted to spend the rest of their working lives doing something fun they both enjoyed. "At my age, I wanted to want to go to work," says McKenney. "If not, it wasn't worth doing. I've had many jobs in my life that were not fun."
Previously, they ran a recruiting company together and they knew they were good teammates. They mulled over starting a food truck, but landed on opening a brewery. "I love going to breweries with my husband. I love the brewery culture. Trying new beers, going places. I love everything about it," McKenney says.
With the Pawtuxet River running right outside the Pontiac Mills in Warwick, the brick building is a hidden gem. They began construction and opened Apponaug Brewery there in 2018. "There were no windows, no floor, no ceiling. This whole area was all Japanese knotweed. We couldn't even see the water," McKenney says, gesturing at the expansive riverfront patio. "We did the buildout on a budget, and we were our own general contractors."
Apponaug Brewery boasts two outdoor patios as well as a ten-barrel brewhouse with a taproom serving six or seven different beers on tap. Sometimes they pour additional beers from other Rhode Island breweries including Shaidzon, Ragged Island, Newport Craft, Proclamation, Grey Sail and Buttonwoods.
They hired head brewer Mike Webster to handle the making of the beers as well as chef Tom Ouellette to offer a full brewpub food menu. Waugh bakes the brewery's desserts, which can include playful takes on housemade Dunkaroos, Ring Dings and ice cream sandwiches to pair with the beers.
The Apponaug beer menu casts a wide net. "We want a dark beer, a light beer, something hoppy and something unique or different," McKenney says, adding that the kolsch is a popular choice right now.
As women, they say they are not typical brewery owners, but they never experienced sexism while opening the brewery in Rhode Island. However, they are sometimes subject to bemusement from customers.
"We don't fit any of the profiles," Waugh says with a laugh.
"We are not young, we are not male, we are not hip, we are not any of those things," adds McKenney. "Even when I was young, I was never hip. We tried to create a successful place that is truly open to everybody. Our demographic is everyone."
334 Knight St., Warwick, 681-4321, apponaugbrewing.com
---
Read more:
What's Brewing: Craft Breweries in Rhode Island.
The ultimate guide to beer and breweries in the Ocean State.
Hi Neighbor!: Q-and-A with Narragansett Beer's Lee Lord and Tony Barber
The head brewer and director of operations spill on the brewery's new Providence digs and their backgrounds in beer.
Lagers, With a Side of Laughs, at Buttonwoods Brewery
Insta-comic and brewer Morgan Clark Snyder Jr. serves up tasty European-style lagers at his Cranston brewery.
Inside Origin Beer Project, an Alt-Prop Brewery at Buttonwoods
Cheyne and Erika Tessier launched their alternating proprietorship brewery, Origins Beer Project, at Buttonwoods Brewery.
33 Years of Rhode Island Beer
A selective timeline of Rhode Island craft brewing.
More Than Just a Label: The Fine Art of RI Beer Can Design
How some notable Rhode Island beers got their names and who's behind the designs.