Hi Neighbor!: Q-and-A with Narragansett Beer's Lee Lord and Tony Barber
The head brewer and director of operations spill on the brewery's new Providence digs and their backgrounds in beer.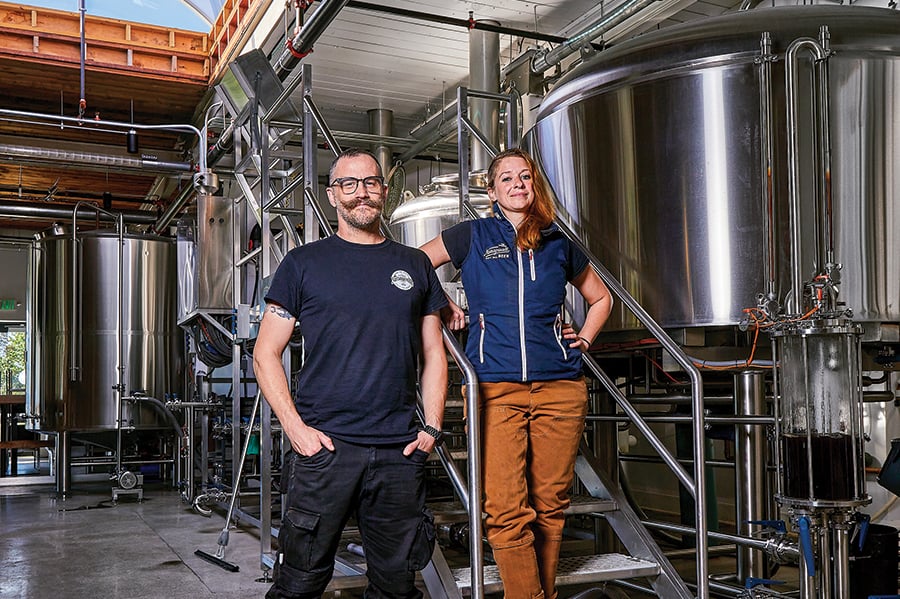 Providence locals (and visitors) can now say "Hi Neighbor" at the new Narragansett Brewery.
We sat down with Narragansett Beer head brewer Lee Lord and director of operations Tony Barber to learn more about what's been brewing in their new digs across from India Point Park.
This place is the new hotspot. People love hanging by the water.
Lee: It's amazing. Mark [Hellendrung]'s vision is really incredible. We have one of the best views in the city. It's been interesting building out slowly as we finish construction.
Construction started, then the pandemic hit, but it's finally here. How long have you worked for 'Gansett?
Lee: I was hired a year ago, but I've been in Providence for a few years now.
Tell me about your background at different breweries.
Lee: I started ten years ago at a little brewery called Watch City Brewery in Waltham, Massachusetts. It was a fourteen-barrel brewpub. From there, I went to Smuttynose in New Hampshire, and after that I was at Cambridge Brewing Company.
Tony, which breweries have you worked at?
Tony: I started at Foolproof in 2013 and worked at Union Station in 2016 to 2017, and for the last few years, I ran Ragged Island. Matt and Katie were awesome to work for. I had no intent on leaving but when 'Gansett knocks on your door, you answer the call.
Lee, did you learn to brew on your own?
Lee: I started from the ground up. From mopping the floors to cleaning the tanks, I gained experience. Through the Pink Boots Society, I was able to get a scholarship to UC Davis [University of California, Davis] for their brew program.
Did that help you perfect your technique?
Lee: Yes, absolutely, and it opened more doors. It was a brewing sciences intensive course. I learned brewing theory, the science behind the brews, and about the raw ingredients: the barley, the hops and everything like that.
You've created great beers for Narragansett. I know there's a Pink Boots Society beer.
Lee: That was one of our first brews. We donated some proceeds to the Pink Boots Society, and that goes straight into scholarships for women in the beverage industry.
It's an important time for women in beer. I've seen social media calling out sexism and harassment in the industry through Brienne Allan (@RatMagnet on Instagram), former production manager at Notch Brewing in Salem, Massachusetts, and now founder of Brave Noise Beer. You are really influential, in terms of women in brewing. Why do you think it's important to speak up?
Lee: Visibility is everything. The more we're represented in beer, the more chances we're going to have. It's becoming less of a novelty and more mainstream. It would be great to get to the point where gender is a non-issue. Just be the best brewer you can be.
Yes, you should have a voice without that being the statement. What are your favorite types of beers to brew?
Lee: Here in this facility on this new system with our brand-new lagering tanks, I would have to say the old-world lagers. They are so much fun. We try to keep close to classic styles.
Tony, what does your role entail and how do you make this place come alive?
Tony: I do some of the detail work. I'm responsible for setting up the schedule, working with Lee to make sure we are on the same page and ready to get the brews going. I track everything that goes on in the tanks, so fermentation time, adding the dry hops or anything else we add to it.
Do you work closely together?
Lee: When this place first opened up, it was just Tony and me doing everything. He's also our sour beer master.
I really like the sours. What do you have coming up for fall?
Lee: We have our pumpkin beers coming out. We're working on a Winter Warmer Belgian ale. We have a raspberry and passionfruit sour and a couple new fun IPAs, a yuzu IPA in conjunction with our running club.
This is the 'Gansett vision come to life, where you have your 'Gansett stamp on it.
Lee: It's cool, too, as brewers working under the 'Gansett name, but still having so much creative freedom. Mark's like "What do you love to brew? Go for it!"
271 Tockwotton St., Providence, narragansettbeer.com
---
Read more:
What's Brewing: Craft Breweries in Rhode Island.
The ultimate guide to beer and breweries in the Ocean State.
Two Former Stay-at-Home Moms Teamed Up for Apponaug Brewery, a Riverfront Brewpub for All
The Warwick brewery has a tasting room and plenty of outdoor seating.
Lagers, With a Side of Laughs, at Buttonwoods Brewery
Insta-comic and brewer Morgan Clark Snyder Jr. serves up tasty European-style lagers at his Cranston brewery.
Inside Origin Beer Project, an Alt-Prop Brewery at Buttonwoods
Cheyne and Erika Tessier launched their alternating proprietorship brewery, Origins Beer Project, at Buttonwoods Brewery.
33 Years of Rhode Island Beer
A selective timeline of Rhode Island craft brewing.
More Than Just a Label: The Fine Art of RI Beer Can Design
How some notable Rhode Island beers got their names and who's behind the designs.