Lagers, With a Side of Laughs, at Buttonwoods Brewery
Insta-comic and brewer Morgan Clark Snyder Jr. serves up tasty European-style lagers at his Cranston brewery.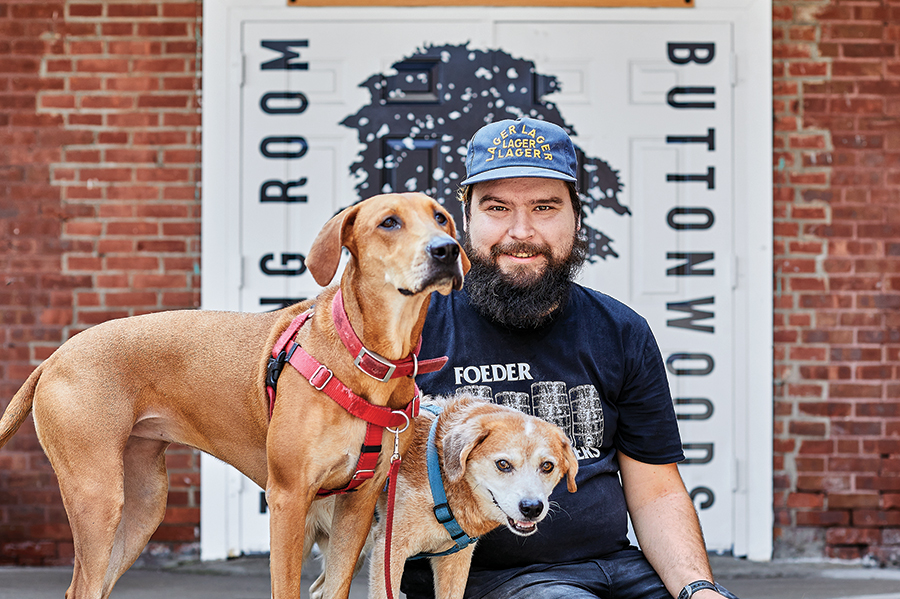 The Cranston brewery specializes in European-style lagers and uses local farm ingredients in farmhouse-style ales and saisons, served with a side of comedy.
Brewer Morgan Clark Snyder Jr. sits at a vintage booth inside the Annex retro-styled tasting room of Buttonwoods Brewery wearing a hat that says "Lager, Lager, Lager, Lager" and a shirt that declares 2021 Summer of Lager. He clearly loves lager. He doesn't have to tell you. He's the poster child for it.
The Buttonwoods Brewery owner and part-time Instagram TV comedian with a penchant for phony accents, karaoke-singing sock puppets and playfully shotgunning two beers at once (with messy side effects), Snyder was once the guy repairing draft lines for a beer distributor before he was finally hired by a brewery to formulate the brews that flow out of them. Now he owns his own brewery with his dad, Morgan Snyder Sr.
Whenever Snyder releases a new beer, he uses Instagram IGTV to promote it via videos in his "Barrel Corner" series. These always-amusing clips tell the stories behind the beers through candid conversation, entertaining editing effects and costumed characters, such as a beanie-, "Pizza and Pounders" windbreaker- and yellow short-shorts-wearing German intern named Lieben. Snyder's talented brother, Max Snyder, who also works in the tap room, films and edits the vignettes.
"Barrel Corner" was born from the idea behind Franklin Roosevelt's fireside chats. "I used to always sit behind the bar and whenever anyone would come in, they would ask questions and I would be able to get in depth with them," Snyder says. "It's a way to connect with people and tell them about our beers. One day I am waxing poetic about how German lagers have these beautiful floral bouquets and the next day I've got a sock puppet [Socko] on my hand."
After college, the future Buttonwoods Brewery owner knew he wanted to become involved in the alcohol industry (whether it was through interning at a vineyard or learning about mixology) and started brewing beer at home. "Before my first batch was done, I had already brewed two more batches," he says.
After Snyder found his hoppy niche, he aimed to gain experience in the professional brewing world. He started out by volunteering on the bottling line at Hardywood Park Brewery in Richmond, Virginia, then earned an internship with Union Beer Distributors in Brooklyn, New York. This gig later turned into a draft tech position for building and repairing draft lines, which led him to meeting the owners of Bronx Brewery, who eventually hired him as a brewer. Snyder learned as much as he possibly could about the beer industry, and then he approached his dad about starting Buttonwoods Brewery in Cranston. The father and son launched the brewery in December 2017.
After four years in business, Buttonwoods is known as one of the best craft breweries in the state. Snyder and head brewer Cheyne Tessier (formerly of Proclamation Ale and Cape Cod Brewing, and now co-owner of the Origin Beer Project, an alternating proprietorship brewery that rents space out of Buttonwoods) work together to create "stylistically rigid"
European-style lagers, Belgian-style saisons, farmhouse ales and hop-forward IPAs and DIPAs. They are also putting a lot of thought and effort into their Sense of Place rustic industrial ales.
"The goal was to slowly incorporate more and more funky and fruit-forward stuff," Snyder says. He's been building that program by working with Abby Phillips of Snake Hill Farm to source local fruit for the fermentation, including peaches, strawberries, raspberries, blueberries, plums and more.
"Because of that connection, we've both been able to tap into the agriculture of the local area," Snyder says. "It's pushing me to think more local-centric. The beer was driving that idea of let's create a sense of place. Let's create beers that speak to what ingredients we can gather locally."
The brewery also hosts trivia and horror movie nights with dates announced on social media. It's all in an effort to build a community over beer and good times at Buttonwoods.
In the concluding words of Snyder, "Stay Cheers."
Watch archived episodes of Barrel Corner at instagram.com/buttonwoodscraft brewing.
530 Wellington Ave., Cranston, buttonwoodsbrewery.com