Rolling With It
The Burgundian: Coffee and Waffles brings brunch pop-ups to local markets and breweries.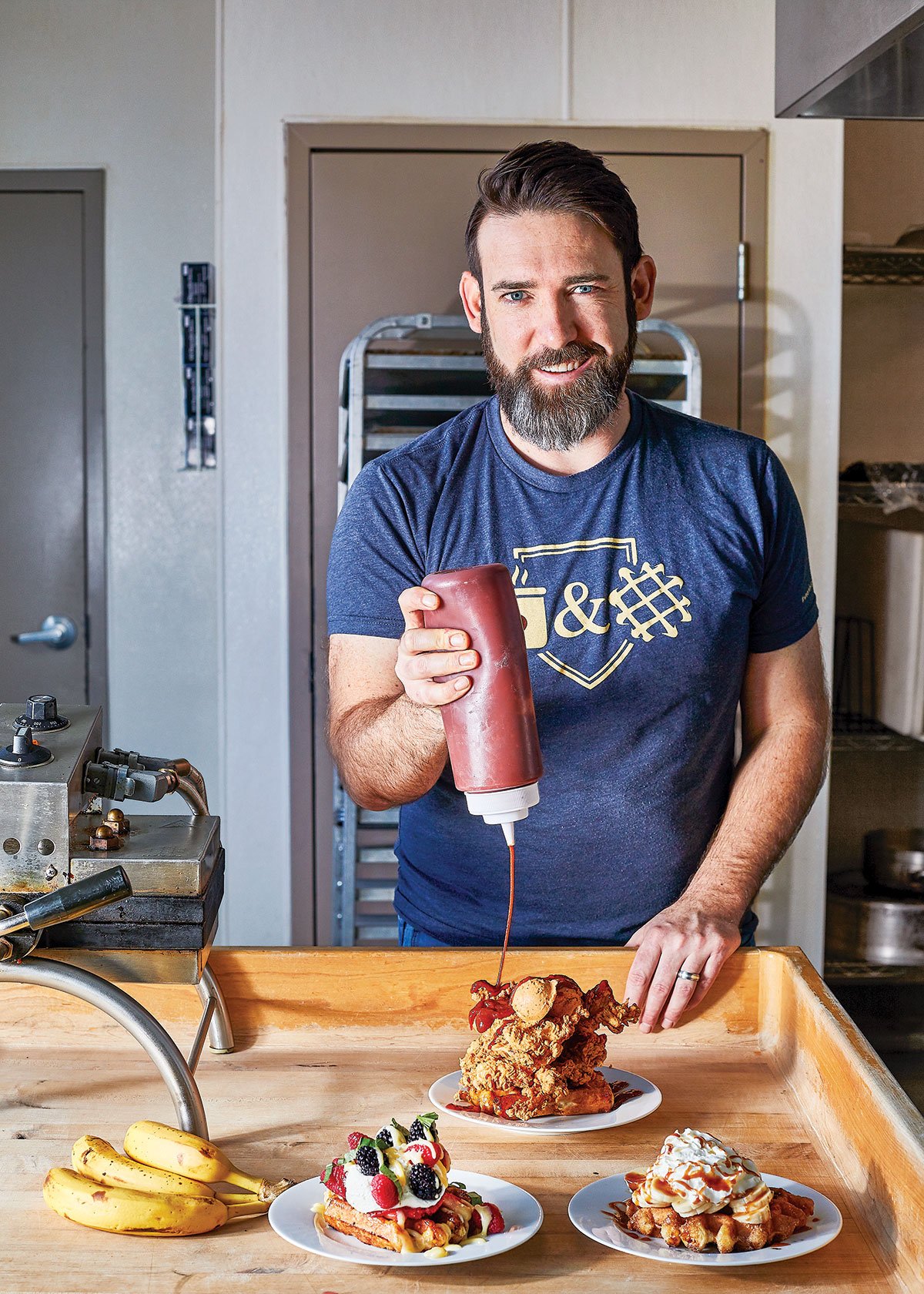 Shane Matlock isn't waffling on his decision to ship a retrofitted British double-decker bus across the pond to expand his Burgundian liege waffle business. The vehicle is scheduled to arrive by boat in April, and he hopes to get it rolling as a mobile cafe on the streets of Providence by late spring.
In the meantime, he's continuing to host pop-ups at local farmers markets and breweries, including Hope and Main's Meet Your Maker market and the Wintertime Farmers Market at Hope Artiste Village, plus monthly rotating Sunday brunches at Sons of Liberty and Whalers Brewing Company, among other events.
"At Sons of Liberty, there's a jazz band and people come in and get a delicious sweet or savory waffle breakfast, choose cocktails to go with it and hear music and hang out on a Sunday afternoon," Matlock says. "We've done pulled pork Benedict and lobster Benedict as menu items."
The Burgundian will also have an additional food truck on the road that is serving a more extensive menu, including waffle sliders and fried chicken and waffles. Matlock uses a top-of-the-line HVD liege waffle iron to make the Belgian brioche specialties. "It's a heavy-duty, eighty-seven-pound cast iron waffle iron," he says. "It's a two-person carry or you're going to cause a hernia."
Follow the Burgundian on Instagram for the schedule at instagram.com/burgundian_coffee_waffles.
Here are a few popular brunch menu items, served on a liege waffle:
Winter Denial: Mascarpone whipped cream with strawberries, raspberries and blackberries and lemon curd and basil.
Fried Chicken and Waffles: Fried chicken with chili maple butter and housemade barbecue sauce.
Banana Churro Supreme: Cinnamon and sugar, bananas, whipped cream and salted caramel sauce.