Brunch with Live Music
Start the day jamming out over eggs and bacon at these five spots with live music.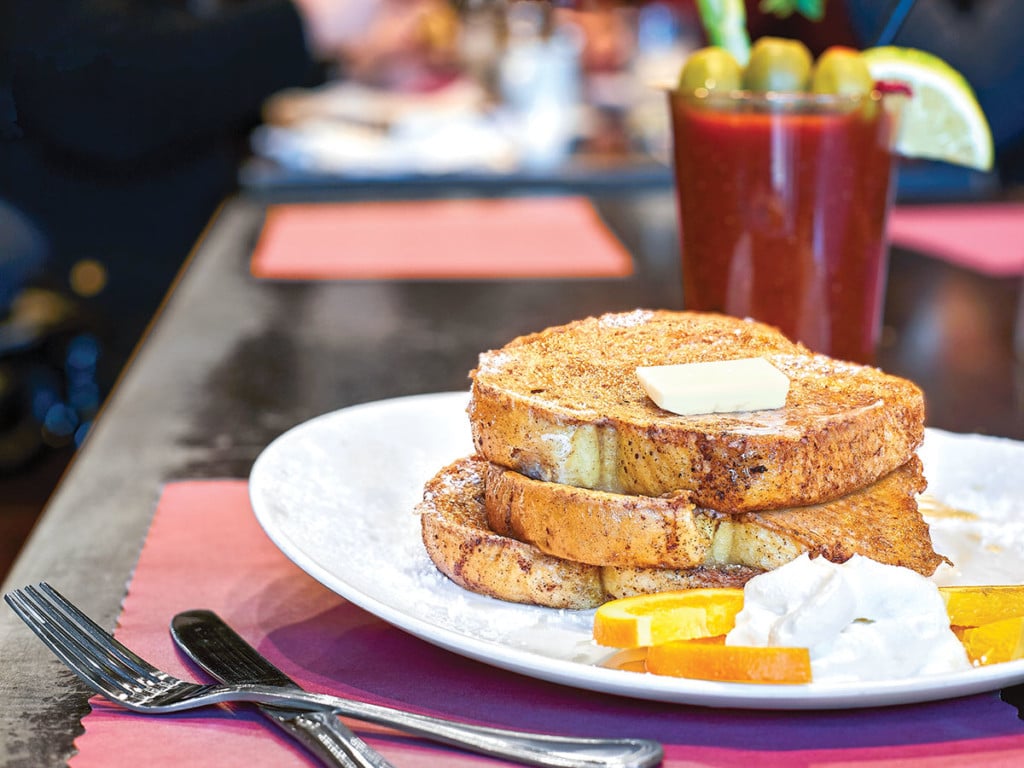 Ogie's Trailer Park
1155 Westminster St., Providence, 383-8200, ogiestrailerpark.com
Music Genre: Blues
Popular local band or performer: Pianist Travis Colby
Atmosphere: While Ogie's Trailer Park, the popular 1950s-themed West Side watering hole, has a lively atmosphere at night, you can expect something a little more laid-back on Sunday afternoons during the Live Blues Brunch. The restaurant serves brunch cocktails and its own unique twist on Southern food, including a Benedict-inspired eggs "Ogie" with barbecue pulled pork, and grits and eggs, with jalapeno cheddar grits, bacon lardons, sunnyside up eggs and tomatillo sauce.
Dish to get: Biscuits and sausage gravy. Depending on your level of hangover, add the optional Dorito-fried chicken breast to speed your recovery.
Characters Cafe
82 Rolfe Sq., Cranston, 781-2200, characterscafe.org
Music Genre: Acoustic jazz/folk
Popular local band or performer: Changes weekly
Atmosphere: This artsy cafe is a nonprofit training facility for adults with developmental disabilities that's affiliated with the Artists' Exchange. The cafe is in a mixed-use performance space that houses Theatre 82 and Epic Theatre Company. On Sundays, Characters Cafe hosts an all-you-can-eat brunch ($11.50 for adults; $7.95 for children ages five and older; free for kids younger than five) with live acoustic music from local performers like songstress Allison Rose. Guests can also order off the regular menu.
Dish to get: A Plot with a Twist, cream cheese-stuffed Texas toast with blueberry compote and cinnamon sugar, or the Pure Drama egg white omelet with spinach, mushrooms, goat cheese and housemade salsa.
Troop
60 Valley St., Providence, 473-2900, trooppvd.com
Music Genre: Hip hop and reggae
Popular local band or performer: Local deejays or playlist
Atmosphere: Given that Troop, the buzzy Olneyville restaurant, is inspired by "the golden age of hip hop," it's no surprise that it would offer a weekend brunch and Monday industry brunch with deejays sometimes spinning old school and reggae tracks or a hip hop-themed playlist. The restaurant hosts monthly Eggs Over brunch dance parties with Stay Silent PVD, but even when those aren't happening, expect a fun, high-energy environment with global street food.
Dish to get: The Hangover Burger with bacon, cheese, aioli and a fried egg, or breakfast skillet with two eggs, pork and beans, home fries and cheese.
Narragansett Cafe
25 Narragansett Ave., Jamestown, 423-2150, narragansettcafe.com
Music Genre: Blues
Popular local band or performer: Changes weekly
Atmosphere: Narragansett Cafe, or "the Ganny" as it's known to islanders, is one of Jamestown's best kept secrets. During the Sunday afternoon Blues, Bloodies and Brunch, starting back up on Super Bowl Sunday, you can eat your fill and then dance it all off to bands like Robin Soares and Friends and Neal Vitullo, Dave Howard and the Vipers. Brunch is served 1 to 4 p.m. and you can stay for the music if you want to turn your Sunday into a funday.
Dish to get: The Blues, Bloodies and Brunch Burger, a sirloin burger topped with a fried egg, or classic lobster eggs Benedict; it is Jamestown, after all.
Eleven Forty Nine Restaurant
1149 Division St., Warwick, 884-1149, elevenfortynine.com
Music Genre: Jazz
Popular local band or performer: Changes weekly
Atmosphere: You can make Eleven Forty Nine the setting for a special occasion or a casual outing with friends — just make sure you wear your loosest fitting pants for the Sunday brunch buffet. Displays include a smoked salmon and antipasto station, a Belgian waffle station and breakfast and brunch entrees. That's on top of omelets and eggs Benedict to order, chef-prepared pasta and a carving station.
Dish to get: A taste of everything. Make sure you save room for the extensive dessert station, too.