The Best Spots for Brunch and Breakfast in Rhode Island
Make your first meal the most memorable one with twenty-nine places to try this weekend.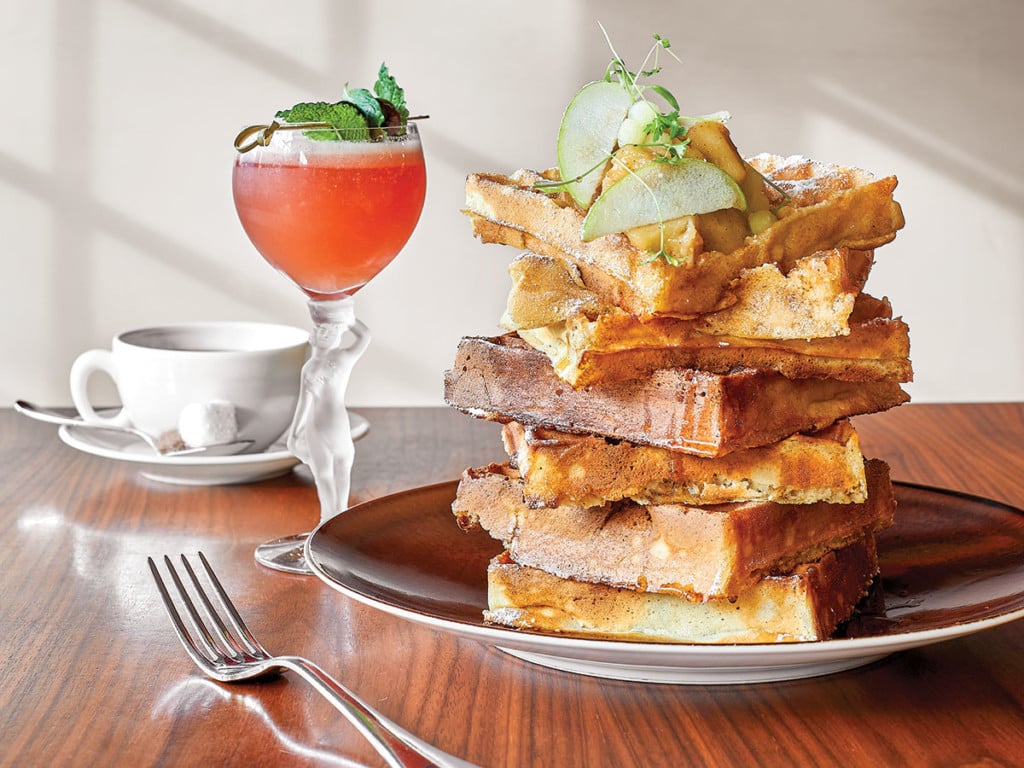 Whether you roll out of bed with a topknot and yoga pants and head to your local greasy spoon or glam it up in heels or a sports coat at an oceanside retreat, both casual and fancy options abound here in Rhode Island for morning meal lovers. Keep the coffee coming and bubbly flowing and grab a seat at one of these hot tables.
Best of the Brunch
Fancy morning meals are even better with Champagne cocktails.
Persimmon
99 Hope St., Providence, 432-7422, persimmonri.com
Persimmon's brunch happens (mostly) on the first Sunday of the month, a date that should be marked on every calendar. It's a rare opportunity to taste some of the most inventive morning cocktails and indulgently rich dishes like a three-egg, whisper-thin French omelet stuffed with creamy gruyere and potentially topped with Italian white truffles or the smoked salmon plate sprinkled with salmon roe. But it's not all pomp and circumstance; guests can also go for the humbler crispy Belgian waffle topped with native apple compote, which just might please pint-sized appetites, too. Warning: You'll get table-envy if you don't start the meal with the mini doughnuts dipped in melted chocolate, and always add on a side of thick-cut salty bacon. Brunch at Persimmon happens but once a month, however with a bit of advance planning, they'll save a seat for you at the table (luckily, they take reservations).
Nicks on Broadway
500 Broadway, Providence, 421-0286, nicksonbroadway.com
Sure, you can hold out for the weekend, but locals know Nicks serves brunch Wednesday through Sunday. So take our advice and go for an early weekday lunchbreak and slide into one of the best brunch seats in town. The menu changes weekly depending on seasonal produce, seafood and meat availability, but you can always count on local eggs from Baffoni's Poultry Farm for the restaurant's riffs on eggs Benny. Expect it to be served on a housemade buttermilk biscuit with herb hollandaise, but listen to the specials to make it even more delicious with roasted seasonal veggies or special sauces. Whatever you do, add on the thick-cut house-smoked Blackbird Farm bacon. Chef Derek Wagner slices and smokes it in-house, and it's something that'll be on your mind forever once you try it.
Massimo
134 Atwells Ave., Providence, 273-0650, massimori.com
Massimo slays Sunday brunch every week, and especially when it hosts a drag brunch upstairs on the first Sunday of the month from noon to 2 p.m. with a $25, three-course menu. Guests can start the party early by sipping $5 bloody Marys and mimosas (there's no five o'clock rule here) or go traditional with good coffee and two eggs served with bacon and spicy andouille sausage. Fierce plates include lobster crepes bathed in a cream sauce or porchetta stuffed with herbs and fontina with a sidekick of perky sunnyside eggs. The breakfast-averse can also opt for spaghetti carbonara or gnocchi al forno, so everyone goes home as happy as Jacqueline DiMera in
a designer dress.
The Grange
166 Broadway, Providence, 831-0600, providencegrange.com
The Grange hosts our favorite morning meal every day except Tuesdays. The vegan and vegetarian-friendly menu gives guests plenty of options that veer into adventurous, non-carnivorous territory. Take the curry eggs dish, which is an Indian version of shakshuka with two poached eggs in a curry red lentil dahl broth with pickled onions, cilantro chutney and thin, crispy papadums to dip into the sauce. If mainstream is more your style, the omelet, frittata or tofu scramble should do the trick with options like smoked mushroom, Tex-Mex, seitan sausage or butternut squash with spinach, sundried tomatoes and whipped feta. The cocktail menu has as much fun as the food, so be sure to raise a glass or two.
Bayberry Beer Hall
381 West Fountain St., Providence, 383-9487, bayberrybeerhall.com
Three cheers to a Saturday and Sunday brunch that builds community at extra-long tables, nooks that are great for large groups and a friendly bar. At Bayberry, there's no excuse for not being social. The counter-service beer hall pours an extensive draft list, nitro coffee, stout cocktails and sparkling wine drinks to match a made-from-scratch brunch menu of chicken and waffles, indulgent pancakes and the excellent Weatherlow Farms burger. Bayberry is as happy to accommodate beer nerds as it is toddler-toting parents. They have highchairs, changing tables and crayons and coloring mats for the wee ones. Kiddos might sit still (maybe for a minute) for waffle sticks and the Little Farmer breakfast served on a durable tray with an egg any way junior likes it, potatoes, bacon, fruit and an English muffin or biscuit. Long enough for mom or dad to enjoy a beer, anyway.
CAV
14 Imperial Pl., Providence, 751-9164, cavrestaurant.com
The late CAV owner Sylvia Moubayed lives on as her faithful family maintains her legacy at the restaurant. The beautiful dining room with her treasured collection of worldly antiques and crystal chandeliers surrounds guests at Saturday and Sunday brunch while they indulge in heaping plates of brioche French toast with sauteed apples, raisins and walnuts, the famous poached egg-topped crab cake and eggs supreme with sundried tomatoes and crusty French bread. The Providence mainstay has been in business since 1989 before brunch
was even a thing. If you haven't been yet, it's time to pay respect to one of the original city hotspots that helped make Providence into a culinary capital. Remember: It was probably serving mimosas to your mama and her gal-pals way back in the '90s.
Salted Slate
186 Wayland Ave., Providence, 270-3737, saltedslate.com
Chef Ben Lloyd takes Saturday and Sunday brunch to another level with local ingredients enhanced by Jewish deli specialties. Lloyd also owns Mercer's Delicatessen down the street in Wayland Square, where customers purchase painstakingly made pastrami and corned beef items, sourced mostly from Blackbird Farm and cured and smoked at the restaurant. The housemade pastrami, corned beef and smoked salmon often make appearances alongside eggs or hash at the restaurant, but there's also a following for sweeter choices like lemon ricotta pancakes paired with bay leaf-infused syrup. Breakfast might seem like an easy meal to make, but Salted Slate puts in 110 percent by sourcing from area farms, curing and smoking meats in-house, and pickling vegetables down at the deli.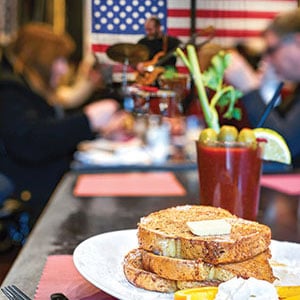 Start the day jamming out over eggs and bacon at these five spots with live music.