Mom and Pop Breakfast Spots
Local breakfast places serving tasty dishes just the way we like it.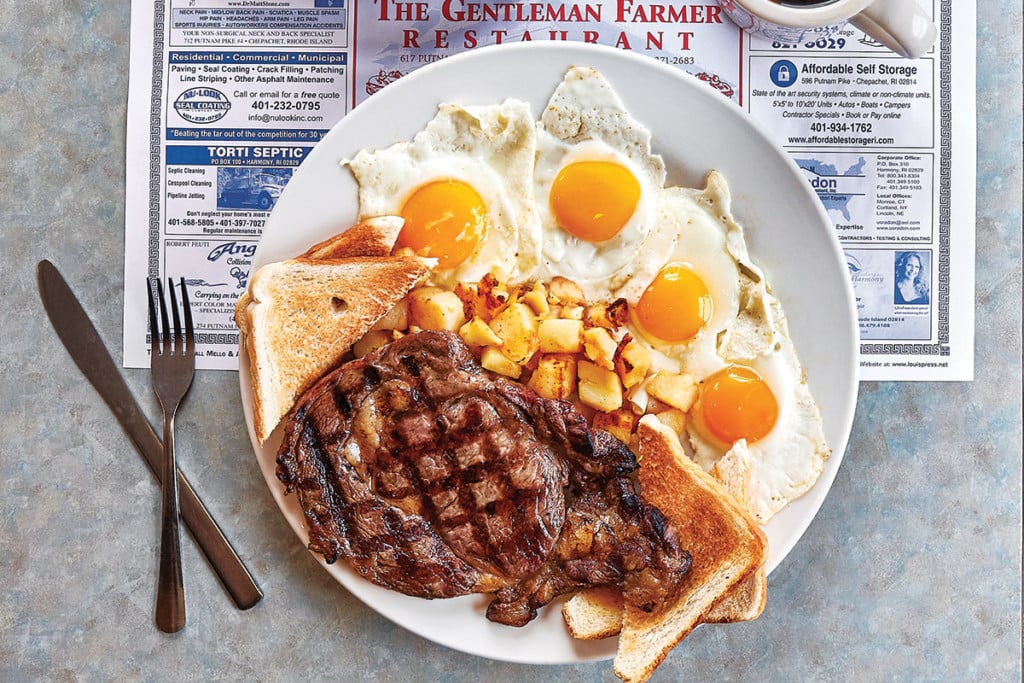 Gentleman Farmer Restaurant
617 Putnam Pike, Chepachet, 371-2683, thegfarmer.com
The focus is on big portions, and meals here could potentially feed a farmer for a day without the inconvenience of stopping for lunch. From three-egg omelets stuffed with homemade corned beef hash and cheese to the Gentleman Farmer version bursting with ham, onions, peppers, bacon, pepperoni, tomatoes, mushrooms, sausage and cheese, one would have to try really hard not to get four food groups in one bite. This diner characterizes some meals by appetite level, naming dishes the Not So Hungry Man, the Hungry Man and the Super Hungry Man, the last of which involves an eight-ounce steak, three pancakes, four eggs, home fries and toast. At the Gentleman Farmer, may you never know what it means to be famished again.
Annie's
176 Bellevue Ave., Newport, 849-6731, anniesnewport.com
On tony Bellevue Avenue, you might expect all white tablecloths, fancy china and pinkies up, but casual is the way of life at this darling breakfast nook. Annie's has been in business for decades serving breakfast all day from 7 a.m. to 4:30 p.m., and on weekdays the deal is two eggs, home fries, toast and coffee for $4.50. All of the Benedicts are made with housemade hollandaise sauce teamed up with toppings like corned beef hash and even lobster. It's easy to feel like one of the locals perched on a stool at the counter with a view into the kitchen and a front row seat to the freshest coffee. Fresh-baked apple pie might be your next door neighbor, but pie for breakfast can sub in for a doughnut — just this once.
AJ's Restaurant
1365 Main St., West Warwick, 828-4160
It's all about the neighborhood at AJ's where mornings are like a high school reunion any day of the week. Open for thirty-eight years, it's a place to bump into familiar faces and local celebs over two eggs cooked exactly the way you like them with perfectly crisped bacon and just-buttered toast that's still warm when you bite into it. AJ's works hard to get plates to tables fast and hot. The stuffed French toast is an epic portion with three slices of Texas-style bread dipped in egg batter, slathered with cream cheese custard and stacked like a triple-decker with strawberries in the middle and whipped cream on top.
The Cozy Grill
440 Warwick Ave., Warwick, 941-9088, cozygrillwarwick.com; 473 Tiogue Ave., Coventry, 821-3440, thecozygrillcoventry.com
The Cozy Grill's service has been on point since it was founded in 1981, from coffee cups that never go below half-full to the warm but never intrusive hospitality. The Warwick spot is known for more than twenty over-the-top versions of eggs Benedict including one that's made with a cornbread waffle and steak tips, and another served on a bed of Portuguese French toast with linguica. Sweet tooths go for the bananas foster French toast topped with sliced bananas, drizzled with caramel sauce and dolloped with whipped cream. The Warwick Cozy Grill's little-known secret is its character pancakes for the kiddos. Request a favorite from Pokemon to Spiderman, and a work of art is created freehand by the cook. It tastes as good as it looks.
Brickway on Wickenden
234 Wickenden St., Providence, 751-2477, brickwayonwickenden.com
It's tough to get in Brickway on a weekend, so the secret is to slide in on a weekday before 9 a.m. and take advantage of the early bird special: two eggs any style with home fries and toast for $5.95. The simplest of breakfasts is given the expert treatment with sunnyside globes or light and fluffy scrambled eggs paired with shatter-crisp bacon. Don't miss the weekly specials written on the chalkboard signs in the retro-style spot with artistic murals on the walls. A favorite dish is the lemon blueberry French toast, drizzled with lemon yogurt and sprinkled with fresh blueberries and powdered sugar. Fork's up: Dessert — we mean breakfast — is the most important meal of the day.
Patriots Diner
65 Founders Dr., Woonsocket, 765-6900, patriotsdiner.com
There is one spot in Rhode Island where you can get breakfast twenty-four hours a day, seven days a week. Woonsocket's Patriot's Diner is for all people, not just local football fans, though you might get an extra wink and a nod if you show your super-fandom. The diner is built on hometown hospitality with friendly service (everyone is "hon") and a classic menu of breakfast favorites, from gigantic omelets and a pile of crispy home fries to pancakes the size of the plate. Omelets — big as a burrito — are served frittata style. Satisfy the kid in you and have breakfast for dinner.
J P Spoonem's
1678 Broad St., Providence, 941-3550
Grab a spot at the horseshoe-shaped counter and get to know your seatmate. Conversations with friendly faces at J P Spoonem's, open for thirty-seven years, are just as soul satisfying as the breakfast. The specials board lists dessert-like morning meals (Nutella and banana French toast, anyone?) and pancakes with seasonal toppings like caramelized apples and pumpkin. There's an epic eggs Benny list that features dozens of fixings, including cheesy grits and bacon hollandaise (the Southside), smoked salmon hash with capers and dill hollandaise, the famous corned beef hash and its vegetarian cousin, the Arizona, a meat-free version sauteed with black beans and roasted corn and topped with sliced avocado.
T's Restaurant
91 Point Judith Rd., Narragansett, 284-3981; 1059 Park Ave., Cranston, 946-5900; 5600 Post Rd., East Greenwich, 398-7877, tsrestaurantri.com
T's is the ultimate mom and pop, started in a Cranston variety store in 1982 by the Tomasellis, who had a dream to open their own place and do something they really loved. T's now has three family-owned locations in Narragansett, Cranston and East Greenwich and each serves an all-day, everyday menu with both healthy and indulgent options. For decadent, go for the famous scratch-made corned beef hash with eggs, the Belgian waffle with blueberries and strawberries or the sweet and savory maple-egg-dipped stuffed French toast oozing with melted American cheese and smoked bacon. The Lite Living menu will keep your resolution in check with egg white scramblers and omelets packed with veggies, among other options.