Brunch with a View
These restaurants are serving up gorgeous views with their meals.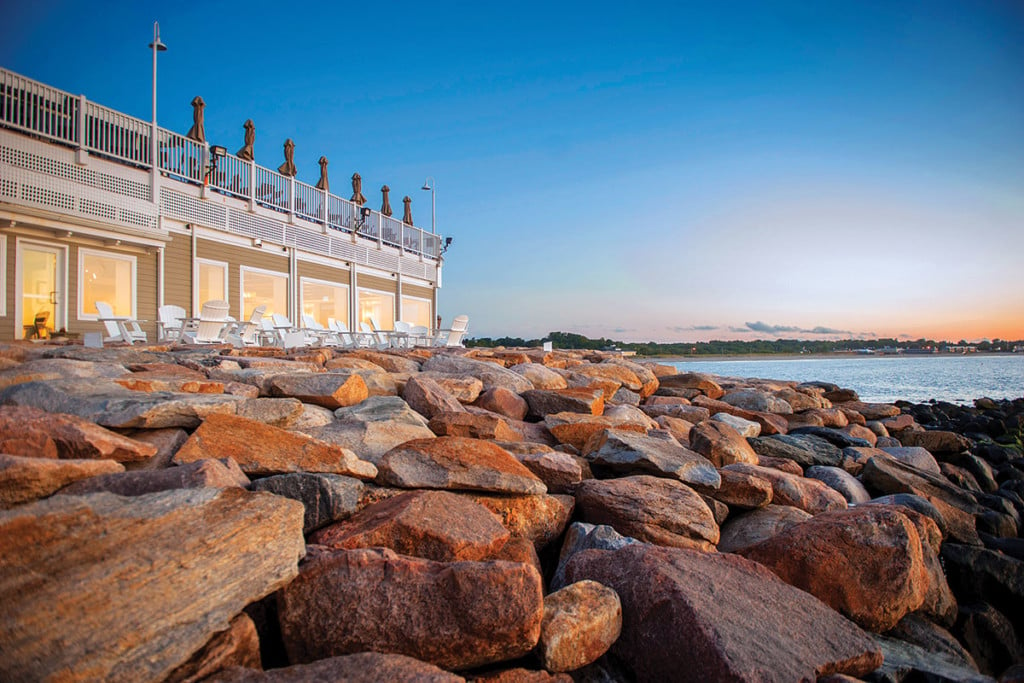 The Coast Guard House
40 Ocean Rd., Narragansett, 789-0700, thecoastguardhouse.com
The view: Crashing waves and panoramic ocean views, including Narragansett Town Beach and the Newport Pell Bridge in the distance.
The Details: This must-visit restaurant for summer tourists is also the must-visit for locals all year long, especially for Sunday brunch. The seafood-focused menu matches the setting, but there are plenty of land lover's options, too, like Sunny mac and cheese, made with eggs, bacon and three cheeses, and baked eggs in polenta with spinach, ricotta, tomato and roasted garlic. Stick with seafood, though, and order the Crab and the Egg — lump crab cakes topped with poached eggs and chili cilantro relish — or Shrimp and Grits, with New Orleans-style barbecue shrimp.
Mare Rooftop
229 Waterman St., Providence, 336-6273, marerooftop.com
The view: The East Side of Providence, India Point Park and the Providence waterfront.
The Details: The Wayland Square restaurant, which opened last summer, sits on top of the old United Way building that's now mixed-use condos and retail space. On Saturdays and Sundays from 10 a.m. to 3 p.m., Mare serves a menu of upscale brunch classics like brioche French toast with strawberries, vanilla custard, Nutella, sliced banana, candied pecans and shaved chocolate; and steak and eggs with a petite filet mignon and horseradish cream. The star of their brunch, though, are the DIY brunch cocktails. Mimosas and bellinis come with a selection of nine juices like guava and blood orange, and bloody Marys have optional bacon, prosciutto, jumbo shrimp and more. The "Bloody Mare" comes with all eight choices.
Boat House Restaurant
227 Schooner Dr., Tiverton, 624-6300, boathousetiverton.com
The view: Mount Hope Bay, and the restaurant's private docks that offer boat dockage for guests.
The Details: Boat House Restaurant isn't one that you'll drive by on your way somewhere else. The tucked-away spot in Tiverton is just off Route 24, and down a few side streets. But once you get there, all of Mount Hope Bay opens up in front of you. In good weather, Boat House has two patios and enormous windows in the main dining room that look over the bay. The Sunday brunch menu is served from 11 a.m. to 2 p.m., and features lots of seafood, eggs Benedict on crab cakes and local flavors infused into Portuguese-inspired entrees like Portuguese sweet bread French toast and cioppino with haddock, mussels, squid and littlenecks.
Trafford
285 Water St., Warren. 289-2265, traffordrestaurant.com
The view: The Warren River, and Barrington across the water.
The Details: Even if you can't pull up to the dock at Trafford, you can still enjoy the sprawling water views. The location and windows at this Warren restaurant (reopening February 1) capitalize on the scenery. The menu is a blend of breakfast and lunch, especially the breakfast salad, with arugula, crispy prosciutto, tomato, goat cheese and poached eggs. Three kinds of frittatas — mushroom, ham and cheese and tomato basil — offer an alternative to standard omelets. If you're really treating yourself, order a single strawberry pancake on the side.
Waterman Grille
4 Richmond Square, Providence, 521-9229, watermangrille.com
The view: The Seekonk River, which is usually busy with all-season boaters and competitive rowers.
The Details: Providence doesn't have so many waterfront restaurants, especially outside the WaterFire basin, but Waterman Grille might just have the best view of them all. This restaurant, in a quiet corner of the farthest reaches of the East Side, sits directly on the Seekonk River. In season, waterfront patio tables are hard to come by, but even when you're sitting inside, the views can't be beat. Then there's the brunch, served Saturdays and Sundays from 10 a.m. to 2:30 p.m., with menu choices like crab cake Benedict, avocado toast and the grass-fed burger with American cheese, red onions, tomatoes and pickles on a sesame bun. Wash it all down with a $5 bloody Mary
or mimosa (or both).