Great Bartenders in Rhode Island
From Providence to Newport, these local bartenders have stories to tell.
Leishla Maldonado
A working mom is making a name for herself in Providence's cocktail scene.
Leishla Maldonado crash landed in the hospitality industry. At age seventeen, she got pregnant and dropped out of high school, was kicked out of the house and had to find her own way. "I didn't really know what else to do besides hospitality," she says.
The bartender, formerly at Courtland Club, says her early career history involved going from making sandwiches at Subway to waiting tables at Boston's Hard Rock Cafe, then mixing margaritas at a Mexican restaurant to embellishing her resume to steer her into the world of craft cocktails. Before moving to Providence, she landed a job at the Gallows in Boston, where a female bartender kindly taught her all about spirits. Maldonado soaked up every ounce of knowledge and decided this was her calling.
"Every single shift I was there, I was taking hyper-detailed notes about each spirit on our back bar," Maldonado says. "I knew if I wanted to make a career out of this, I needed to know what I was doing."
She was a single mother, trying to escape a former life that involved drugs, alcohol and family-rooted gang violence. She met her current boyfriend and partner, Osman Cortave, and together they changed their lives and seized opportunities.
The couple moved to Providence with Maldonado's daughter, Cela, and Maldonado was welcomed by the family that is the Providence craft cocktail industry.
She got a job at the Eddy, where she perfected her skills. "That was the first time I felt fully supported and I could ask questions if I didn't understand it," Maldonado says. She devoted herself to mastering the craft and quickly became one of the most reputable bartenders to whom people gravitate for a good drink and thoughtful conversation.
The transition to a new city helped her grow in an industry she already loved. She earned an opportunity to participate in the Tales of the Cocktail apprentice training program, she organized three fundraisers for hurricane relief which included donating $2,000 of her own tips and she hosts online discussions about important issues in the hospitality industry like bartender intervention and promoting positive work culture. She also recently took home first place in the National Sherry Competition in Brooklyn, New York.
She's recently managed bar operations at Courtland Club, and now she's at the bar at the new Mexican restaurant, Dolores, as well as at the Eddy. She's conscious about current issues on the scene like the low-alcohol-by-volume (low-ABV) movement. "I work with some really rad ladies, so it's hard not to walk into work and love what I am doing," she says. "This is the best community that could have given me a second chance."
What's your signature drink?
"The Improved Vermouth Service. There weren't many folks advocating for low-proof and spirit-free menu options. I was reading a book about vermouth in Spain, and the ritual that goes into drinking it. I came up with an interactive cocktail, a tray filled with gin and bitters for herbaceous complexity paired alongside our vermouth of the moment, with an assortment of citrus and olives for salinity. It's original, romantic and helps break the ice."
What do you like to drink?
"Rum and coke. But if I see a blender and coconut cream, and they can make me a pina colada, I am drinking that for the rest of my life."
When you are not working, what bars do you go to?
"The Eddy because, well, that's home. The East End for a solid vibe and cocktails, and the Slow Rhode for late-night burgers and beer."
Parker Luthman
The Eddy/Dean Bar bartender went from student to a Bartender of the Year.
Parker Luthman got into bartending by showing up at a bar and being eager to learn. He had just turned twenty-one and was fresh off of a mixology course at Johnson and Wales University when he and some friends went to the Eddy and chatted up the bartender, Jen Davis. Luthman asked her how to get started in the cocktail industry.
"She gave me a list of ten books, and she asked me if I wanted her to email me to set up an internship. My mouth hit the floor," Luthman says. "I asked her what I could do to prepare. And she said, 'I gave you a list of books right? Okay, now read all of them.' "
Luthman delved into The Bar Book by Jeffrey Morgenthaler, Imbibe by David Wondrich, The Joy of Mixology by Gary Regan and Death and Co.: Modern Classic Cocktails, and he was thirsty for more. He started out doing prep, which included juicing fruits and vegetables, preparing fresh citrus and creating housemade syrups. That segued into a full-time prep position at the Eddy into part-time bartending and finally, full-time bartending on the bar's busiest nights. He's been at the Eddy bar ever since, and recently came in second place in Heaven Hill's "Bartender of the Year" competition in Asheville, North Carolina.
Luthman bartends two nights a week at the Eddy, and he's also doing two nights at the new Dean Bar, now owned by James Mark of north, where he helped build the team and train staff.
"This bar is piggy-backing off the theme of the Dean Hotel in that it's old school meets new school," Luthman says. "We're reinventing our favorite obscure classic cocktails and adjusting the recipes for the modern palate to create something new and exciting."
He's also looking to implement local produce and trends in the cocktail industry such as the low-ABV movement with zero-proof cocktails. "You shouldn't have to drink alcohol to socialize," he says. "People go to bars not just for drinks, but the social interaction." eddybar.com; thedeanhotel.com
What's your signature drink?
"We do a lot of Bartender's Choices at the Eddy. It's a good opportunity to build a conversation with a guest to make sure we know what they want."
What do you like to drink?
"I drink high balls like the whiskey highball, the Paloma, the Americano. I have been drinking Calvados and tonic; the apple notes and spices are really nice with tonic."
When you are not working, what bars do you go to?
"I go to Courtland Club. Leishla kills it. I go to the East End. If I go to Newport, I go to Fluke and Bar and Board."
Three Wise Men
The Clarke Cooke House's three bartenders are like a family with more than 121 combined years of experience working there.
Jami Coelho: How long have you been working at Clarke Cooke House?
Ken Goyette: July 2 was thirty-nine years for me. I came here for the 12 Meter Races. My friend told me, 'You gotta go down for the 1980 Cup races. It's going to be a banner year, you'll have a lot of fun, meet a lot of people and make a lot of money.'
Eddie Merritt: I started in '79. It's been more than forty years. My cousin Billy was a manager here. I was just out of high school. I was working for him here and they asked me if I wanted to work the door at night, and then I transitioned to the bar. I work in the Boom Boom Room.
Ric "FIVE-O" Rivera: I completed forty-two years in May. When I came into the Cooke House, the very first time I was a customer, and I was with my friends. From that first visit, I wanted to be a part of this house. I got hooked right away. When MJ [Michael Jenkins] was talking about us, he said we have all been here for a century, a combined 100 years.
Eddie: Well over a hundred years. It's like 121 years.
Ric: Our careers here are thanks to owner, David Ray, because we wouldn't be here, and Michael Jenkins. David has a special touch with his business, not necessarily following the trends, but he'll take a risk and try a new idea, like installing a sushi bar.
Ken: Ric also made me feel comfortable coming in here. Some of our stories are pretty funny.
Ric: On my very first day, I broke a gallon of maraschino cherries. Glass everywhere. It was from the upstairs storage room and then down the stairs. The same day, a bottle of amaretto, the stickiest stuff you could imagine.
Jamie: Do you have signature drinks that you make?
Ken: I had someone say to me when we were real busy, what's your favorite thing to make? Bud Light! [Laughs.] And I put it up there. But one of the drinks I make is half Captain Morgan and half coconut rum, pineapple, cranberry, and a splash of OJ.
Ric: What is that, the Kennytiki?
Ken: That's the Special K. Someone named it for me.
Ric: Not really a signature, but it seems like a lot of people like my Cosmopolitan. We had a heyday back when "Sex and the City" was still airing.
Eddie: My signature drink? Nuts and berries. It's Frangelico (that's nuts because it's hazelnut), and Chambord is the berries, and then I add Bailey's and shake it up.
Jamie: What's your favorite memory from working here?
Ken: This job started another career for me. I was tending bar one night and they were filming The Demon Murders here in town. One of the directors came up to the bar and said, 'What a great mustache. Want to be in a movie?' I have been in film ever since and that was 1986. I've been in Mr. North, Amistad, There's Something About Mary, The Fighter, American Hustle and a few others.
Ric: A Clarke Cooke House alum is Peter Farrelly.
Eddie: And Bobby too. He was a waiter upstairs.
Ric: My favorite memory was that very first summer, when I realized that it's make it or break it. The day of the America's Cup race in September of 1977. My manager came up to me, and said, 'Hey Ric, Courageous just won. You better get ready.' There was no one at the bar and then Courageous comes in with Ted Turner. And this place just lit up. Exploded. And I thought to myself: "This is what I've been working for. This is what Newport is all about."
Jamie: What's the craziest thing you've seen here?
Eddie: I've seen crazy things at the Boom Boom Room. We have that camera down there. The dance floor is on a TV screen. I will never forget these two couples came in. It just so happened one husband loved to dance, and his wife didn't, and the other wife loved to dance and the other husband didn't. So they go out there dancing. They are new here, they didn't know there's a TV screen. They started kissing on the dance floor, and the other husband ran out there and there was a fight and I had to break it up. The TV screen just shows in the bar; we don't broadcast it anywhere. But I keep the tapes in case I ever need extra money.
Jamie: Have you had a lot of celebs in here?
Ken: We've had tons of actors and actresses come in here. Arnold Schwarzenegger. Maria Shriver. Jack Lemmon. Jay Leno. Bill Murray. Lauren Bacall. Johnny Depp. The king and queen of Sweden. Tommy Hilfiger. Rob Gronkowski. Sebastian Vollmer.
Ric: Prince Albert of Monaco was another one. He introduced himself to me as "Al." And I said, "I'm Ric," and we shook hands. My boss came upstairs and said, "Do you know who you were waiting on? That was Prince Albert of Monaco." I said, "Oh, Al?"
Jamie: What's the best tip you've gotten?
Ken: I've gotten sports tickets to the Bruins or Patriots. A free trip to the Caribbean from a favorite customer. I traveled from Antigua to St. Bart's to Saint Martin and Saint Thomas.
Eddie: Some people are more generous. You get regular customers who come in, they get a Heineken and leave you $100 just because they love you, and then you'll have someone who has a hundred Heinekens and leaves you $1. We had five guys in last week for a bachelor party.
They ordered five bottles of Veuve. I was like, "How many glasses?" They were like nope. If a girl wanted Champagne, she had to drink out of the bottle. It was unbelievable. They had girls putting their heads back, pouring Champagne on them. That's the Boom Boom Room….
Catherine Hood
She's bringing tiki back with her Eight Seas tiki bar pop-ups at local bars.
How did you get into tiki drinks?
Growing up in Oregon, I found the tropics appealing because of their exoticism and the difference in climate (warm rain! What's that?!). I'm still discovering new-to-me tropical fruits and other ingredients and how to use them in beverages. The culinary side of tiki, exotic and tropical cocktails is fascinating in how complex and layered the end product can be. An interest in spirits (not just rum), house-made syrups and fresh juices — as well as the history and identity of the spirits we're working with — drives our menu creation. There's a positive escapism associated with tiki that's fun, relevant and historically appropriate, and I try to capitalize on that when planning an event.
Do you still use a lot of fun glassware?
When I founded Eight Seas in 2017, we were more of a traditional tiki-style experience that incorporated Polynesian and Hawaiian
design elements and mostly served our takes on classic exotic cocktails, some of them in tiki mugs. That focus has shifted over the past few years to bespoke and regionally inspired menus, and presentations that showcase the cocktails' color, texture and a variety of garnishes. I love using more traditional — and sometimes vintage — vessels, as they're the best of both worlds: fun and unusual, but also complementing the drink rather than obscuring it by using a mug.
How did you get into bartending in Providence?
It was a fortunate accident. I studied sculpture and printmaking in college in Seattle, and moved here shortly after graduating to work at an arts nonprofit in Woonsocket. As that position came to a close, I was hired at the now-defunct Magdalenae Room (partly out of interest in cocktails, and partly as a stopgap measure); that's where I began developing a passion for spirits and cocktails. Tiki came into the picture in 2016, when I did my first series of pop-ups at Machines with Magnets in Pawtucket, and founded Eight Seas the following year with the help of the Dean Hotel. I've been working in the beverage industry for five years in a number of positions and currently also bartend at the Eddy, as well as booking the art gallery and managing the bar and event rental space at Machines with Magnets.
Do you handmake your menus?
Yes! All of our menus feature watercolor illustrations of the cocktails. That, as well as collaborating with other artists and
designers, is an important part of what we do. Many vintage tiki menus feature visual depictions of the drinks offered, so it's a nod to that little piece of history, as well as a way to show off
attractive and sometimes ridiculous glassware and garnishes.
This fall, what will some of your drinks be like?
This November through February, Eight Seas will be taking up a weekly residency at the newly renovated Dean Bar. We're revisiting some of our old favorites as well as creating some new, seasonal specials, which will change each month. As much as we all love good rum, this menu will be a little more experimental in terms of base spirits, and will explore low-ABV cocktails as well. We also always have a non-alcoholic option on every menu.
What do you drink when you go out?
It depends where I am. I'll seek out cocktail bars (and drink cocktails) when I'm traveling, but around home it's usually natural wine or a beer and a whiskey. That said, a Sazerac with cognac is one of my all-time favorites. And also my deathbed cocktail. instagram.com/eightseastiki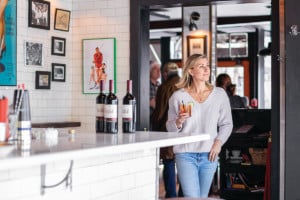 This sweet and walkable bayside town has a full set of friendly neighborhood bars.