Swirl, Sniff, Sip: The Best Wine Bars in Rhode Island
You don't have to be a wine snob to appreciate a wine bar.
Providence Wine Bar
This new wine lover's hotspot in Wayland Square occupies the space where Spoons and the Olive Tap used to be, and the short-lived Mercer's Deli after that. Opened by Ben Lloyd, chef/owner of the Salted Slate, this restaurant serves more than fifty wines by the glass, craft beers, sherry and some sake. Order wine by flavor (think "Light and Easy" or "Medium and Thoughtful") or by varietal, which come from the expected France, Italy and California but also less-
appreciated wine growing regions like Austria and Greece.
Wine bites: A small but high-quality menu is available with options like freshly shaved jamon iberico, black pepper gnocchi and caviar service. 485 Angell St., Providence, 443-5249, pvdwinebar.com
Fortnight Wine Bar
It would be easy to classify Fortnight just as a wine bar. The co-op bar in downtown Providence, which is owned in part by everyone who works there, serves a constantly changing selection of biodynamic, naturally produced wines from a wine list hundreds of bottles long. Think sparkling wine from England or Vermont, whites from Hungary and the Czech Republic, and reds from Lebanon, Mexico and Slovakia. But that would be to ignore the intensively curated beer selection, with Altbier and Belgian Quadrupel and Berlinerweisse and lots of other things you probably can't pronounce unless you're really into the suds.
Wine bites: Fortnight focuses on reducing waste, and serves lots of pickled and preserved foods that get better with time. If that's not your jam, there's always cheese and charcuterie. 79 Dorrance St., Providence, 400-0324, fortnightpvd.com
Meritage
When the restaurant is named after a red wine varietal, you know you're going to get a decent glass (or bottle — no judgement here). Meritage — the wine, if you're curious, actually rhymes with heritage — serves seafood, steaks, pasta and grilled pizzas. It's one of the few places in the state that offers three-ounce pours of the twenty-five-plus wines they serve by the glass, so you can mix and match your own wine flight.
Wine bites: Meritage serves a happy hour menu every day before 6 p.m. and after 9:30 p.m. in the lounge so sit at the bar and try some new things, both in the glass and on the plate. 5454 Post Rd., East Greenwich, 884-1255, meritageri.com
Tavolo Wine Bar and Tuscan Grille
If a wine list includes ratings and scores from eleven different authorities on it, like Robert Parker and Wine Enthusiast, you know you've got something that's specially curated. Tavolo also pours wine in three-ounce, six-ounce and nine-ounce servings, and has more than forty by the glass, including some high-end wines that are difficult to find in single servings.
Wine bites: If you skip the pasta at this Italian restaurant, you aren't living right. 289 Atwells Ave., Providence, 274-6000; 970 Douglas Pike, Smithfield, 349-4979; 2099 Post Rd., Warwick, 384-7573, tavolowinebar.com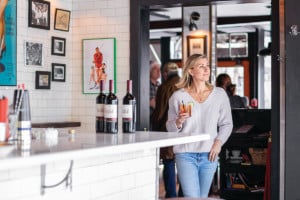 This sweet and walkable bayside town has a full set of friendly neighborhood bars.