Bar Crawl: Providence
Bars in Providence offer drinks with a side order of scene.
1. Far West
Mood: Your parents' basement tricked out into the ultimate cocktail oasis with a vintage vibe and ironic art; it's the reason you're never moving out. This homey space inside a former jewelry factory features a bar made from the factory's existing drawers that once held trinkets and charms. There are cozy corners for conversations, plus fun snacks like a fancy cheese ball and charcuterie. To enter, go to the 55 Cromwell Street front entrance call box, scroll to Far West, then dial #075 to be buzzed in. Remember: It's super tiny, so it's tough to accommodate large groups and you might be put on the wait list to nab a table. Luckily, Long Live Beerworks is right next door while you wait!
What to drink: Cocktails change all the time with a seasonal rotating list highlighting New England flavors, but there's always the old reliable BAGNT (the Big Ass Gin and Tonic).
55 Cromwell St., Providence, 855-7429, facebook.com/farwestpvd
2. Justine's
Mood: Greet the lingerie-clad mannequin bouncer, then head to the dimly lit vintage speakeasy through a hidden entrance. There's exposed brick, floral wallpaper, cozy '20s-inspired corner booths and vintage-style stemware.
What to drink: Choose from a signature classic cocktail or classy it up with a bottle of Champagne.
11 Olneyville Sq., Providence, 454-4440
3. Riffraff
Mood: Riffraff is tucked in a corner at the Plant, a former mill located in Olneyville, and it caters to bibliophiles, coffee fiends and cocktail aficionados alike. The cafe meets bar meets bookstore carries books from small presses as well as some mainstream literature and offers author events.
What to drink: Coffee and tea are available in addition to beer, wine and a selection of ever-changing cocktails, some of which might include jalapeno-infused tequila or blueberry ginger kombucha.
60 Valley St., Unit 107 A, Providence, 421-4371, riffraffpvd.com
4. Troop PVD
Mood: The industrial tropical-inspired space channels the '80s and '90s through skateboard seat backs, giant graffiti murals and blaring hip hop beats that turn the place into a dance party on weekend nights.
What to drink: Opt for the "wild special" cocktail for a surprise treat. It just might be the King Gorilla with dark chocolate-infused reposado tequila, smoky mezcal, creme de banana, lime and cinnamon.
60 Valley St., Providence, 473-2900, trooppvd.com
5. Ogie's Trailer Park
Mood: Hipster meets kitsch meets retro-chic. The ceilings are decked out with funky Sputnik chandeliers, the walls are adorned with cat-themed pop artwork, food is served from a camper façade and the courtyard features all the accents you'd expect in a retro trailer park. There's even a seasonal tiki bar and firepit.
What to drink: What's the signature trailer park drink? A can of beer, of course! Choose from sixty-six "AmeriCans" of beer, a play on Route 66. Or grab a classic '60s cocktail or tiki drink at the main bar anytime.
1155 Westminster St., Providence, 383-8200, ogiestrailerpark.com
6. The Avery
Mood: The godfather of the craft cocktail scene, this dark and moody bar pours classic cocktails with a twist and curated craft beers. Ask about rare bottles of brews and whiskey and you'll be pleasantly surprised by a secret collection.
What to drink: We've always loved the I Love Lassi, based on a mango lassi with mango and cucumber vodka, and the grapefruit Cosmo is terrific too.
18 Luongo Memorial Sq., Providence, 286-0237, averyprovidence.com
7. Saint Monday
Mood: Like home, but you can actually get work done. Arrive in the morning with your laptop for coffee, breakfast sandwiches and mimosas, roll into lunch with a beer and a sammy and stay all evening for Manhattans and Old Fashioneds paired with hefty burgers.
What to drink: It's the spot to go for the most well-made classic cocktails, constructed with hand-juiced citrus, quality spirits and impeccable glassware.
393 West Fountain St., Providence, 484-1227, facebook.com/saintmondaybar
8. Barnaby's Public House
Mood: Specializing in pre-Prohibition era cocktails and a decorative theme to match, you'd fit right in wearing a flapper costume or suspenders and a bowler on any night of the week.
What to drink: Classics are gangster here, like Moscow Mule, Negroni and Last Word variations, plus a whole slew of whiskeys, bourbons and ryes if you like to keep things pure.
385 Westminster St., Providence, 455-6857, barnabyspublichouse.com
9. The Malted Barley
Mood: People who critique the latest brews and keep track in apps can relate and make conversation at this brew museum. Turn up for a pint night, tap takeover or Monday trivia night, and bite into freshly baked pretzels with beer cheese dip.
What to drink: The latest tapped craft brew from the likes of Captain Lawrence, Wormtown or Foolproof, or go for a tasting paddle of four different pours.
334 Westminster St., Providence, 490-0300, themaltedbarley.com/providence
10. Sarto
Mood: A mature, sophisticated crowd of young professionals, monied couples and attractive singles settles into a sleek space where bar bites might include a salumi spread, carbonara french fries and fancy deviled eggs made for sharing.
What to drink: Sarto is praised for its exceptional amaro collection, and bartenders make some really great cocktails like the amaro fall cocktail with Amaro Nonino as the base with apple bitters, angostura and Armagnac.
86 Dorrance St., Providence, 270-0790, sartoprovidence.com
11. The Dorrance
Mood: The world around you is gilded in gold and filigree, but you can still feel comfortable showing up in jeans to listen to live jazz. Then again, why not get all dolled up? This place was made for looking like a million bucks.
What to drink: Tell the bartender whatever spirits and flavors you like, and they'll come up with a concoction catered especially to you.
60 Dorrance St., Providence, 521-6000, thedorrance.com
12. The River Social
Mood: The young professional crowd flocks here to be social (in person, not on media!) in a friendly bar with river views over glasses of pumpkin apple sangria.
What to drink: If you really want to be social, go for a sangria bowl and share with friends or a date. It's taking scorpion bowls to a whole new level with red and white wine recipes. Don't worry, it's safe to share among friends.
200 Exchange St., Providence, 256-5686, theriversocial.com
13. The East End
Mood: A little artsy, a lot collegiate and 100 percent dark and mysterious, this is the place where you can get a great drink and a tremendous meal. Don't expect the usual bar finger food, it's a full menu with everything from a killer charcuterie and cheese board to coconut shrimp curry.
What to drink: A place to learn about spirits with more than 300 bourbons, whiskeys, rye and brandies to explore. Flights of three start at $10 and go up from there. For cocktails, we love the Oaxacan Beet Box, a playful take on a margarita with mezcal and beet-carrot-ginger juice.
244 Wickenden St., Providence, 433-9770, theeastendpvd.com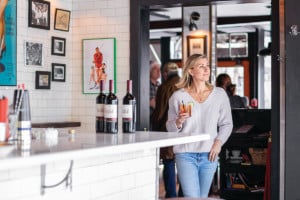 This sweet and walkable bayside town has a full set of friendly neighborhood bars.