Bars Games: Arcade Fun Plus Cocktails
Fun activities at local watering holes will keep your spirits, well, spirited.
Axe Bar
Activity: Axe-throwing
Atmosphere: Some people choose to get out their frustrations with boxing gloves and a punching bag. Others
go for a handful of axes, a bullseye target and a pint of beer. Axe Bar is part of R1 Indoor Karting Entertainment Center, which also has an indoor raceway, bowling and billiards. You have to book a slot in advance, and every reservation comes with an axe-throwing lesson — which, given that you can have a cocktail while you throw, seems like a really smart idea.
What to order: Axe Bar offers a smaller version of the menu at R1's restaurant and bar, Fuel. Order some snacks and beers to tide you over until you go upstairs for the real deal. 100 Higginson Ave., Lincoln, 721-5554, r1indoorkarting.com/axe-bar
Flip Side Pinball Bar
Activity: Pinball
Atmosphere: This bar is dedicated to the idea of the extra ball, and has a whole wall of machines where you can test your mettle as a pinball wizard. Games range as far back as 1979's Paragon and as recent as this year's Black Knight: Sword of Rage. There are co-ed and ladies' pinball leagues on different nights of the week. The bar pours fifty-plus craft brews from cans and eight taps, and it hosts a Patriots potluck anytime the Pats play with the game projected on the big screen.
What to order: The cocktail menu is heavy on local spirits. Go with the Battle Cry Painkiller, made with South Kingstown's Sons of Liberty Battle Cry Whiskey. 1 Railroad Ave., Westerly, 302-1085, flipsidepinball.bar
Free Play Bar and Arcade
Activity: Twenty-one-plus adult bar arcade with video games and pinball (look for family day once a month)
Atmosphere: With more than 160 arcade games, including vintage and modern video games, pinball, skeeball, air hockey and Dance, Dance Revolution, this bar arcade claims to be the biggest one in New England. The bar offers two things that no childhood arcade ever could: The games are all free (after a $5 weeknight and $10 weekend admission), and the high scores on some beloved classics like Donkey Kong are displayed on the website for the whole Internet (and not just the players after you) to see. Head to Rewind on the weekends for the '80s and '90s retro dance lounge, included with admission.
What to order: Free Play serves flatbread pizza and more than fifty beers and ciders. Grab a craft brew with a sense of humor, like the Taco Cat Sour. 182 Pine St., Providence, 316-4299, freeplayri.com
Galactic Theatre
Activity: Live music and classic movies
Atmosphere: What started as a vintage movie theater has morphed into a full-blown hotspot. Galactic Theatre hosts live music and performances several nights a week, including a Wednesday night open mic and dancing by the Tropigals on the first Friday of every month. While the bar shows silent movies and classic clips all night every night, Sundays and Tuesdays are Mystery Movie Night, with a different mystery showing at 9 p.m.
What to order: Craft beer and Narragansett on tap, and in keeping with the bar's vintage theme, order something quirky like a Blue Hawaiian, made with rum, pineapple and coconut. 440 Main St., Warren, galactictheatre.com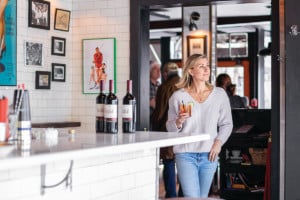 This sweet and walkable bayside town has a full set of friendly neighborhood bars.