You Can Still Ride the Rocky Point Corkscrew
It has a new name, and new home across the country, but it's still the same ride that thrilled a generation of Rhode Islanders.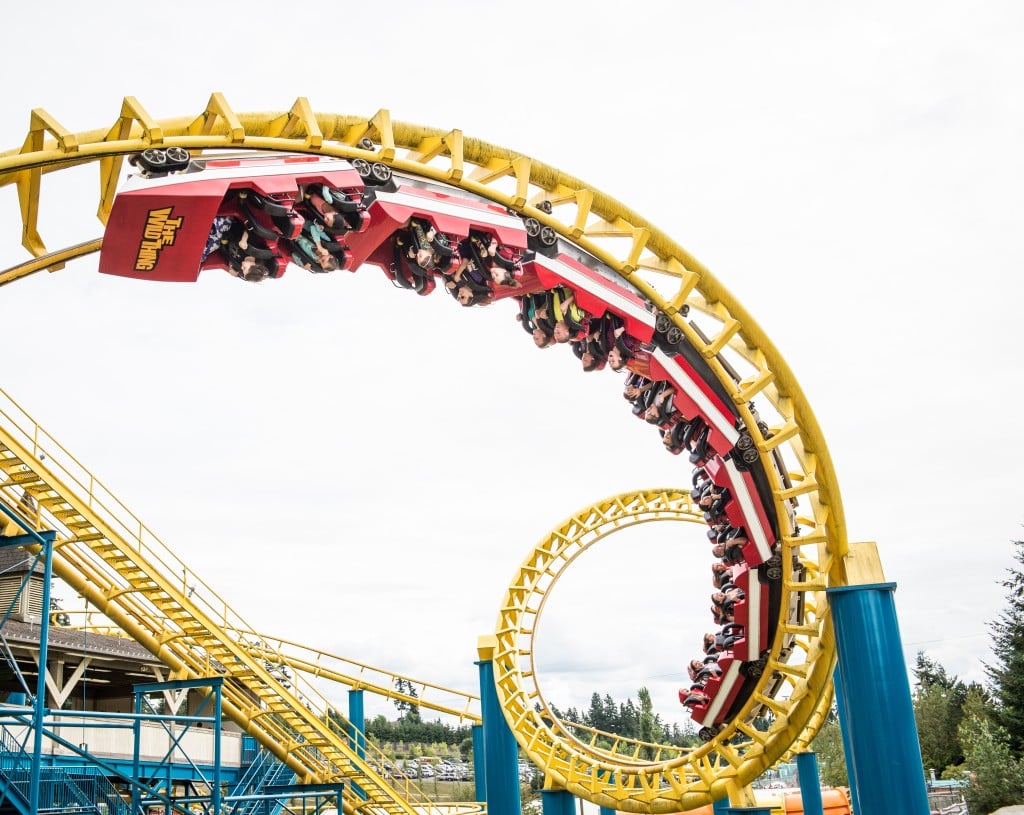 Memorial Day is a little more than a week away. For years, that meant that the annual trek to the state's beloved playground — Rocky Point — was near at hand.
We'd make the journey down — or up — to the Warwick seashore, gobble clam cakes and chowder, make our way to the Musik Express, the House of Horrors, the Freefall, the Skyliner and that most hallowed of roller coasters, the Corkscrew.
Unfortunately, most of those are just distant memories, since Rocky Point closed in 1995 after a series of financial setbacks. But you can still ride the famed coaster: You'll just need a few days off work, a cross-country plane ticket and an urge to see the West Coast.
It Lives!
You'll find the Corkscrew at the Wild Waves Theme and Water Park in Federal Way, Washington, just a half-hour south of Seattle. It has a brand-new paint scheme — blue, red and yellow instead of the OG red and white and a new name — the Wild Thing — but it's the same stomach-churning, exhilarating ride we all remember fondly.
Just ask David Bettencourt. He rode the Wild Thing while making his 2007 documentary, You Must Be This Tall: The Story of Rocky Point Park. Well, once it stopped raining, anyway.
"It was given a new paint job and a new name, but it was still the same old whiplash-inducing ride," says the Cranston resident. "At the very end of the ride, there was a jolt — you're excited you're still alive. I remembered it instantly."
Like most others, Bettencourt was impressed when the park installed the ride. Rocky Point was just a small park, but here it was, getting a state-of-the-art loop and double corkscrew coaster just in time for the 1984 season.
"I loved the Corkscrew," he says. "When they installed it I was blown away. I rode it as soon as I was old enough."
After Rocky Point closed (this author is still bitter about this), most of the rides were auctioned off. After an initial offer for a Louisiana water park fell through, the Corkscrew was sold to Enchanted Parks (now Wild Waves Theme and Water Park) for $805,000, according to an August 1997 Providence Journal article.
It's been there since June 1997, thrilling generations of Washington residents much the same way it delighted generations of brave Rhode Islanders. We may no longer have the Shore Dinner hall or the saltwater pool or the Flume, but we do still have chowder and clam cakes, the unforgettable arch, and a beautiful new state park in which to remember those cherished childhood memories of Rocky Point.
RELATED ARTICLES
A Brief History of Rocky Point