A Brief History of Rocky Point
It served as Rhode Island's popular playground for more than 150 years.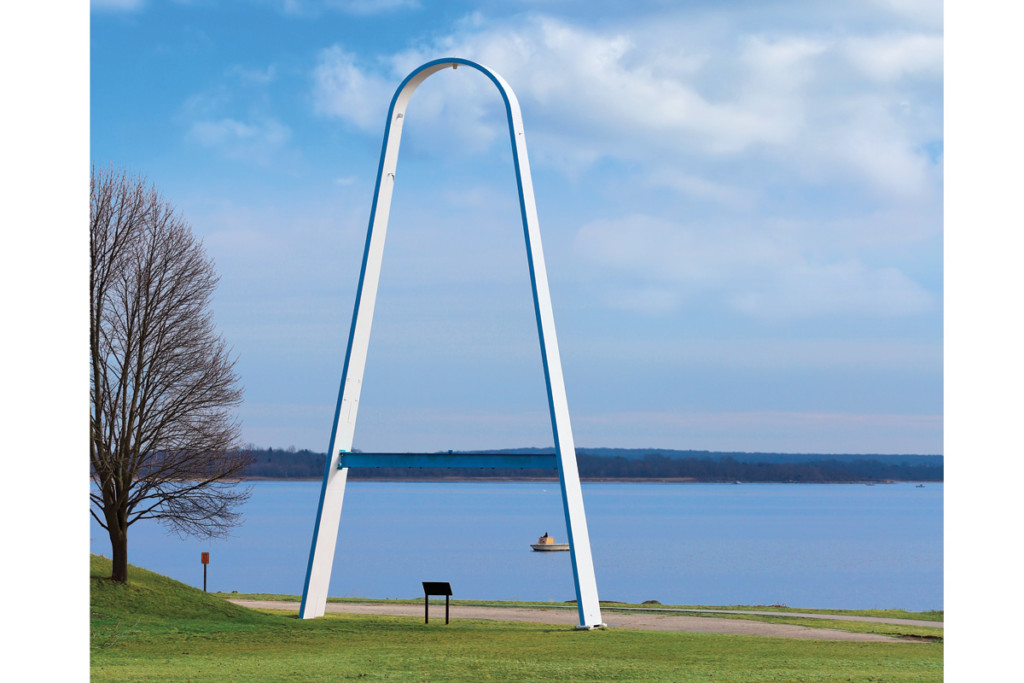 he wind nips at my cheeks as I tip my head back and look up at the metal structure before me. The top of the sixty-foot arch is barely visible against the gray sky, and I wonder why anyone would have welcomed the installation of such a random-looking edifice at Rocky Point Park in the first place. An accompanying kiosk claims that, during its days as an amusement park, the arch had acted as a natural rendezvous spot for visitors. I close my eyes and try to picture it: It's not February, but July, and while I may be standing alone, I'm actually waiting for friends to emerge from the crowd. Instead of a winter chill, the fresh summer breeze carries water droplets caused by cannonball splashes from a giant pool to my left. The corroded stanchions that lie several yards beyond the arch actually have a fresh coat of paint and are supporting the Skyliner, giving its passengers unparalleled views of Narragansett Bay behind me. Shrieks of delighted terror intermingled with relieved giggles come from the House of Horrors to my right. I can practically smell clam cakes frying down in the Shore Dinner Hall.
Rocky Point Park inspires bouts of intense nostalgia like no other Rhode Island institution. Don't believe me? Just ask any Ocean State local over the age of thirty. Or, if you don't have one handy, merely turn to the Internet. A quick Google search reveals lengthy, heartfelt blog posts on the subject (some of which seriously rival John Keats's "Ode on a Grecian Urn") and YouTube videos made up of grainy footage set to bittersweet songs like Rod Stewart's "I'll Be Seeing You" (that one's got more than 29,000 views, mind you).
Unfortunately, I wouldn't know myself. Although I call myself a Rhode Islander, I didn't move to this state until I was four years old. That was in 1996 — one whole year after the amusement park had closed down for good.
My earliest memory of hearing about the park was in fourth grade, when classmates whispered about an abandoned amusement park in Warwick, complete with its very own roller coaster skeleton and tales of ghosts. But back then I chalked the stories up to playground bluster (although I've since learned that a 2016 documentary called The Tales of Rocky Point delves into the supposed curse attached to the grounds), and my knowledge of the park essentially stopped there.
But after flipping through Warwick's Villages: Glimpses from the Past by Donald A. D'Amato, I begin to understand why the spot earned the nickname: "the playground of Rhode Island." The late D'Amato, Warwick's former town historian, wrote that Rocky Point was essentially discovered in the mid-nineteenth century by Captain William Winslow. In 1847, Winslow, the part-owner of a small steamboat known as the Argo, had assumed that the coastal area would make for a desirable day trip destination. After a few successful excursions, Winslow bought the lot for $2,400 and dubbed "Winslow's Rocky Point." Within four years it became the most popular shore resort on the bay.
Over the next century, the park added rides and attractions, bowling alleys, pools, sports fields, restaurants and overnight accommodations; its ownership changed hands several times, eventually shedding the Winslow name; and it became the gathering place for locals.
It even attracted the likes of legends: Newly elected President Rutherford B. Hayes visited in the summer of 1877 and made history's first ever presidential telephone call from Rocky Point (with Alexander Graham Bell on the receiving end) while Babe Ruth was said to have hit one out of the park a time or two during his run with the Providence Grays.
John Howell, president of the Rocky Point Foundation and editor/publisher of the Warwick Beacon, covered many a Rocky Point event during his career. "Two occasions are indelible," he recalls. "One was when I tried to take photos as Hurricane Bob hammered the point. The other was during a fundraiser: Conrad Ferla [the park manager at the time] dressed like a motorcycle gang member and drove his Harley, through the dinner crowd at the Palladium. His grand entrance brought the house down."
The park was no stranger to fundraisers, the most notable of which followed the accidental shooting of U.S. Representative Jim Langevin. "After they found out he was paralyzed, the community held a 'Las Vegas Night' at the park to raise money for him and his family," Howell says. "There were events like that all the time. It even hosted a huge party in celebration of Warwick's 350th anniversary back in 1992."
So, what led to the park's demise? Howell attributes it to a number of Small Business Association (SBA) loans that went sour. Forced into foreclosure, Rocky Point closed in 1995. In the years that followed, most of the once-glorious rides were and auctioned off (save for the few relics that can still be seen today), an alleged arson fire destroyed the Cliff House and the remaining buildings were reduced to rubble to deter mischievous teenagers from breaking in.
At one point, there was talk of erecting housing developments on the site, but the housing market's decline in 2008 deterred any such plans. And so, for thirteen years, the once-lively destination sat untouched, a literal wasteland besieged by debris and underbrush.
Untouched but not forgotten. According to the Rocky Point Foundation's website, eventually "the City of Warwick, through a complicated transaction involving federal, state and city efforts, acquired [the] title to forty-one acres of the property…. Following [the purchase], Mayor Avedisian, with the support of DEM and the SBA, arranged several occasions when the public could drive and walk through the city-owned property. Thousands of Rhode Islanders took advantage of these one-day events in 2008 and 2009 to show their interest and enthusiasm for a public Rocky Point…. After the public's appetite for a fully reopened Rocky Point was whetted, efforts to cause the state to purchase the remaining eighty-plus acres of the property gained traction."
Howell, meanwhile, was doing his part to get the ball rolling by holding a city hall meeting. "There were about twenty-five of us including the mayor and several other politicians, and everybody said it was a great idea to save the rest of the park but nobody wanted to open their wallets," he recalls. "Six months go by and I get a phone call from George Schuster."
Schuster, a Warwick native and lawyer who deals with large scale bankruptcies, suggested that Howell establish a nonprofit dedicated to the cause. Along with former State Senator Bill Walaska and then Rocky Point Blueberry Farm owner Mark Garrison they formed the Rocky Point Foundation. "Our initial effort was to see if we could get a bond on the ballot to come up with enough money from the state to buy the rest of the park," Howell says. "We made it happen in 2010 and it was successful."
Following the passage of the bond, the foundation held a charrette ( i.e. a community brainstorming session) to figure out future plans for Rocky Point. "I started off by asking those in attendance to share memories of the park," Howell explains. "This one couple with a baby stood up and I'm thinking to myself that they couldn't have been in the park when it was an amusement park — they looked so young! But then the woman told us that her husband had always loved driving down to Rocky Point even though it was closed to look at the old rides and such — so much so that he even ended up proposing to her right at the old entrance! It just goes to show that Rocky Point has this attraction."
Since those meetings, the state has since spent around $1 million in restoration efforts, making it the scenic recreational park it is today. The well-manicured clearing now welcomes picnics and movie nights, dog walks and five-Ks. Howell and that the long-range goal appears to involve plans for a ferry service from Providence to the park. I can't help but remark that such a plan would really bring Rocky Point's story full circle, considering that it originated as a steamboat destination. Still, the park will most likely never again be what it once was — and that's okay.
"Some of the ideas that came up at that charrette were wonderful, but so many of them revolved around bringing back the rides because the memories of the amusement park were so fresh," Howell muses. "But now it's a totally different park. If you visit today and talk to people walking through, they'll say, 'Oh no, leave the field open, don't put anything here. It's so lovely the way it is.' It's obviously a very different place than it was; it's evolved."
But don't fret, dear children of Rocky Point; the arch and its fellow mementos from your fondest recollections don't seem to be going anywhere anytime soon.