The Story Behind the Calamari Comeback State
How Rhode Island-style calamari and the Calamari Ninja stole the spotlight at the Democratic National Convention (DNC).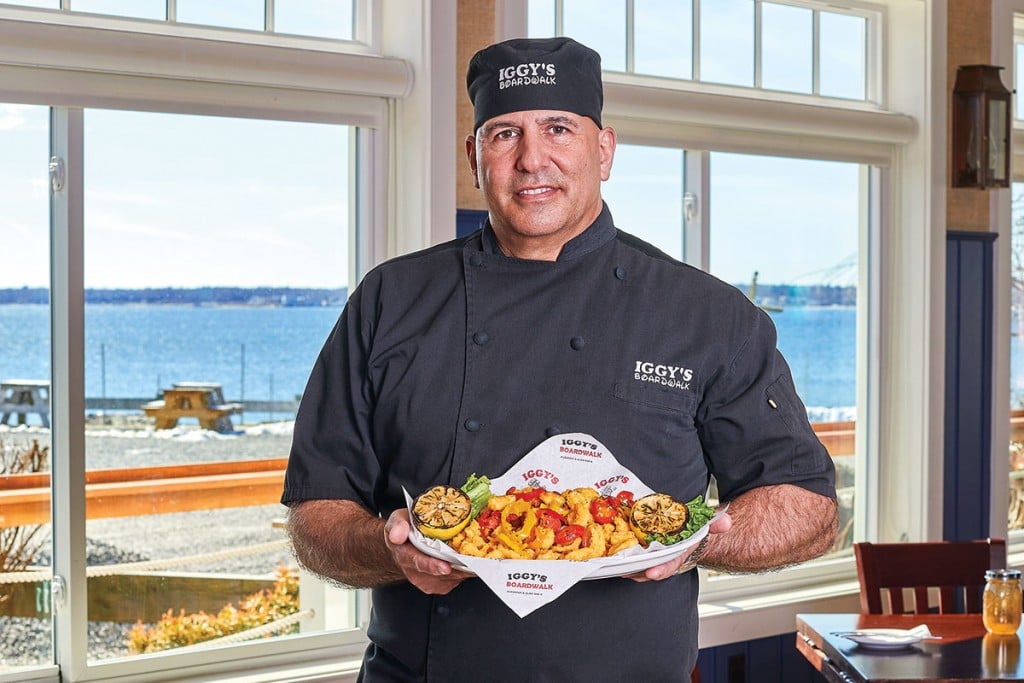 At last year's virtual Democratic National Convention, many states took the opportunity to promote a local landmark, person or cause for their thirty seconds of video fame, but Rhode Island went all in on its official state appetizer, Rhode Island-style calamari. The short video netted a viral social media phenomenon. State party chairman Joseph M. McNamara spotlighted the squid rings served with hot peppers from Iggy's Boardwalk on Oakland Beach in Warwick. Maybe the appeal was in the way Iggy's executive chef John Bordieri presented the heaping dish with the finesse of a ninja, dressed in a black chef's coat and matching Iggy's mask and hat. Our take: The calamari is just that good. McNamara dubbed Rhode Island the "calamari comeback state," and we're still here for it (with an extra side of hot peppers).
Representative Joseph M. McNamara gives us an inside look at Rhode Island's official state appetizer.
What made you want to get Rhode Island-style calamari declared as Rhode Island's official state appetizer?
I realized that our state's fishing industry had witnessed a decline in cod landings due to overfishing and climate change. They adapted their fleet to fish for one of the most sustainable species in the ocean: squid. Rhode Island is perfectly situated in the middle of the Atlantic squid migration. which runs from North Carolina to Nova Scotia. This species is extremely sustainable. Squid reproduce every ninety days. Rhode Island's squid fleet became one of the leading squid landings in the United States. When the average person thinks about their Friday night dinner, few Rhode Islanders were thinking about squid as an option. So the question became, how do we market this sustainable seafood catch in a creative way that will enhance the value of this resource? The answer came from our great Italian and seafood chefs in a dish now internationally known as Rhode Island-style calamari, which is calamari lightly fried with banana peppers, sweet cherry tomatoes, parsley and preferably with a touch of extra virgin olive oil.
How were you able to get Rhode Island calamari to steal the show at the 2020 Democratic National Convention?
The idea started in 2016 at the Democratic National Convention rehearsal in Philadelphia. The day before the convention, there is a run-through of the show. That show rehearsal includes the traditional state roll call of votes. The roll call started with the states in alphabetical order, and by the time they got to Maine, people were mentioning food items from their states. Maine mentioned its lobsters, Massachusetts mentioned its chowder and Maryland mentioned its crabs. By the time the roll call got to Rhode Island, I said, "Rhode Island, the only state with an official state appetizer, casts the following votes…" Immediately, everyone applauded and Lester Holt from "NBC Nightly News" said, "That's fantastic." Four years later, on a Zoom call with our Democratic party team, I was told that the DNC wanted a thirty-second story relating to individuals that had been uplifted during this difficult pandemic. I thought, we only have thirty seconds to sell the state and I don't care what the DNC says, that is what we are going to do. We decided to highlight calamari.
What did it take to put the video together?
The most difficult part of the presentation was getting the spot down to exactly thirty seconds. It took approximately nineteen takes by eliminating two or three words with each take. Within an hour of the DNC presentation, there were over 100,000 internet hits on Rhode Island-style calamari and the domain "RI the calamari comeback state" had already been taken. To this day, I still receive calls from the national and international press inquiring about our state appetizer and where it can be purchased.
You might also be interested in: