An Inside Look at Squid Harvesting
Captain Jason Sawyer has been squid fishing for more than thirty years, but the effects of the coronavirus pandemic forced him to change the species he's targeting.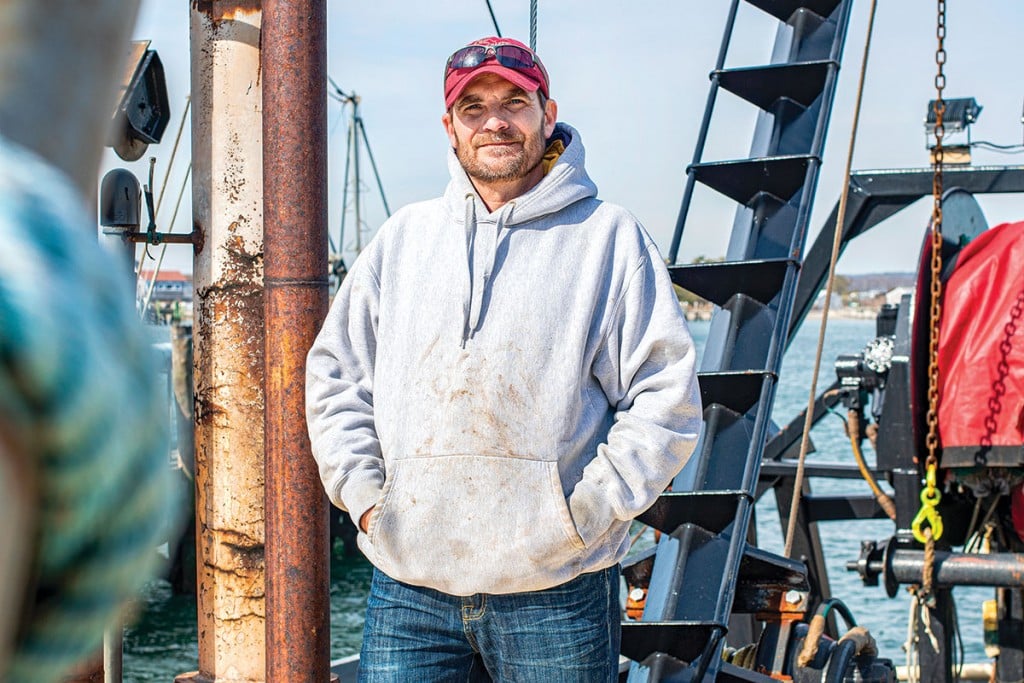 When restaurant closures went into effect last spring and dining out options dwindled, the local squid industry suffered. Fishermen went from getting $1.50 to only ninety cents a pound for squid. Captain Jason Sawyer, who navigates the F/V Cody and unloads at Handrigan Seafood in Point Judith, which ships to Sea Fresh for processing, had to make the tough decision to temporarily target fluke and scup instead of squid.
"The virus hit and restaurants were shutting down," he says. "We were going squidding and fish houses didn't know what they were going to pay for the catch. We couldn't ship it overseas or sell it to restaurants. This forced a lot of fishermen to not target squid."
In fact, the harvest total for 2020 was much lower than the previous year; the total quota landed in 2020 was 20,434,501 pounds compared to 27,213,341 pounds in 2019.
Sawyer originally started squidding at age eighteen in 1990 out of Davisville with his cousin, and moved on with him two years later when his cousin captained the Seafarer. Originally from Camden, Maine, Sawyer moved to Rhode Island to harvest squid on a freezer trawler for an average of two weeks at a time. These boats flash-freeze the catch within an hour to keep it fresh.
"Most of the squid was sent overseas," Sawyer says. "When we were freezing the squid, we didn't have to worry about the product going bad. We could get through the tough days when we didn't catch much and continue to stay out there and harvest."
Sawyer became a captain in 2013 when he pivoted to pursue fresh squid harvesting. It involves shorter trips where they put the fresh squid on ice without freezing it. "My first daughter was born the following year and I wanted to be home more and not out at sea for two weeks at a time," says the father of two young girls. One trip can last three to six days and haul in up to 20,000 pounds of squid.
On fishing trips, he would trawl up and down the East Coast from the Hague line in Canada (the boundary between the United States and Canadian territorial waters) all the way down to North Carolina. In summer, he could do day trips to spawning areas in Nantucket Sound, off Nantucket and Martha's Vineyard. "Catching squid is pretty tough sometimes," Sawyer says. "We rely on other fishermen to find out where they are catching. There are certain places to check like mini canyons on the continental shelf all up and down the East Coast."
Once he finds a spot, a net plunges down sixty to 120 fathom deep (a fathom is six feet). "Basically, you're towing a net and it's got two devices called doors that are made to ride in the water and spread," Sawyer says. "Behind those doors is a bottom trawl — a net — and these doors open the net up and it drags along the bottom to catch the squid. A good tow of squid is 2,000 pounds at a time."
Unfortunately, the plummeting prices for squid have forced many fishermen, like Sawyer, to temporarily target other species of fish. Fewer people are dining out at restaurants and ordering appetizers like fried calamari. The solution to save the squid industry is for more people to cook calamari at home. "Every restaurant
you go to has calamari, but not many people go to the market to buy it. No one wants to clean it or knows how to cook it," Sawyer says. "We need to educate people that they can go buy squid and cook it at home very easily. It's actually easy to clean, or just buy the frozen rings. Calamari is the best."
You might also be interested in: