6 Rooftop Bars and Restaurants in Rhode Island
Savor the view at these top five spots for meals and cocktails high up on the rooftops in Rhode Island.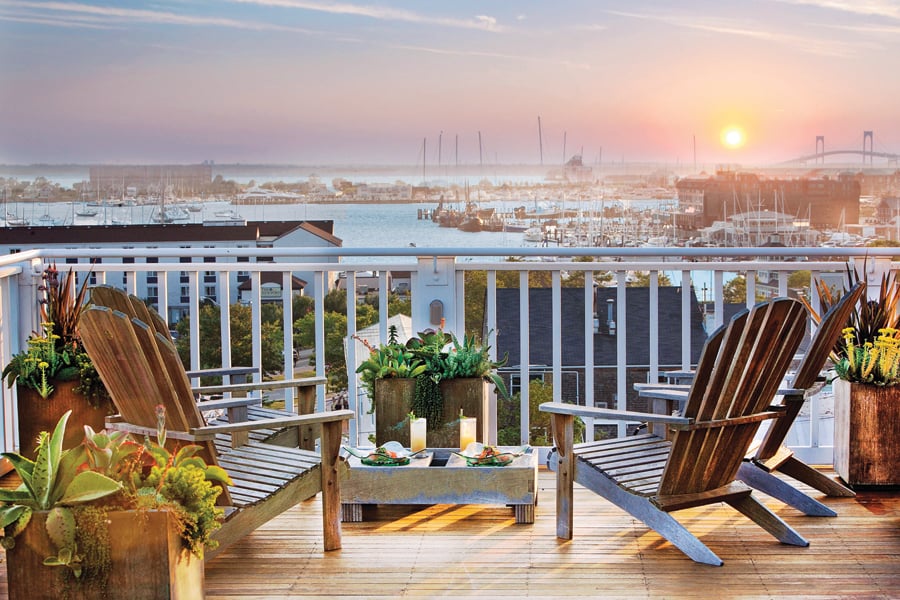 This article was created in collaboration with Rhode Island Commerce.
Editor's Note: This information has been updated as of August 16, 2022.
Coast Guard House
The Coast Guard House's roof deck overlooks the crashing waves of Narragansett Bay, right by the beach. There's no better place to enjoy raw bar options, seafood, steaks and more with cocktails outdoors. The restaurant also offers indoor dining and takeout.
How to order: Main level dining hours are daily 11:30 a.m.-10 p.m. and 4-10 p.m for the Outdoor Deck and Anchor Room.
The details: 40 Ocean Rd., Narragansett, 401-789-0700, thecoastguardhouse.com
Rooftop at ProvidenceG
Soak up a Miami vibe in little old PVD. Walk into the ProvidenceG building and take the elevator seven stories up to the rooftop where a sprawling bar, outdoor couches and sitting areas await. The open space has a retractable glass rooftop, fire pits and private lounges, enabling guests to enjoy city skylines and starry nights throughout the year.
How to order: Book a reservation here. Hours are Mon.-Wed. from 4-10 p.m., Thurs 4 p.m.-1 a.m., Fri.-Sat. 3 p.m.-2 a.m. and Sun. 2-10 p.m.
The details: 100 Dorrance St., Providence, 401-632-4904, providenceg.com
Top of Newport Bar, Hotel Viking
Up on the roof of the Viking Hotel is a place where you can let all your cares drift right into space over views of the waterfront, Gilded Age mansions and boats in the marina. Time a visit right for the sunset. Open Memorial Day weekend through Labor Day. Right now, Top of Newport is only offering a Lite Bites Menu.
How to order: Open daily 3-10 p.m. There's live music every Friday and Saturday from 6-9 p.m.
The details: 1 Bellevue Ave., Newport, 401-847-3300, hotelviking.com
Midtown Oyster Bar
Midtown Oyster Bar has a third floor roof deck for lunch and dinner seating with views that look down on the bustling waterfront. They cannot guarantee seating up there, but you can try to request it! The restaurant is open for indoor and outdoor dining, as well as takeout.
How to order: Reservations are recommended. It's open Mon.-Thurs. 11:30 a.m.-9:30 p.m. and Fri. and Sat. 11:30 a.m.-10 p.m., Sunday brunch is 11:30 a.m. – 2:30 p.m.
The details: 345 Thames St., Newport, 401-619-4100, midtownoyster.com
The Roofdeck at the Vanderbilt
Watch the sun set over the horizon from the rooftop terrace of a Newport mansion once owned by the renowned Vanderbilt family, and now owned by Auberge Resorts. Sip the signature Mistress cocktail of Grey Goose pear vodka, pear puree, rose water and prosecco and pretend you're from old money, honey.
How to order: Reservations are encouraged. It's open daily 4-10 p.m.
The details: 41 Mary St., Newport, 401-846-6200, aubergeresorts.com/vanderbilt/dine/the-roof-deck
Mare Rooftop
The year-round, fully enclosed rooftop restaurant features views of the East Side and downtown Providence, plus amazing brunch, lunch, dinner and cocktail menus.
How to order: Reservations are required. It's open Tues.-Thurs. 5-8:30 p.m.; Fri. 5-9:30 p.m.; Sat. noon-3 p.m. and 4-9:30 p.m. and Sun. noon-3 p.m. and 4-8 p.m.
The details: 229 Waterman St., Providence, 401-336-6273, marerooftop.com
RELATED ARTICLES