Local Options for Thanksgiving Dinner and Desserts
Whether it's a sit-down feast or takeout turkey and side dishes, we've rounded up some places that are accepting reservations. Plus, where to place your dessert orders!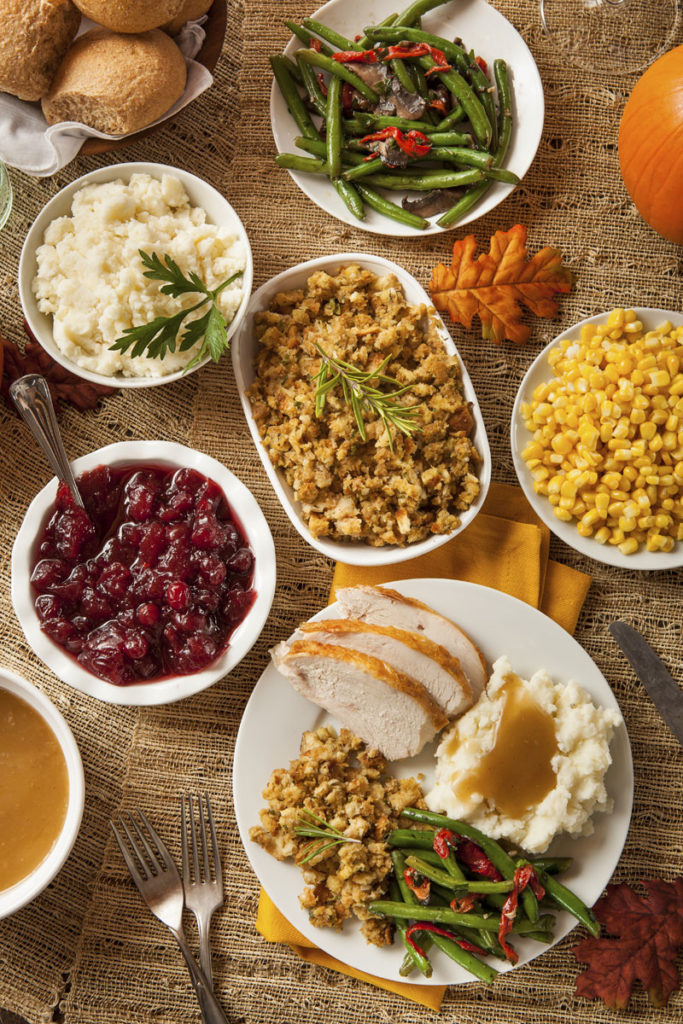 Editor's Note: This article was updated on November 8, 2019. Writing by Leanna Lobo and Kerri Tallman

Dinner Reservations
Chapel Grille in Cranston is offering a special Thanksgiving menu for the occasion. From 11:30 a.m.–8 p.m., there will be an a la carte menu of soups, appetizers, pizzas, salads, pasta and a variety of entrees including roasted turkey with all the fixings, roasted swordfish, penne vodka with grilled chicken and more. There is also a children's menu available with a turkey dinner, chicken fingers or penne pasta. View the full menu here and call now to make your reservation. 3000 Chapel View Blvd., Cranston, 401-944-4900, chapelgrilleri.com
DeWolf Tavern is serving a four-course Thanksgiving feast for $50 per adult and $20 for kids ages ten and younger, plus tax. Dishes include a first-course of fall harvest soup, a second-course of mesclun salad with balsamic dressing and shaved carrots, and a third-course with a choice of roasted turkey, baked salmon or prime rib with traditional sides, or a vegetarian plate with mashed potatoes, Brussels sprout cornbread hash, black lentils, glazed carrots, garlic roasted green beans, cauliflower manchurian and creamed spinach. The fourth-course dessert includes a choice of pecan, pumpkin or apple pie with whipped cream, sticky toffee pudding, house made ice cream or sorbet. The Thanksgiving menu will be available for seating times from 11:30 a.m. to 7 p.m. Time slots are already filling up, so call now to make your reservation! 259 Thames St., Bristol, 401-254-2005, dewolftavern.com
Ella's is serving Thanksgiving dinner from noon–6 p.m., including the regular menu with holiday additions, of course, a full turkey dinner being one of them. The menu is a la carte and an organic turkey dish is also being served for $28 which includes yams, stuffing, mashed potatoes, gravy, vegetables and fresh cranberry sauce. Make a reservation here. 2 Tower St., Westerly, 401-315-0606, ellasfinefoodanddrink.com
4. Hotel Viking
The Hotel Viking in Newport has two Thanksgiving options for you and your family, a grand buffet and a sit-down plated turkey menu. The grand buffet takes place from 2–5 p.m., and includes turkey, cornbread and linguica stuffinh, carving stations and all of the traditional delights, plus dessert favorites for $89 for adults; $34 for children ages six through twelve; children five and younger are free. The traditional Thanksgiving Dinner is offered from 5–9 p.m. including appetizers and dessert stations, a plated dinner and a welcome glass of rose Champagne. Prices are $55 for adults, and $25 for children. All prices include tax and gratuity as well as complimentary valet parking. Reservations can be made online or by phone. One Bellevue Ave., Newport, 401-847-3300, vikingspecialevents.com
The first Thanksgiving included seafood, so why not your family meal, too? Legal Seafoods in Cranston is hosting a traditional Thanksgiving dinner from 11 a.m.–8 p.m. with regular seafood items as well as a special turkey dinner with sausage stuffing, mashed potatoes, butternut squash and cranberry sauce. It costs $24.95 per person and $8.95 for children ages twelve and younger. Reservations are recommended and private dining rooms must be reserved in advance. 175 Hillside Rd., Cranston, 401-732-3663, legalseafoods.com
6. Massimo
A four-course Italian style spread that includes an insalata option of roasted tomato soup, a primi choice of handmade pumpkin ravioli; a secondi course of roasted turkey with chestnut stuffing, cranberry sauce, roasted root vegetables and potato puree and housemade pumpkin pie for dessert for $43 per person. Dinner reservations are available from noon–6:30 p.m. 134 Atwells Ave., Providence, 401-273-0650, massimori.com
Mill's Tavern is offering a prix-fixe Thanksgiving menu on November 28 from noon-7 p.m., for $45 per person or $25 per child. The first-course offers a choice of artisanal greens, classic Caesar salad or spiced squash bisque. The second course consists of your choice of traditional carved orange sage-brined turkey, a fourteen-ounce aged New York strip or Ora King salmon; and the third-course of seasonal sorbet tasting, Portuguese bread pudding or chef Samantha's seasonal dessert. An a la carte turkey dinner is also available featuring oysters and littlenecks on the half-shell, Point Judith calamari, a grand shellfish platter and much more. View the full menu here. 101 North Main St., Providence, 401-272 3331, millstavernrestaurant.com
8. Ocean House

A Thanksgiving Day buffet from 11 a.m.–6 p.m. in the ballroom offers the comforts of a home-style feast featuring roasted turkey, creamy mashed potatoes and all the fixings. Enjoy a variety of salad options, potato gnocchi and sauteed brussels sprouts and much more; shrimp cocktail, oysters and more from the raw bar; traditional pies, tarts and mousse for dessert. A children's buffet will also be available which will include fruit salad, a turkey sandwich, pizza, crispy chicken fingers, ham steak, and maple glazed carrots. The buffet costs $85 per adult and $45 per child ages four through twelve, plus tax and gratuity. Children younger than three are complimentary. See the full menu.
Ocean House is also offering a more upscale Thanksgiving dinner in Coast from 11 a.m.­­­­­­­­–6:30 p.m. It's a traditional four-course Thanksgiving meal with a five-star twist. The cost is $125 per guest, plus enjoy an expert wine pairing for an additional $95 per person. Coast's option is suitable for guests ages eight and older. Call 401-584-7000 for reservations. 1 Bluff Ave., Watch Hill, 888-853-2919, oceanhouseevents.com
Weekapaug Inn chef Matt Voskuil and his team will craft a four-course spread of the traditional Thanksgiving fixings with a five-star twist, served from 11:30 a.m. to 5:30 p.m. The cost is $74 for adults, and $34 for children ages four through twelve plus tax and gratuity. Children younger than three are complimentary. Wine pairings available for an additional $50 per person. 25 Spray Rock Rd., Westerly, 401-637-7600, weekapauginn.com
10. Red Stripe
Red Stripe locations in Providence and East Greenwich are offering a special Thanksgiving menu for the occasion. Choose from butternut squash soup or a fall salad for the first course. The second course is a traditional Thanksgiving dinner with roasted turkey, cornbread stuffing, roasted Brussels sprouts, sweet potatoes, cranberry sauce, garlic mashed potatoes and green bean casserole. Choose either pumpkin pie or apple crisp with ice cream for dessert. Dinner costs $29.95 per adult and $12.95 per child ages twelve and younger, plus tax and gratuity. Reservations are required for parties of eight or more and are strongly encouraged for all other sized groups. Reservations can be made between 11:30 a.m.-8 p.m. 465 Angell St., Providence, 401-437-6950; 455 Main St., East Greenwich, 401-398-2900, redstriperestaurants.com.
11. Trattoria Zooma
Trattoria Zooma on Providence's Federal Hill can host your family this holiday season for a Thanksgiving feast like no other. Spend quality time sitting around the table, family style, with reservations between noon–7 p.m. while indulging in everything from a delicious roasted turkey with housemade gravy to local harvest vegetables. The traditional menu is also available all day. The dinner costs $29 per person excluding tax and tip. Don't forget to order a housemade pie for pickup. Choices include pumpkin, pecan and sweet potato. Phone orders only and must be ordered by Nov. 19 and picked up on Thanksgiving Eve or day. 245 Atwells Ave., Providence, 401-383-2002, trattoriazooma.com.
12. Venice Restaurant at the Winnapaug Inn
Venice is offering an a la carte Thanksgiving menu from noon–6 p.m. as well as a family-style turkey dinner with all the trimmings served tableside (please call in advance). The a la carte menu includes not only turkey and all the fixings ($23), but grilled New York strip steak, baked stuffed shrimp, scallops and more as well as a variety of appetizers and salads. For the tableside option, you must have a minimum of four people, and the cost is $37 per person. The menu includes turkey, mashed potatoes, butternut squash, green beans, herb stuffing, cranberry sauce, gravy and pumpkin pie. Or get the family-style turkey dinner to go. It serves eight to ten people for $179, plus tax. Reserve your dinner by Nov. 24. All dinners can be picked up at noon Thanksgiving Day. Just pick it up and serve, no reheating is required. 165 Shore Rd., Westerly, 401-348-0055, venicerestaurant.com
Bluefin is offering a Thanksgiving buffet filled with delicious starters like a cheese board and a garden salad bar, native pumpkin and apple bisque as well as warm corn bread before you dive into the carving station for entrees such as slow-roasted turkey, peppercorn-crusted sirloin, baked cod or butternut squash ravioli, with all the traditional fixings to go along with it. And, of course, you can't forget about dessert. There is an assortment of pies and other tasty treats like cookies, brownies and bread pudding. View the full menu here. Seatings are at noon, 2 p.m. and 2:30 p.m. Adults are $42 per person and children ages five through twelve are $22, plus tax and gratuity; children younger than five are free. 1 Orms St., Providence, 401-272-240, marriottprovidence.com
14. Bravo
Bravo is accepting reservations for Thanksgiving dinner from noon to 8 p.m. Enjoy a roasted turkey breast with stuffing, gravy, butternut squash and cranberry sauce along with the rest of the holiday menu. Dinner is $25.95 for adults and $12.95 for children. Book early as space is limited. 123 Empire St., Providence, 401-490-5112, bravo-providence.com
15. Parma Ristorante
Parma Ristorante is an Italian restaurant offering seatings for the Thanksgiving buffet at 11 a.m. and 1:30 p.m. The buffet includes an antipasto station, a meat carving station, a full traditional Thanksgiving turkey with all the fixings along with dessert options, of course including pie. Adults are $29.95, children younger than twelve are $15.95 and kids younger than three are free. Space is limited so make your reservation today! 266 Putnam Pike, Smithfield, 401-349-0079, parmaristorante.com
16. North
North inside the Dean Hotel in Providence is hosting one family-style seating at 6 p.m. for $50 per person for food. Eight to ten dishes will be served family-style. Make a reservation now at foodbynorth@gmail.com. 122 Fountain St., Providence, foodbynorth.com
17. MainSail
MainSail at the Newport Marriott is hosting two seatings for dinner on Thanksgiving Day. A $50 three-course prix fixe menu will be served from 11:30 a.m. to 3 p.m. Appetizers include your choice of roasted pumpkin Grafton aged cheddar soup, crab croquettes or warm spinach salad. Entrees consist of traditional turkey dinner, seared scallops, prime cut hanger steak and more. For dessert, enjoy pumpkin spice latte tiramisu, pecan tart, apple galette or a s'mores cake. From 5 to 9 p.m., the prix fixe menu and regular dinner menu will be served. Make a reservation by calling 401-849-7788 or book through opentable.com. Newport Marriott, 25 America's Cup Ave., Newport, 401-849-1000, mainsail-restaurant.com
Wright's Farm Restaurant in Burrillville will be open for Thanksgiving from noon to 3:30 p.m. for family-style chicken dinners with baked chicken, pasta and sauce, french fries, salad and fresh-baked rolls for $13.75 per person, or $7.95 for kids ten and younger. A steak dinner is also available for $23.75 per guest. Reservations are accepted for parties of two or more. 84 Inman Rd., Burrillville, 401-769-2856, wrightsfarm.com
19. Fleming's Prime Steakhouse and Wine Bar
This Thanksgiving, join Fleming's Prime Steakhouse and Wine Bar to make memories — and enjoy a three-course meal starting at $52. The Thanksgiving menu features favorites like lobster bisque, mixed herb-roasted turkey breast, family-style sides like mashed potatoes and seasonal desserts like pumpkin cheesecake. For devoted steak lovers, the Fleming's main dining menu will also be available and children can enjoy a three-course menu for $22. Thanksgiving hours 11 a.m.–8 p.m. One West Exchange St., Providence, 401-533-9000, flemingssteakhouse.com/locations/ri/providence
20. Iron Works
Iron Works in Warwick will offer a Thanksgiving menu only from 11 a.m. to 6 p.m. Appetizer choices include a choice of butternut squash bisque, Point Judith calamari, roasted winter squash and brussels sprouts and roasted cauliflower and lentil fritters. There's a choice of seasonal salad or a Caesar salad, followed by holiday entrée choices including a traditional turkey dinner with sausage stuffing, red bliss mashed potatoes, cranberry compote, glazed carrots, green beans and rich gravy; short ribs with red bliss mashed potatoes, glazed carrots and braising jus; brown sugar brined pork loin with red bliss mashed potatoes, glazed carrots, cranberry compote and stone fruit glace; roasted salmon with butternut squash risotto, sautéed spinach and smoked tomato basil butter; shrimp pappardelle with roasted tomatoes, onions, cognac cream sauce, fresh herbs and grated parmesan; and prime rib served with a cheddar and chive twice baked potato, glazed carrots and rich au jus. Thanksgiving desserts will include cast iron cinnamon and maple bread pudding, pumpkin cheesecake and pecan pie. 697 Jefferson Blvd., Warwick, 401-739-5111, ironworkswarwick.com
21. The Mooring Seafood Kitchen and Bar
The Mooring, located at 1 Sayer's Wharf in Newport, will feature a traditional turkey dinner in addition to its full menu from noon to 8 p.m. 1 Sayer's Wharf, Newport, 401-846-2260, mooringrestaurant.com
22. 22 Bowen's
22 Bowen's located at 22 Bowen's Wharf in Newport, will feature a traditional turkey dinner in addition to its full dinner menu from noon to 8 p.m. 22 Bowen's Wharf, Newport, 401-841-8884, 22bowens.com
The Boat House Restaurant, located at 227 Schooner Dr. in Tiverton, will offer a traditional turkey dinner in addition to its full menu from 11 a.m. to 5 p.m. 227 Schooner Dr., 401-624-6300, Tiverton, boathousetiverton.com
24. Bar 'Cino
Bar 'Cino, located at 22 Washington Square in Newport, will offer its full menu from 11:30 a.m. to 10 p.m. 22 Washington Square, Newport, 401-619-8201, barcinonewport.com
TAKEOUT TURKEYS, PIES AND SIDES
25. Chez Pascal
Chez Pascal is taking orders for its savory chicken pie for takeout! The pie includes chicken with aromatic vegetables, apples, gruyere cheese and wild rice in flaky pie dough. The price is $35 plus tax, paid in advance. The pie is nine inches in diameter and already cooked, so you just need to heat them up in a 350-degree oven for about twenty to thirty minutes. Serves eight to ten people depending on the size of your appetite. Place your orders now until noon on Monday, Nov. 25. Pick up your pie between 5–9 p.m. on Wednesday, November 27. Call to place your order. 960 Hope St., Providence, 401-421-4422, chez-pascal.com
26. Cozy Caterers
Let Cozy Caterers take care of the Thanksgiving cooking stress for you. You can customize turkey dinner packages for $23-$25 per person or order off the à la carte menu. Offering a full range of platters, salads, soups, entrees and desserts, you can order a few items or your whole meal. Each item can be ordered in a small, medium or large size, perfectly tailored to how many people you need to feed this holiday. View the full menu here. Orders must be received by Nov. 23. You can pick up or have your food delivered to you on Nov. 25 to 27 between 9 a.m. and 3 p.m. Or you can pick up on Thanksgiving Day from 9 a.m.–noon. 400 Warwick Ave., Warwick, 401-351-3111, cozycaterers.com
In celebration of the upcoming holiday, Easy Entertaining is offering a Thanksgiving Menu filled with sides, packages and desserts available for pickup, including roasted turkey from Johnston's Baffoni's Poultry Farm, mashed sweet 'n' squash and assorted Rhode Island grown veggies. Other specialties include roasted butternut mac 'n' cheese and homemade cranberry apple relish (made with local cranberries, of course). Orders need to be placed by Nov. 21 for pickup on Wed., Nov. 27 between 3 and 6 p.m. Packages including turkey and mashed potatoes, vegetarian stuffing, giblet gravy and cranberry-apple relish are available for four guests and up to sixteen guests ($110–$433, not including 8 percent tax and 5 percent gratuity for the staff). Appetizers, additional sides and desserts are also available for separate purchase. Full payment is required within twenty-four hours of ordering. 166 Valley St., Building 10, Providence, 401-437-6090, easyentertainingri.com
28. Willow Tree
Willow Tree's retail store in Attleboro is allowing customers to reserve farm-raised turkeys and purchase a variety of pies online until Nov. 20. Walk-in and phone orders will still be accepted after Nov. 20. You can also buy sides and appetizers including chicken dips, chicken salads and house-made turkey gravy. Willow Tree also offers turkey pies. Turkeys can be picked up starting Mon., Nov. 25 until Wed., Nov. 27. The store closes at 5 p.m on Wednesday. 997 South Main St., Attleboro, Mass., 508-222-2479, Ext. 1, willowtreefarm.com.
29. Gregg's Restaurants and Taverns
Gregg's will do all the hard work for you of preparing side dishes needed to pair with your turkey. Select from stuffing, butternut squash, gravy, mashed potatoes, peas, cranberry sauce or you can order the holiday side package that includes everything you need (except the turkey) for a full Thanksgiving meal. Sides must be prepaid and ordered forty-eight hours in advance. Order online and pick up from any of the locations. 1303 North Main St., Providence, 401-831-5700; 1359 Post Rd., Warwick, 401-467-5700; 1940 Pawtucket Ave., East Providence, 401-438-5700, 4120 Quaker Lane, North Kingstown, 401-294-5700, greggsusa.com
TAKEOUT DESSERT

Wright's Dairy Farm in North Smithfield offers a variety of your fall-favorite desserts like pumpkin spice rolls, apple crisp, pecan diamonds and maple butter cookies. If you're looking for more of a classic Thanksgiving pie, choose from flavors like apple, pumpkin, blueberry, chocolate cream and more. If you're looking for something different, Wright's also has a variety of cakes and specialty breads for you to order. All Thanksgiving orders must be received before Nov. 21, for pickup on Nov. 26 and Nov. 27 and can be made in person or by phone. See the complete menu. 200 Woonsocket Hill Rd., North Smithfield, 401-767-3014, wrightsdairyfarm.com
The Beehive Café and Pantry in Bristol has you covered this Thanksgiving with carefully crafted and thoughtful food that celebrates a wholesome community. Select from traditional Thanksgiving sides, breads or a variety of cakes like pumpkin, carrot, chocolate, cheesecake and even a vegan chocolate. Also available for order is fruit, pumpkin, pecan and chocolate pecan pies. Order online by Nov. 21 and pickup by Nov. 27. See the full selection. 87 Gooding Ave., Bristol, 401-396-9060, thebeehivepantry.com
OYSTERS
32. Walrus and Carpenter Oysters Holiday CSA
Choose from originals from Ninigret Pond in Charlestown or dutchies from Dutch Harbor in Jamestown. To place an order and pay at pick-up, fill out an order here. Oysters are sold in quantities of twenty-five, fifty or 100. If you need shucking tools, gloves are available for $6 and shucking knives for $17. All Providence pick-ups will take place on Nov. 27 at 73 Harrison St.
DELIVERY
33. Feast and Fettle
Order everything but the (full) turkey and have it delivered right your door. Fixings include stuffing, mashed potatoes, sweet potato and green bean casserole, salad, cranberry sauce and more. You can even order sous vide turkey breast with sage butter for up to sixteen servings. Feast and Fettle is teaming up with Wrights Dairy Farm and Ellie's to serve apple, blueberry, pecan, pumpkin, cheesecake and chocolate cream pies as well as apple custard tart. Also available is a multitude of breads from Seven Stars Bakery. Choose a serving size and have dinner and dessert delivered with no cooking required. Delivery will be available on Nov. 27 to all of Rhode Island as well as Swansea, Seekonk, Attleboro, North Attleboro and Rehoboth, Massachusetts, or you can pick up your order at 881 Waterman Avenue in East Providence. View the full menu here and place your order by noon on Thursday, Nov. 21.