Pick a Vineyard, Pack a Picnic in RI and Beyond
Whether you're in Cumberland or Portsmouth, we can help you plan the perfect afternoon.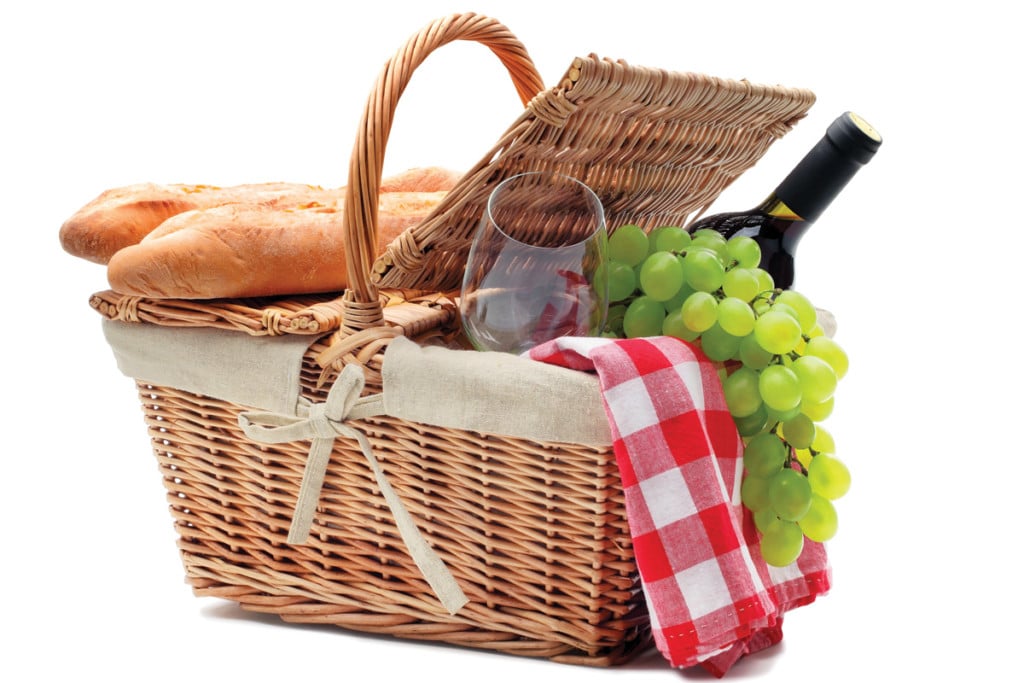 Cumberland
Vineyard: The family-operated vineyard, Diamond Hill Vineyards, has had forty years to perfect its pinot noir, but because of the long fermenting process, the winemakers had to find ways to satisfy their customers while they were waiting. As a result, they've been using other fruits to make additional wines, including apples, cranberries, peaches and blueberries. The gardens and verandas are the perfect place to sip some wine and enjoy a fresh bite to eat.
Picnic Supplies: If you're heading over to Diamond Hill, stop by Phantom Farms on your way there. You could simply browse through the farm stand filled with warm baked goods and freshly picked produce, or you could get the freshest fruits and veggies by picking your own in the field.
Portsmouth
Vineyard: Since the mid-nineteenth century, Greenvale Vineyards has been described as "a small producer of exceptional wines." Its twenty-seven acres of vineyards produce a variety of wines both red and white. Pack a picnic and head over to Greenvale on a Saturday night when the jazz is always playing.
Picnic Supplies: DeCastro Farms' nearby farm stand includes a bunch of different fruits and vegetables and features specialty food items that are produced around the state. DeCastro's also sells a lot of produce to retailers so if you don't want to drive to the Portsmouth location, you can find some products at local grocery stores.
Foster
Vineyard: Of the newest vineyards in Rhode Island, Nickle Creek Vineyard brings a fresh taste to winemaking. The winemakers planted their vineyard in 2007 and began selling their first batches in 2012. They currently carry fifteen types of wine and want you to taste and enjoy each and every one. They also want you to love the land they plant on as much as they do, so bring a lunch or some snacks and wander around. You might even cross paths with one of their rescue wine dogs!
Picnic Supplies: Swing by Locust Leaf Farm in the morning, grab some of their eggs and meat, whip up a gourmet meal and then head to Nickle Creek in the afternoon where you'll be munching on the fanciest lunch in the vineyard.
Johnston
Vineyard: Verde Vineyards' four award-winning wines are worth the trip to Johnston. During production, the winemakers strive to use some of the most sustainable farming techniques. They have thoroughly studied all of their wine types and can give recommendations for which foods to prepare to accompany each bottle. So, before you pack that lunch, take a look at their website and get a better idea of what to bring.
Picnic Supplies: Salisbury Farm's products can be found at various farmers markets and restaurants, but if you want to go straight to the source, they have a Johnston farm stand you're welcome to peruse or you can get your hands dirty and pick your own fruits and veggies in the surrounding fields. In addition to their produce, they sell a variety of spreads and other special food items.
Westport, Mass.
Vineyard: Measuring at approximately eighty acres, Westport Rivers Winery is the largest vineyard in New England. If you're not sure whether you want to buy from the vineyard or just grab a bottle off the liquor store shelf, Westport Rivers' flavors and location makes quite the argument for the former. The vineyard often hosts music and entertainment outdoors during the summer, so grab your beach chairs, watch the sunset and enjoy some live music while savoring a glass of fresh, sparkling wine and a packed picnic.
Picnic Supplies: Nest and Song Farms doesn't have its own farm stand but you can find its farm goodies at the Hope and Main Farmers Market in Warren, just a stone's throw from the Massachusetts border. They provide an impressive display of various fruits, vegetables and herbs along with plenty of fresh eggs.
North Stonington, Conn.
Vineyard: Jonathan Edwards Winery is where New England charm meets Napa style. Offering everything from Chardonnay and sauvignon blanc to merlot and lodi zinfandel, the winery also offers tastings and tours seven days a week, year-round. During the summer, the public is invited to the outdoor stone patio, complete with its very own tasting bar. In addition to encouraging visitors to bring their own snacks, the winery provides a small selection of local cheeses and accompaniments to pair with your wine choices.
Picnic Supplies: Firefly Farms is a regular at local farmers markets in Connecticut, but lucky for those who can't make the Saturday morning appointment, they also have a year-round farm stand that offers certified humane meats, charcuterie and fresh eggs. And should you decide to buy your products a day or two prior to your winery trip, you might just want to check out Firefly's website for some delicious recipes including roasted turkey, corn chowder and no melt suet cakes.
RELATED ARTICLES
Ragged Island Brewery: The Hip Kid on the Block in Portsmouth
House Lust: A Stately Winery/Bed and Breakfast is For Sale in Westerly
Sightsailing in Newport with Cloudy Bay Winery and Salt Pond Oysters