Folk Yeah!: Behind the Scenes at Newport Folk Festival
Go backstage and in the water at one of Rhode Island's most storied festivals.
The Folk Hero: Jay Sweet, festival producer
It's early Sunday morning on Newport Folk weekend. According to one festival staffer, Jay Sweet is the calmest she's ever seen. Zen calm. Yogi calm.
But, muddy boots kicked up on a desk inside a trailer behind the Fort Stage, Sweet admits he's one big karate man bruise on the inside. "Complete butterflies," the producer of the Newport Folk Festival says.
You can see it in his eyes — wide like a little kid's, brows raised beneath a blue Newport Folk Festival cap speckled with dust. He's run the show for years, but Sweet doesn't equate experience with impunity.
"We take big risks; our artists could have their own Bob Dylan booing moment," he says, referencing Dylan's 1965 plugged-in set that electrified his audience — not necessarily in a good way — and changed the course of American folk music forever. "That keeps me up at night."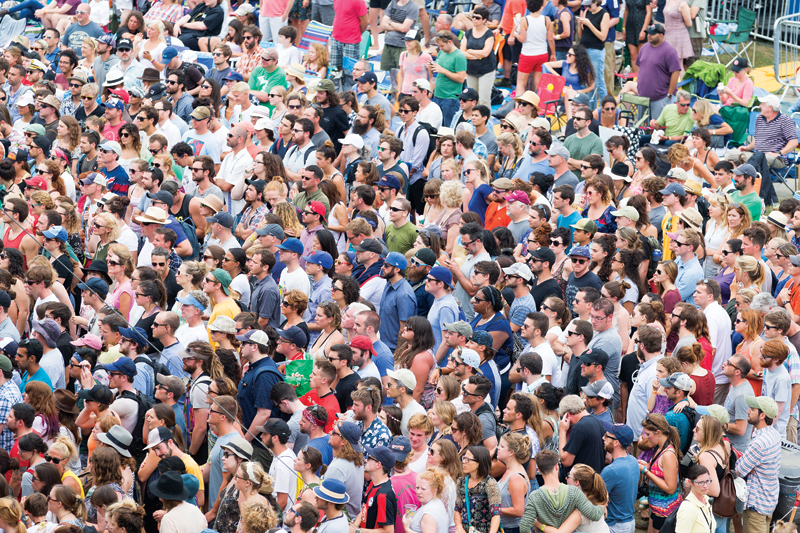 But the modern audience doesn't boo. If anything, fans swoon and sway and stare, awed by the festival's genre-bending assemblage of performers, from emerging artists like Spirit Family Reunion to big-name talents like Hozier and James Taylor.
Sweet's top music moment in recent memory? Taylor's unannounced 2015 performance, he says. "When James Taylor calls you and says he'd like to play for thirty minutes and the festival is already booked, you don't say no. You say: 'Absolutely,' " he says. "When he went on, I had Brandi Carlile and Abigail Washburn on either side of me, both not being able to contain themselves, singing in harmony to 'Carolina in my Mind.' "
There's a sort of magic to the Newport Folk Festival, Sweet says, and it's seduced him since he was a teen. "The first time I came, I snuck in. I was still in high school at St. George's [in Middletown]," he says. "I won't tell you how I got in, but we've since closed that gaping hole."
For his second festival, Sweet pretended to be a Martin Sexton roadie. The third time, he was a paying patron. The fourth, he was covering the weekend for Paste magazine, where he still serves as editor at large.
Sweet eventually landed a gig as a festival consultant and was hired as producer in 2009, after wooing festival founder George Wein with an eighteen-page booking proposal. Last November, Sweet was named executive producer of the Newport Festivals Foundation, which handles both Folk and its sister festival, Jazz. "I never thought I'd be on the stage that I tried to sneak around so many times," he says. "It's still surreal."
Many are quick to deem Sweet the folk hero who saved the festival from obsolescence. "In the middle, it became too homogenized. They were preaching to the same crowd, and the eclectic-ness got lost," he says. "When I came in, it was time to put a fresh coat of paint on it."
Sweet says he and the festival board "basically stole the playbook" from the early years of the Newport Folk Festival, which launched in 1959. "Mississippi John Hurt, Joan Baez, Johnny Cash — if you go back in time, that was just as a disparate group as Jason Isbell, Roger Waters, Madisen Ward and the Mama Bear and Courtney Barnett," he says.
As it turns out, the original Folk Fest blueprint works better on a twenty-first-century crowd. In recent years, tickets have sold out long before the lineup is announced. The fans' enthusiasm is a boon to the festival and the city of Newport, too. According to a report issued by tourism organization Discover Newport, the Folk and Jazz Festivals generate about $6 million in revenue for the city each year.
"When people think of Newport, they either think lobster rolls, sailing or music. I'm happy to be a part of those things," Sweet says. "Our little festival by the sea is small, but it's a family."