Veronica Mays Would Rather Be Quilting  
The Newport native's African-inspired art quilts are on display through April 30 at Paper Nautilus Books in Providence.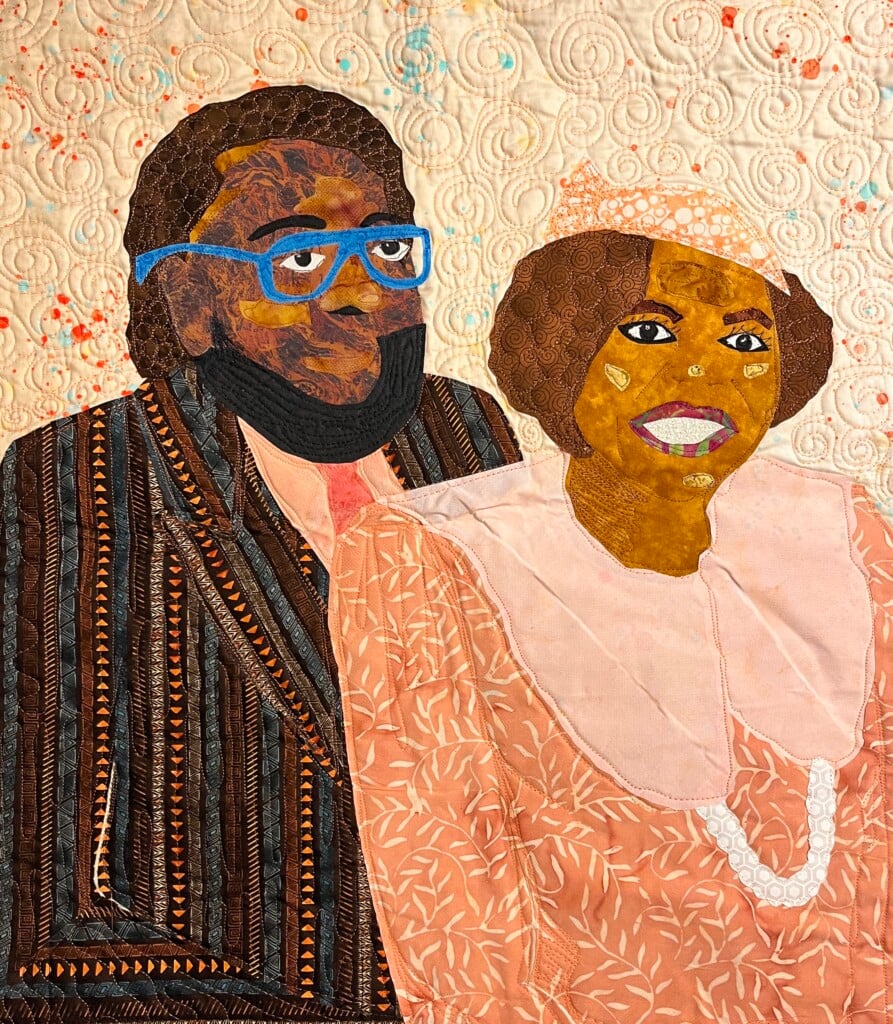 Veronica Mays never imagined she'd become an art quilter.
In 2004, the Newport native was pursuing a master's degree in teaching at the University of Alaska when she took a basic quilting course at Joann Fabrics. She loved it and walked away from the class with two or three quilts.
But with three young daughters in school, she didn't have time to pursue her newfound hobby with any purpose. Fast-forward to today, where Mays crafts upwards of seventy-five art quilts a year that reflect her African American heritage, pieced together with African prints, bold colors and batiks. She's showing some of them at "Herstory: The Heritage Quilts of Veronica Mays" through April 30 at Paper Nautilus Books in Providence's Wayland Square.
Her work showcases themes of family, religion and African heritage, often through historical characters, female forms, family images and portraits.
"I'm really drawn to people," she says. "If I can try to capture an aspect of their essence, I really love to do that."
Quilting lured her back when she returned home to Rhode Island in 2015 and was teaching in different school systems. She started by making little pieces of art; sometimes only working fifteen minutes a day during a particularly busy stretch.
A thirty-second Google search was all it took for her to start pursuing the craft in earnest.
"One day I Googled 'African American Quilts,' and I discovered an artist named Aisha Lumumba. She had a book called 'Scrap Easy,' and I looked at the book and said 'I can do that!,'" she says. "I fell in love with her method."
It was Lumumba who gave Mays the chance to display her quilts on a national level when the two artists met at the National African American Quilting Convention in 2017.
"That was such a blessing," Mays says. "The doors keep opening and I just keep being happy about it."
She swapped out her teaching career in 2019 after discussing it with her husband. He told her to go for it and converted their two-car garage into a sewing studio with some hammers, nails and a bit of sweat equity.
Once the exhibit closes, one constant will remain: Veronica Mays will keep on quilting.
"I want to get my quilts done and get on to the next thing. I've got a lot of ideas in this head of mine," she says. "I'd rather be quilting!"
RELATED ARTICLES
29 Fun Things to Do in Rhode Island This April
This Rhode Island Filmmaker Returned to His Abandoned Middle School
Newport Jazz Festival Returns for a Summer of Rhythmic Tunes