'Tomboy' Casts Light on Gender Norms Throughout History
New exhibit exploring cultural expectations of girls and women runs through June 30 at the Providence Public Library.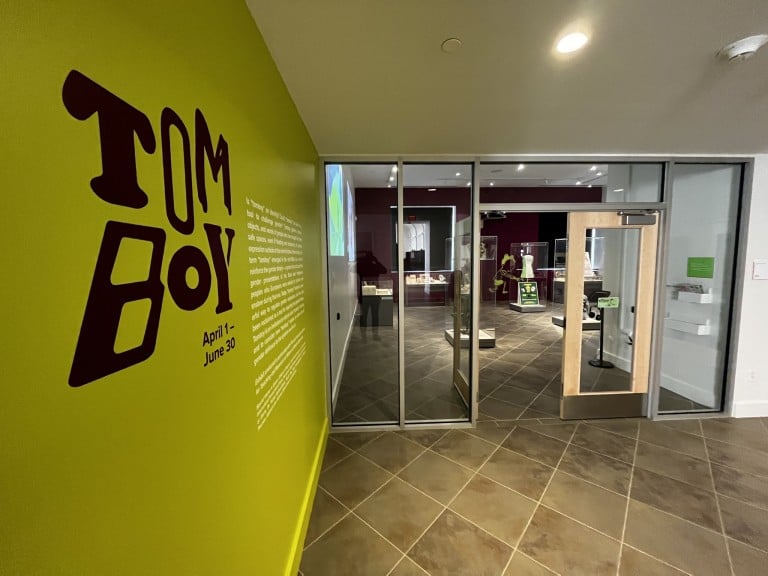 "Kate's a tomboy, sure enough,
Fond of games, so very rough,
Other girls declare that they
With Miss Katy will not play.
Running races, climbing trees,
Playing ball, in sports like these
Katy finds her great delight,
Keeps them up from morn till night."
—"Freaks and Frolics of Little Girls," Josephine Pollard
Tomboy.
What does that word mean to you?
Is it something that makes you smile, remembering a childhood filled with softball games, Star Wars toys, bike rides and perpetually skinned knees? Or does it have a negative connotation – something hurled at those who don't fit into a narrow stereotype of what a girl should be?
The Providence Public Library examines the history of the word in its new exhibit, "Tomboy," on view through June 30 at its brand-new third-floor gallery.
View this post on Instagram
Co-curated by Kate Wells, the library's curator of Rhode Island Collections, and Mary Murphy, the Nancy L. Buc Pembroke Center archivist at Brown University, the show delves into gender norms and cultural expectations for girls and women, and how tomboys have challenged those standards since even before the 1590s, when the word was first used to describe a "wild, romping girl" who acted like a spirited boy.
The theme strikes a chord with Wells, who first pitched the show to library staff in 2019.
"I was a tomboy growing up, so it resonated with me personally," she says. "I wondered, is it still a relative term? Is it a pejorative or something that people embrace? I had a lot of questions."
The pieces are dynamic, ranging from an early 1800s illustration of Alwilda the Pirate, a fifth-century Scandinavian buccaneer, to a chest binder worn by a transgender man just two years ago. A tennis dress worn by Billie Jean King in 1974, on loan from the International Tennis Hall of Fame Museum, shares space with black-and-white pictures of Rhode Island roller derby girls from the early '50s. A silent film is projected on one wall, surrounded by hard hats, boots, books and pictures that all speak to the wide spectrum of the female experience.
"Our goal is to welcome a diverse range of audience members, and a diverse range of ages," says Murphy. "We want offerings to speak to both young people and adults."
A series of monthly curator talks and community guests will be held throughout the run, with curated videos and readings complementing the exhibit.
Adding a fanciful touch are trading cards designed by local artist Jazzmen Lee-Johnson featuring tomboys throughout history. Some are well-known: aviator Amelia Earhart and singer Janelle Monáe, for example, while others, like Amelia Bloomer, a suffragist who invented loose trousers ("bloomers") for women, and Stormé DeLarverie, who threw the first punch at the Stonewall uprising, are more anonymous.
All are important, and all have their story told at "Tomboy."
"We challenge visitors to really approach the show with an open mind," Murphy says. "What does 'tomboy' mean to you? Who are you and what does the word mean to you and your family?
"[This show] has become a really interesting avenue into exploring gender and society."
"Tomboy," produced in partnership with the Pembroke Center for Teaching and Research on Women at Brown University, runs through June 30 at the Providence Public Library, 150 Empire St. The exhibit is free and open during regular library hours.
RELATED ARTICLES
"Black Biennial" Takes Center Stage at RISD
Five Can't-Miss Events This Week in Rhode Island