"Black Biennial" Takes Center Stage at RISD
The student-led exhibit opens doors to students, faculty members and the wider Providence community.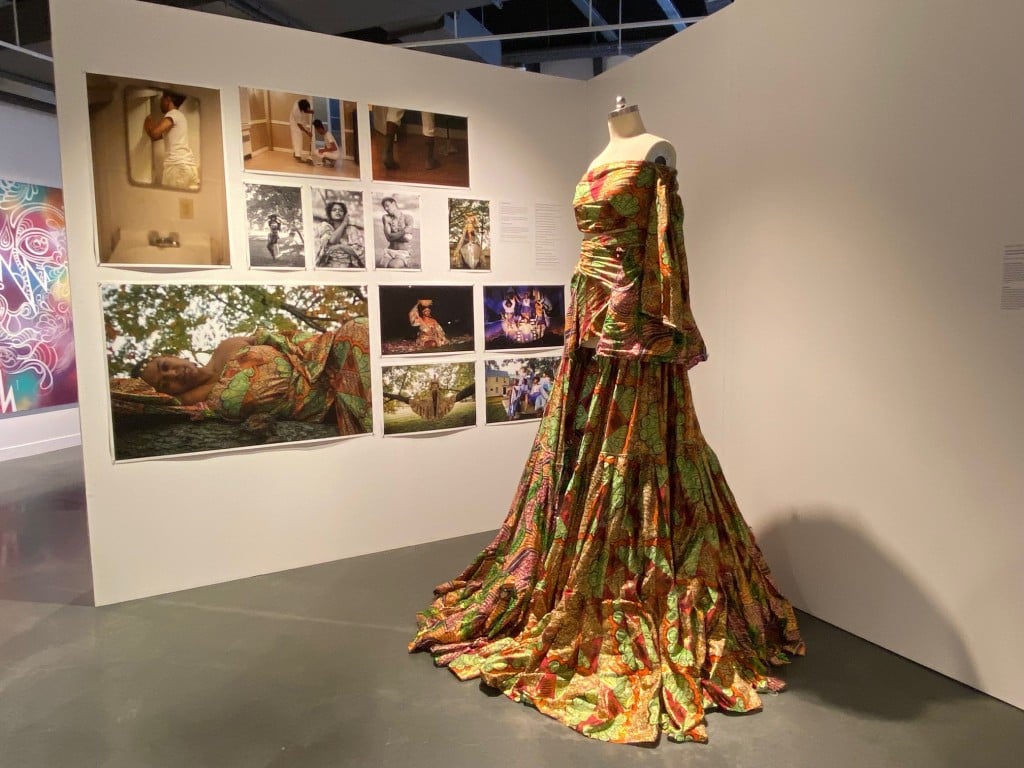 The first-ever "Black Biennial," a student-curated exhibit for Black artists, is on view at RISD's Gelman Student Exhibitions Gallery through April 10.
The show features works from eighty artists, including students, faculty members and Providence residents. It's the brainchild of RISD senior Rey Londres, a photography major who saw the need for an inclusive space where artists of color could show their art when they were looking for museum work during their sophomore year. (Londres uses they/them pronouns.)
"I felt deceived by the applications," Londres said. "They all said they wanted inclusive voices, but it just felt very exploitative — very wrong. That made me think, 'When can I have a space that acts differently?' I knew we needed an alternative space to exhibit."
The space on the second floor of the school's Chace Center — which also houses the RISD Museum — is a multimedia extravaganza. The eight-feet-high "Oculus" by RISD grad Nafis M. White fills almost the entire length of the wall, a medallion-like structure woven through with braids and crafted from hair, "embodied knowledge, ancestral recall, audacity of survival" and bobby pins. Nearby is "ill Na Na's revenge," a jacquard tapestry by RISD grad Qualeasha Wood depicting a diffused screenshot titled "black women don't owe you sh*t.readme."
"Beat me, Pin me, Bend me, Shoot me, 'Shoot me,' Hold me, 'Hold me Down,' (Repeat)" is a haunting sculpture made of bicycles, water bottles, OSHA orange paint and 10 zip ties by RISD student Njari Anderson. It immediately captures your attention, daring you to look astray.
These works share space with self-portraits, copper-tinged photographs, paintings, sculpture, films and clothing that all speak to the Black experience.
"What we're trying to do is help highlight the Black artistic narrative," said co-curator Melaine Ferdinand-King, a Ph.D. candidate in Africana studies at Brown University. "There's a certain collective vibrancy of Black lives, and we think more spaces like these should be in the Rhode Island area."
The exhibit's name, "New Beginnings," is both an apt description of the project itself and of the nonlinear way it came to life.
Londres' goal was to bring the community together from all parts of Providence into a space where everyone could feel celebrated. The trickier part was getting everyone on the same page.
They had to unwork some of the ways the student gallery was run, Londres said, since it came with certain rules and contingencies. Case in point: Providence residents had never been invited to take part in a student-led exhibit, they said. It was time to welcome in the community and have them be part of the conversation.
"This was the biggest learning experience I've had at RISD," Londres says. "The easy part was curating the art. The hard part was getting everyone on the same side."
Londres credits the team – Ferdinand-King, RISD grad student Zoë Pulley and RISD grads Jada Akoto and Nailah Golden – with persevering and seeing the exhibit through to completion. "I'm so glad I had the team I did," they said. "Their support and collaboration was key to everything coming together."
The exhibit's opening night drew more than 1,100 visitors, said Ferdinand-King, who also works part-time at the RISD Museum.
"We probably broke a record," she says. "Some of the security guards said they'd never seen a turnout like that for an opening night. It was a really good feeling, to see people from all walks of life in the show and turning out to see the show."
"The Black Biennial" runs through April 10 at RISD's Gelman Student Exhibitions Gallery, Chace Center, 2nd floor, 20 North Main St., Providence. Hours are Tuesday–Sunday, 10 a.m.–5 p.m.
RELATED ARTICLES
Support Ukrainian Refugees at Woonsocket's Krakow Deli
5 Can't-Miss Events This Week in Rhode Island