Rhody Natives Pen 'Seinfeld' Cookbook
From bagels and babka to soup and (big) salads, you'll find all the noshes in 'Seinfeld: The Official Cookbook.'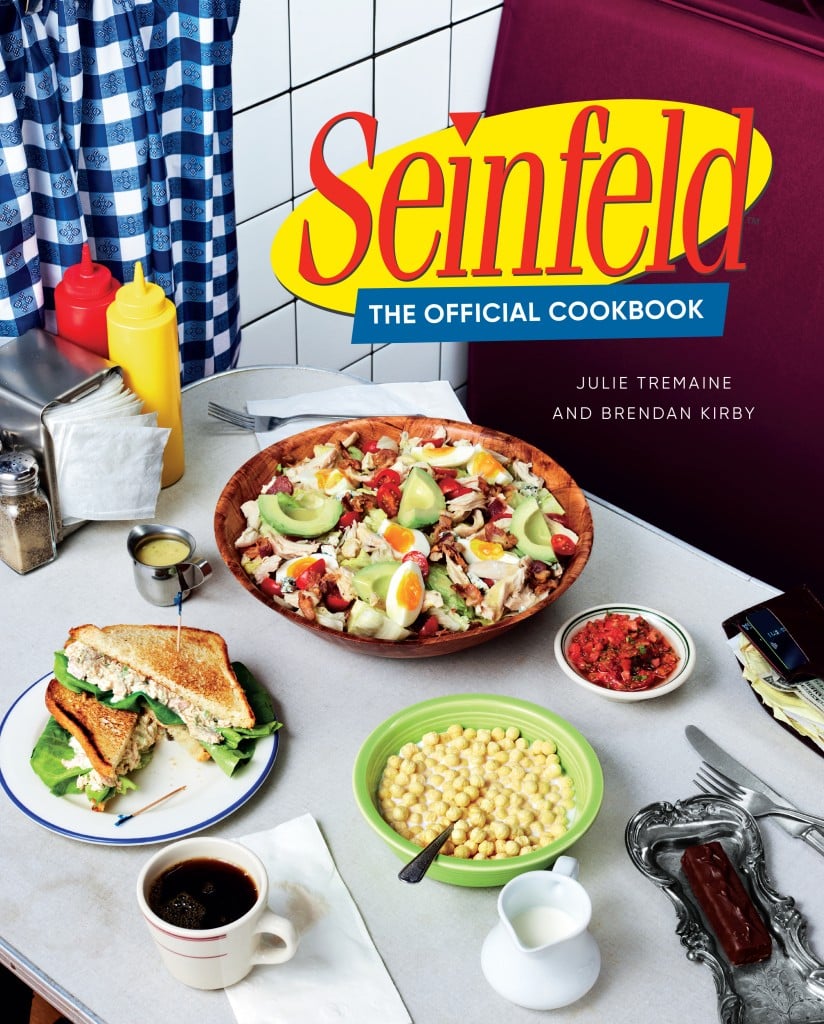 Julie Tremaine and Brendan Kirby have written a book about nothing.
And it's spectacular.
The duo — she a freelance writer based in Rhode Island and the West Coast, he a co-host of WPRI's "The Rhode Show" — joined forces to write "Seinfeld: The Official Cookbook," an homage to the foodstuffs, witticisms and neuroses of the iconic '90s sitcom.
(Editor's note: Scroll to the end of the story for an exclusive recipe from the book.)
The black-and-white cookie? Here. Elaine's big salad? Yup. Festivus meatloaf and fusilli Jerry? Oh yes. It's all in the book, along with more than sixty recipes that span "Seinfeld's" Bizarro world, from appetizers and soups (of course!) to favorites from Monk's, dinner-worthy fare and desserts (trashcan eclair, anyone?).
The book will be released Oct. 11, and the authors are excited — and just a little terrified — to see how 'Seinfeld' fans will react.
"I really think the book has something for everyone," Kirby says. "There's something for the casual fans and there are the real deep cuts for the real 'Seinfeld' nerds out there, the aficionados like me."
It all started when Tremaine, who's written three other cookbooks, including one based on "The Office" and one on "Supernatural," was approached by publisher Insight Editions to write one for "Seinfeld."
"I was enough of a fan that I could write the content and develop the recipes for those," she says. "Then they approached me for the 'Seinfeld' one and I was like, 'I got a guy.'"
That guy was Kirby, who's been an uber-fan of the show since its debut in 1989 and credits Jerry Seinfeld for sparking his love of comedy and stand-up comedy.
"It's pathetic, really, how much of a fan I am," says Kirby.
The pair have known each other for years: As former editor of Providence Monthly, Tremaine commissioned a few articles from Kirby, and Kirby would invite her on "The Rhode Show" to talk about upcoming stories in the magazine.
Tremaine thought up and tested the recipes. There's a whole chapter called "No Soup for You," which, of course, is based on the infamous "Soup Nazi" episode. For that one, they looked at the stills from the episode, where there were eight soups listed on the shop's board.
"Are we going to make all of these?" Tremaine recalls thinking. "The answer is pretty much yes — there are seven of them."
View this post on Instagram
Fans will be happy to learn that several show favorites — muffin tops, Junior Mints, marble rye, Monk's apple pie and Rusty's beef-a-reeno — made the cut. One of Kirby's suggestions — Elaine's sponge-worthy sponge cake — did not.
"It was so gross," Tremaine says.
As she developed the recipes, Kirby rounded out the book, adding chapter intros and memorable quips and banter from the episodes. The recipes feature a mix of difficulty levels: Some are on the easier side, like Jerry's cereal bars, while others, like the babka, have a few more steps but are still approachable.
"These are cookbooks for fans, and they're an appreciation of a piece of pop culture," says Tremaine, a passionate home cook who's taken several classes with chefs in Rhode Island. "I'm not trying to make very, very complex foods. But that said, there are definitely some very challenging things in the book. And there are some very easy things."
They duo heard that the big guy himself — Jerry Seinfeld — even signed off on the book.
Giddy up!
"It's been off the air for twenty-four years, but it's not going anywhere. I think that's a testament to the amazing writing," Kirby says. "And here I am in '21, '22, getting to do this awesome project with Julie about this show. This is great. How much fun is this? It's awesome."
"Seinfeld: The Official Cookbook" will be released Oct. 11. You can preorder a copy from Insight Editions, Bookshop.org or Amazon.
Yadda Yadda Yadda
Kirby's favorite character is George.
"I'm steeped in neuroticism just like George Costanza," he says. "I love Larry David so much and the parallel there — I can relate to his angst."
His favorite episode?
"'The Puffy Shirt' episode where [George] becomes the hand model is so good. It still holds up thirty years later."
Tremaine's favorite character? It's a tie.
"I feel most psychically aligned with Elaine, for sure, but I think my favorite character on the show is Frank Costanza. There was maybe nobody funnier on the planet than Jerry Stiller. I really appreciate what an amazing comedian he was and you can tell how much he added to that role."
Her favorite episode?
"The one where Kramer accidentally cooks himself ['The Butter Shave']. One of the things I reference the most in normal conversation is when Kramer makes a soup out of himself in the hot tub with all the herbs and the butter."
George's Turkey Chili
Prep time: 20 minutes • Cook time: 55 minutes • Makes 8 servings
"You're pushing your luck, little man" is all we can say if you're considering prepping this and something else at the same time. Though George enjoys it, a good turkey chili rivaling that of the Soup Nazi himself will require patience, calmness and some time — qualities Mr. Costanza does not possess. But we know you do, so get to work.
1 tablespoon neutral cooking oil
2½ pounds ground turkey
2 medium yellow onions, chopped
3 large celery stalks, chopped
½ large red bell pepper, seeded and chopped
5 cloves garlic, minced
1 jalapeno pepper, seeded and chopped
1 poblano pepper, seeded and chopped
1 tablespoon chopped fresh oregano
1 tablespoon chopped fresh parsley
3 tablespoons chili powder
1 teaspoon cayenne pepper
1 teaspoon ground cumin
1 teaspoon salt
1 teaspoon black pepper
One 28-ounce can crushed tomatoes
One 28-ounce can diced tomatoes
1 cup chicken broth
One 15-ounce can red kidney beans, drained
Shredded cheddar cheese, for garnish
Sour cream, for garnish
Heat the oil in a large stockpot over medium-high heat. Add the ground turkey and cook until there's no pink at all, about 12 minutes, taking care to break up any larger pieces.
Add the onions, celery, red pepper and garlic. Cook until the vegetables soften, about 10 minutes.
Add the remaining peppers, herbs, spices and salt and pepper. Stir to combine and cook another 2 minutes.
Add the tomatoes and broth and bring to a boil. Reduce the heat to medium-low and simmer for 10 minutes.
Add the beans and simmer another 20 minutes. Adjust the spices, but keep in mind the flavors will develop over time. You may want to make the chili a day in advance and let it rest in the refrigerator.
Serve hot, garnished with cheddar cheese and sour cream.
Recipe from "Seinfeld: The Official Cookbook," courtesy of Insight Editions.
RELATED ARTICLES
6 Places to Pick Up Hocus Pocus Treats in Rhode Island
Pizza Night Leads to a Bestselling Book for Barrington Author
Curl Up With a Good Read and Small Bites at Arc{hive} Books and Snakery