Pizza Night Leads to a Bestselling Book for Barrington Author
In 'Knight Owl,' Christopher Denise weaves a tale of a courageous raptor who dreams of becoming a knight.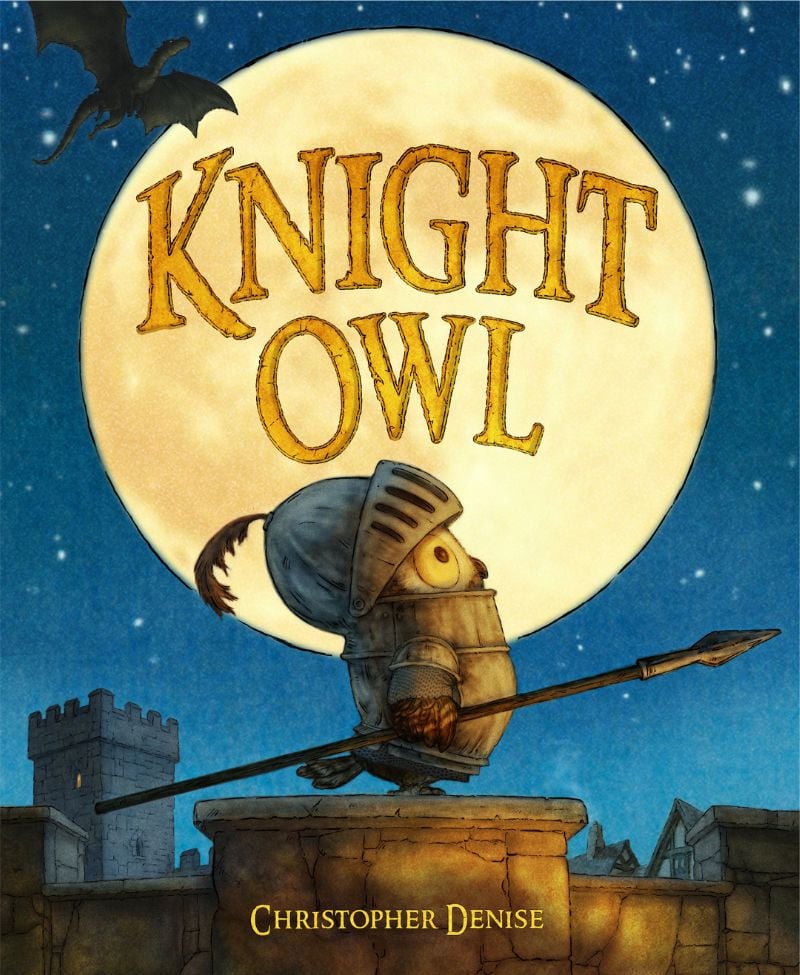 It all started during a family pizza dinner one Friday night.
It's ended, much to the amazement of children's book illustrator and Barrington resident Christopher Denise, with a charming picture book about a brave little owl that's rocketed to number eight on the New York Times children's books bestseller list and won the 2022 Barnes and Noble Children's and Young Adult Book Award.
"It's been really fun, but I'm also a little nervous," Denise says with a laugh. "So far I've had the luxury of working in relative obscurity."
Knight Owl, published in March by Christy Ottaviano Books, tells the story of a courageous owl who dreams of becoming a knight. He practices at home, armed with a cookie sheet for a shield and a pot for a helmet, until he makes the big leagues, enrolling in knight school and learning about the importance of valor and friendship along the way.
It's filled with luminous illustrations and details that will appeal to children and adults alike: a fabulous dream-sequence tapestry, armored knights on horseback, medieval flyers hung on castle walls, and night-sky scenes that glow with the cobalt ferocity of a Maxfield Parrish painting. Adults will chuckle at the "Game of Thrones" references — owl serves on the Knight Night Watch — and father owl's weary expressions, while children will delight at the deft wordplay and world-building.
Pizza, naturally, features prominently. As do dragons (of course!).
Denise is no stranger to book illustration — he's worked on more than twenty-five titles, including four of his wife's books and several in Brian Jacques' Redwall series. But Knight Owl marks his debut as an author-illustrator.
The journey began about eighteen months ago, when Denise was working on a story about a lucky crow that just wasn't gelling.
There's no arc, said his agent. No drive in the story.
So he threw out some ideas to his wife, Anika, and their three daughters as they grabbed homemade slices of pie that fateful Friday evening. Maybe, he said, he should write about a night owl — an owl who's up all night because he can't sleep.
"Dad," asked Isabel, his middle daughter, "what if the owl was a knight?"
He was gobsmacked.
After dinner, he grabbed his iPad and started sketching. The story, he said, just fell into place.
Denise spent much of his childhood in Shannon, Ireland, exploring abandoned castles, giving him plenty of material from which to pull when creating scenes for the book.
"We had no TV," he says. "It was like growing up in this adventureland."
Years later, he returned to the United States, taking architecture and art history classes at St. Lawrence University in New York before transferring to the Rhode Island School of Design and graduating with bachelor's of fine arts from the illustration department.
The transition from children's book illustrator to children's book author came with some challenges; namely, keeping children entertained.
"The experience of being a picture book author is so interesting," Denise says. "You think of them as kids, but they're really intelligent people. You really need complex jokes — they know when you're phoning it in."
And there was the added challenge of illustrating his words instead of someone else's.
"As an illustrator, my job is to respond to the manuscript," he says. "I'm always responding and solving problems. It's like an interactive game of Scrabble."
But the process is different when the writing he's responding to is his own, and the temptation to edit his words is very real.
"I have to be careful not to change things all the time," he says.
The main character in Knight Owl isn't based on a particular type of owl; rather, he's more of an archetypal figure, one part "Calvin and Hobbes" and one part Pablo the high-strung-yet-lovable penguin from "The Backyardigans."
Denise borrowed from his art history background when researching owls and medieval times, using amalgams of armor designs and creating illustrations in the style of artists he admires, like N.C. Wyeth, Johannes Vermeer and Japanese woodblock printmaker Hiroshi Yoshida.
Since the book's March publication, he's held book-signings at Barrington Books and An Unlikely Story in Plainville, Mass. He expects to have more events in the fall, along with an owl plushie hitting the shelves in October.
And — perhaps the best part — more Knight Owl books are in the works.
Denise is ready.
"I'm just getting going," Denise says. "I feel like I'll be hitting my stride in a little bit, and that's a really nice place to be."
If you'd like a signed bookplate for your copy of Knight Owl, send a self-addressed stamped envelope to: Christopher Denise, P.O. Box 334, Barrington, RI 02806.
RELATED ARTICLES
New Book Celebrates the Storied Legacy of the Providence Biltmore
Read an Excerpt from Ann Hood's Latest Memoir, 'Fly Girl'
Curl Up with a Good Read and a Small Bites at Arc{hive} Books and Snackery