Low-Country Cooking Bucktown
An unpretentious joint offers Southern comfort food at its messy best.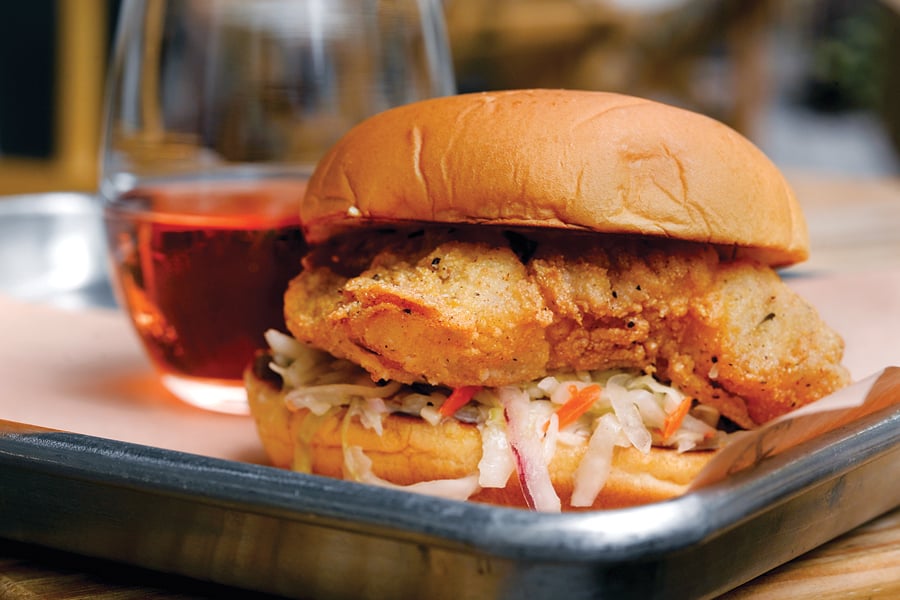 Bucktown
471 West Fountain St., 343-0441, Providence, bucktownpvd.com.
Open daily for lunch and dinner*. Wheelchair accessibility is tough; all counters are stool-high. Street parking.
*Bucktown is currently only open for pick-up or delivery.
Capacity Twenty-three, plus outdoor seating in warmer weather.
Cuisine Low country cooking.
Vibe As if a 1970s VW bus in the Deep South opened its awning and started serving sandwiches.
Prices Mains $9–$32; sides $3-$6; dessert $5.
Karen's Picks Fried fish, fried bologna sandwich.
Our friends at Bucktown are hitting hard times this winter due to the pandemic. To support them, Bucktown has created a Go Fund Me. You can find all the information here:  SupportBucktown.com
Shrimp po'boy. Fried chicken dinner with waffle fries, cucumber salad and a biscuit.
With its pointed tin ceiling and retro "Grapette" logo on the wall, Bucktown reads like an outdoor kitchen that happened to find a roof. It's low country cooking for sure: Everything gets dunked in batter, tossed in a fryer and screams for hot sauce. That's the simple explanation, anyway. But there's a cultural complexity to this kind of simple food and one that Providence hasn't seen since Mamie Ellen's closed years ago.
There's not a whole lot of money in low country cooking — and it certainly won't cost you much. It offers no expensive cuts of meat: no whole hogs, no brisket, no plumped-up chicken breasts. This is an experiment in "making do" by frying up what's around: some white fish, chicken legs, tart green tomatoes and even some spicy cornmeal dough that browns into a hush puppy. The closest thing to pork is a fried bologna sandwich with American cheese, onions, pickles and mustard served on a bun so soft that anyone older than forty will be immediately transported to their school lunch. Or, better, they'll understand that this is a bite of one corner of Southern culture. It's not the grand mansions of New Orleans or the dining rooms of Faulknerian families; it's the food that gets served in the back kitchens or, more likely, the backyard. It tastes like perpetual summer and it's got no pretense at all.
Bucktown takes the approach to heart. Fry baskets are lined up in a row behind the counter and every seat in the place is a stool — all twenty-three of them. Almost anything can be doused with sauce and stuffed into a biscuit and eaten in about four bites. One wonders, in fact, why McDonald's took on so many burgers when the South offers such a nostalgic and efficient model.
Of course, this is not entirely old school. Bucktown has a gritty hipness to it that is right at home on West Fountain, around the corner from north restaurant. The soundtrack is eclectic — anything from Amy Winehouse to Anthony Hamilton — but is loosely tied together by a musical acknowledgment of longing and a recognition of home. The small, ever-changing assortment of beer — Bengali, Gray Lady, Shiner Bock, Flying Jenny and Bitburger — is also a rainbow collection that draws in a largely twenty-something crowd who can knock them back with a po'boy or a burger.
So why travel over to this West Side shop for chicken tenders and a fried fish sandwich? You'd be amazed at how different fast food tastes when it's got a soul and is served with sweet tea. There's an elusive history behind recipes once considered too casual for publication but they articulate themselves persuasively in each bite. Providence is a long way from the Mason-Dixon line but Bucktown brings us one meal closer to breathing the Southern air.