Little City Thrifty Brings Vintage Goodness to PVD
Browse through more than ninety booths of vintage and pre-loved clothing, decor, books, art, furniture and more this weekend.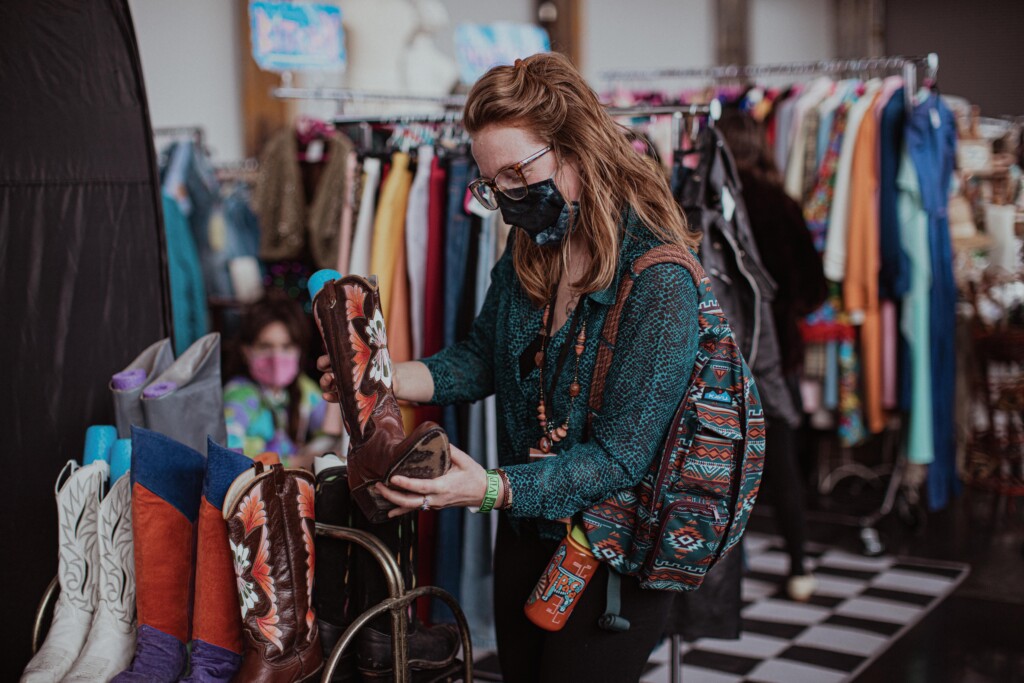 Robin Dionne and BJ Mansuetti knew they were onto something when their first vintage marketplace drew more than 7,000 people to the WaterFire Arts Center in Providence last March.
"The lines were all the way out to the intersection," Dionne says. "We even had news trucks pull over to ask what was happening."
The couple hopes to repeat that magic again this weekend, March 4-5, at the third Little City Thrifty Vintage Market. But hurry — general admission tickets are sold out, but there are still some late-day Saturday and Sunday tickets left that will get you in at 3 p.m.
More than ninety vendors will be on hand, selling everything from antique and vintage clothing, records, home decor, books, art, trinkets, furniture and more. About half the sellers are from Rhode Island, and half are well-known out-of-state sellers, including one coming in from Indiana.
Dionne and Mansuetti receive several hundred vendor applications for each event. They go off-grid for a couple of days to cull through spreadsheets, making sure they have enough clothing vendors, enough Rhode Island vendors and enough out of staters. It's a highly curated process, taking into consideration not just what the vendor sells, but also if Dionne and Mansuetti can help them make connections with other vendors and make sure there's a varied selection of both sellers and items.
"We want to make sure that we have diverse representation, smaller sellers, bigger sellers, new and old favorites that have been around for decades," Dionne says. "We're really creating a destination for the weekend."
Mansuetti agrees.
"There's a passion there when you bring ninety-plus different vendors that love history and share history into one room," he says. "It's just so much fun."
The married couple, who live in Cranston, are the creative force behind Ampersand Creative Co., which produce the annual RI VegFest, the Good Trade Makers Market, the Bloom Flower and Home Market and other large-scale events. A longtime vegan, Dionne has been collecting and selling vintage clothes since high school, and Mansuetti collects and refinishes vintage kitchen knives, a passion he discovered during the pandemic.
New this year will be more size-inclusive vintage clothing vendors; after the first Little City Thrifty, they noticed that the racks carrying larger sizes were empty — that's how popular they were. More plus-size clothing vendors were accepted to the market this year, including five or six who are follow each other online but will finally get to meet in person this weekend.
Of course, all of this rad shopping is sure to make one hungry. Local vendors will be on hand selling all sorts of food and drink, including Dips Dips, which will have its famous sammies on hand, and Diego's will sling out tasty guac, empanadas and tacos.
Oh, and did we mention the book swap? Bring your used books to swap and share, and feel free to take some home. It's just another way to reduce, reuse and recycle and save some good titles from going to the landfill.
If you don't make it this weekend, never fear. Little City Thrifty will be held again Oct. 14-15. For more information and tickets, visit littlecityvintage.com.
RELATED ARTICLES
Five Can't-Miss Events This Week in Rhode Island
31 Fun Things to Do in Rhode Island This March
Grab Fresh Bread, Seasonal Treats and More at Mapleville Farm