House Lust: This Magical Lightning Splitter Comes With a Secret Park
The circa-1846 home in Providence boasts adorable nooks and hidden spaces, a block-wide city park and four stories of history.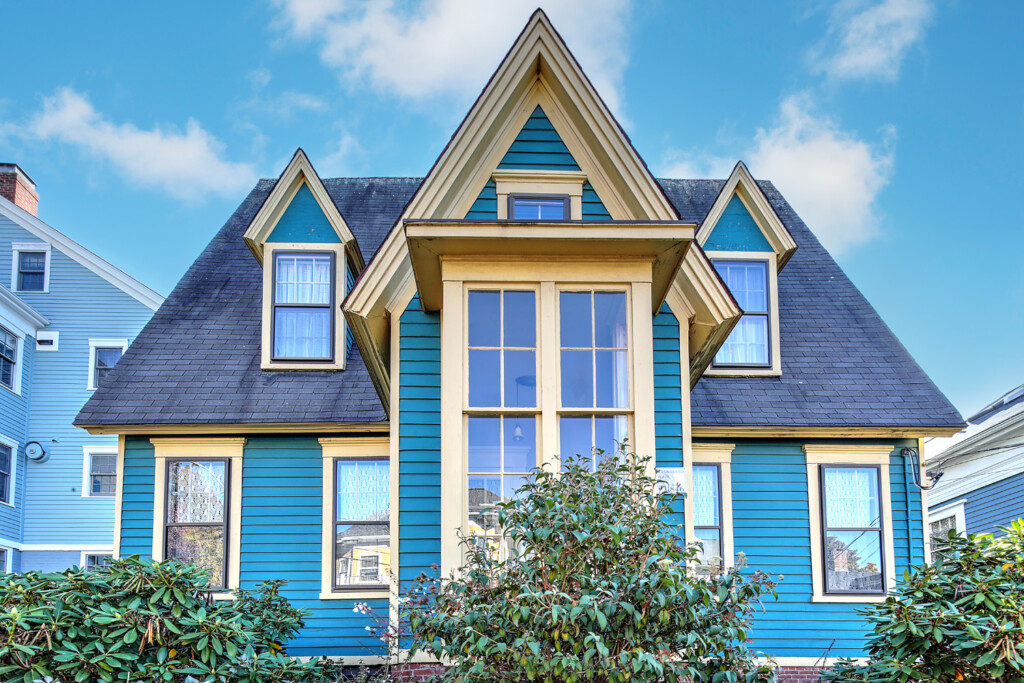 For two decades, Madeline has greeted visitors from her perch in the front window of 27 Halsey St. on Providence's East Side.
Every summer, the beloved children's book character dons a bikini. In September, she goes back to school with a desk and stack of books, and on Halloween, she transforms into a witch, inviting neighborhood children inside to delight in fun-size candies and sign her guestbook.
But soon, Madeline will move, along with her steward, Sally Strachan, from the circa-1846 lightning splitter they've called home since 2002. Which may be bittersweet news to her fans — she's not going far, don't worry; more on that later — but wonderful news to anyone who's a sucker for historic homes, Gothic architecture, magical nooks and crannies and a hefty infusion of New England lore.
Oh, and did we mention the home's connected to a hidden park that has a stunning view of the State House?
It is. And it's amazing. But then again, so are the backyard gardens that Strachan has nurtured throughout the years, turning out golden daffodils, black-eyed Susans, a raised herb garden, holly trees, a paperbark maple and countless shrubs and greenery from the sun-warmed sod.
The garden was the main reason she moved in the first place from her spacious warehouse apartment in New York City.
"I'd been in New York twenty years. I loved New York," she says. "I didn't want to leave but I wanted a garden. My heart needed that kind of expression and I realized that meant I was going to have to leave New York."
She adored the spacious rooms, curved walls and unique architecture of the Providence home built by David A. Cleaveland and settled in.
Her love for the three bedroom, one-and-a-half-bath home is palpable: She wears it proudly, as one might don a smartly tailored suit or a dress that fits just so. She circles the home's grand spiral staircase, smoothing her hand alongside the curved wall for what surely must be the hundredth time, a look of wonder upon her face.
"It's just totally magical to me," she says.
With almost 3,000 square feet spread throughout four stories, the home boasts well-lit, spacious rooms, a surprising feat considering the steep pitch of the roof's gables. Known as a lightning splitter, the style originated in Providence and Strachan's home is one of just a few examples remaining. Her research found only two other lightning splitters in Rhode Island: The Bicknell-Armington House in East Providence and the Daniel Pearce House on Providence's Transit Street.
Back when they were built, locals believed the steep gables would deflect or "split" bolts of lightning.
During her time in Providence, Strachan has served on various boards, including the State House Restoration Society and the Providence Public Library, and was registrar and administrator of the Department of Motor Vehicles from 2008 to 2011. But lately she's felt a calling to return to her native South.
"In my heart I'm a Southerner, and I've always known I would go home," she says. "I reached a point here where I'd been here long enough that I wanted to get back home while I was still healthy and could establish my new community and become part of it."
She'll miss the home's magical spaces and tranquil backyard garden but isn't melancholy about leaving. The home gave her just what she needed when she needed it.
"I did a lot of hosting. I would do political fundraisers and I would do fundraisers for other kinds of things. I love to have dinner parties and bring all kinds of different people together to meet each other," she says. "And so the house gave me what it was I wanted the house to give me, and so I can feel very happy about leaving and because it's been a good partnership."
And fans of Madeline needn't fear: When Strachan heads for her new chapter in Greenville, South Carolina, Madeline will take the short journey to her new home at the Providence Athenaeum, ready to greet another generation of children in the heart of the East Side.
For more information about 27 Halsey Street, Providence, contact Susan Erkkinen of the Erkkinen-Cohen Group, Residential Properties, at 401-553-6364, serkkinen@residentialproperties.com or visit residentialproperties.com.
RELATED ARTICLES
House Lust: A Riverside Retreat Loaded With Historic Charm
This Providence Resident Recreates Rhode Island Landmarks With Legos
Newport's Newest Guest House Pays Homage to the State's Most Fearless Females