House Lust: A Riverside Retreat Loaded With Historic Charm
North Kingstown's River Farm packs a mile of riverfront access, walking trails and history into 127 acres.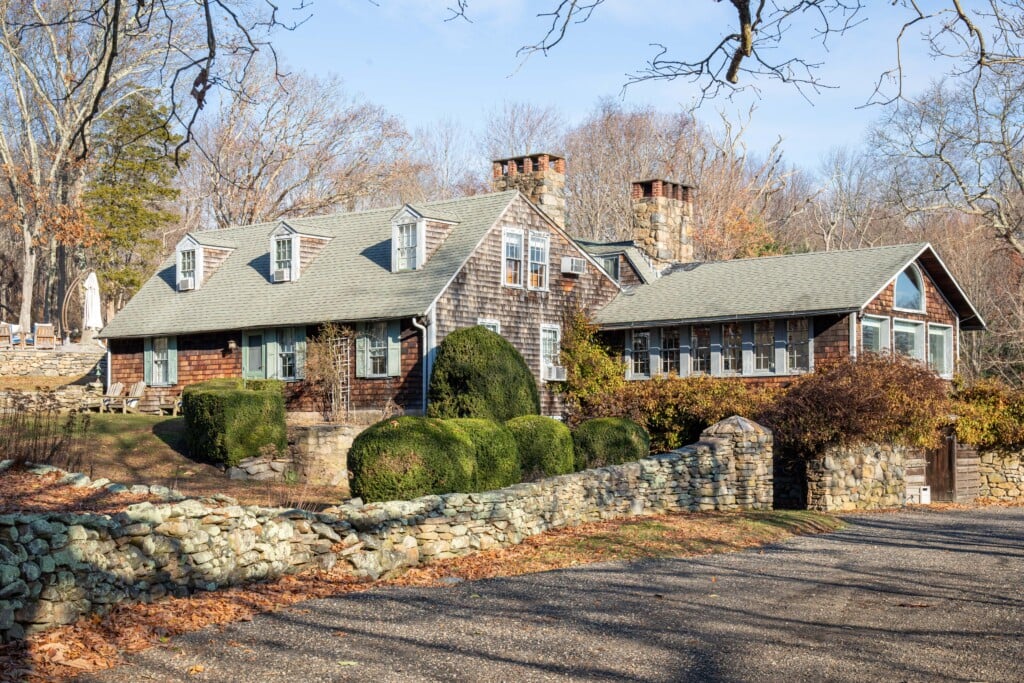 Tucked into 127 acres just off Tower Hill Road in North Kingstown is the perfect property for a nature lover, a history buff, an artist — or, perhaps, all three if you're a true Renaissance man or woman.
You can paddle a kayak around the Narrow River, which stretches along the property's edge for nearly a mile, or hike through the many woodsy trails ringing the perimeter. Or seek solace in one of the riverside writing huts left behind by the late writer and environmentalist W.E.R. La Farge and dabble in your latest manuscript or masterpiece.
The possibilities are endless at River Farm, the former La Farge family estate that dates from the 1790s.
"It's such a historical piece of property — properties like these don't turn over often," says Kaitlyn Pimentel of Fitzpatrick Team at RE/MAX Professionals of Newport. "Once someone experiences the amount of nature here — it's beyond magical. It's unlike anything I've ever seen before."
At the heart of the gated compound is the 3,300-square-foot farmhouse, which dates from the 1790s and has six bedrooms, three full baths and four fireplaces. It's perched high on a hill, where the sun streams in on a living and dining area added on in the 1950s that's the showcase of the first floor. Wide windows let in the light on three sides, with a dramatic floor-to-ceiling double-sided stone fireplace anchoring the room. Wide-plank pine floors, soaring cathedral ceilings and stately exposed beams perfectly complement the rest of the home.
The original part of the house has period details throughout, like wooden doors, fireplaces and a dumbwaiter that runs from the basement to the first floor — a remnant of when the kitchen was located in the cellar, perhaps to cut down on fire risks, Pimentel says.
"You just feel this amazing historic charm throughout the home," Pimentel says.
Outdoors, a tiny brook runs along the side of the house, leading down to the riverfront area, three rustic beaches and trails galore. During her strolls, Pimentel has seen an owl, deer and several turkeys.
An in-ground pool and patio area were just completely redone; an adjoining pool house with a sink, refrigerator, dishwasher and bathroom will make any outdoor entertaining a snap. There's also a tennis court on the property, as well as a firepit and storage area for canoes and kayaks and a small caretaker's cottage.
The La Farge family — a well-known clan that consisted of countless writers and architects — owned River Farm for more than ninety years, until poet and playwright W.E.R. La Farge died in 1994. A founding member of the Narrow River Preservation Association, he implemented easements to protect the parcel's rural character and donated land for La Farge Point Park and the URI Boathouse.
The current owners' children are grown, and the couple is looking to downsize. They've lived in the home for two decades, and have fond memories of family trips down to the river, lazy afternoons spent by the pool and running around in the "zoom zone," open areas where their children would romp and run before heading into the trails.
The parcel is being sold as four separate lots, Pimentel says, some of which could be developed into single-family homes. Or, she could see a family buying the land and keeping it as a place to gather with children, grandchildren and extended family and friends.
"This is something you share with generations," Pimentel says.
For more information about 2424 Tower Hill Road, North Kingstown, contact Kaitlyn Pimentel of Fitzpatrick Team at RE/MAX Professionals of Newport at 848-7827, kaitlyn@remaxnewportri.com or visit fitzpatrickteamremax.com.
RELATED ARTICLES
Two Startling Entries Make the Most Endangered Properties List
House Lust: California Vibes in a Sweet Suburban Setting