Save This House: Moving Broadmoor
An exquisite Narragansett home sets sail to a new location Tuesday morning.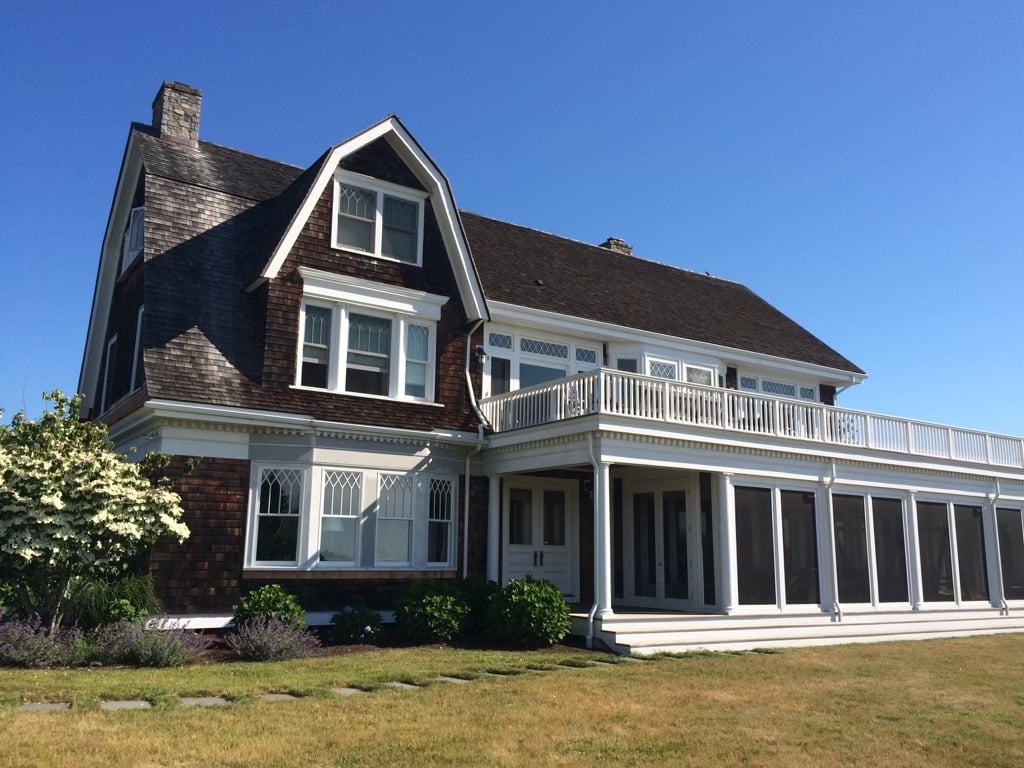 It will take just about an hour to move Broadmoor, a Colonial Revival home built during Narragansett's halcyon resort days, from its original site to a new parcel on the other side of Boston Neck Road Tuesday morning.
But the road leading up to the move has been anything but quick, with twists and turns in the form of planning and zoning regulations, wetlands restrictions, height variances, neighbors' concerns, the coordination of several crews and getting six utility companies together in time to lower the power, cable and telephone lines for the 10:30 a.m. move.
Oh, and this being New England, let's throw a giant slab of granite into the mix for good measure, too. Just because.
"It's been a ride," says Greg, the home's new owner who's been overseeing the project for months, so much so that he had to rent an apartment in Providence while his partner, Scott, remained in New York City. (Greg and Scott, as well as the home's former owner, wished to remain anonymous for this story.)
It's been two years, in fact, since Greg learned the original owner — a longtime friend from Greenwich, Conn. — wanted to build a new home on his lot. But he couldn't have two buildings on the parcel, and he and his wife certainly didn't want to raze the historic structure.
So Greg decided to buy, and move, Broadmoor. That's why on Tuesday morning, the gorgeous Shaker style building will travel 1,000 feet south — at a whopping 3 mph — to nestle into its new location across the street from the Dunes Club.
The Home
Broadmoor was built for Jesse and Caroline Locke of New York City between 1896 and 1909. The grand home overlooked the Atlantic Ocean, just steps away from Narragansett Town Beach and the then-thriving Narragansett Pier Casino. It's one of several historical homes built along this stretch of road that hugs the shoreline.
"Much of Narragansett's present character is the result of development in the nineteenth century when the village grew into a fashionable seaside resort," wrote Valerie Talmage, executive director of Preserve Rhode Island, in a letter supporting the move. "The large summer houses and cottages that were built at that time are integral to Narragansett's sense of place today. If these historic buildings are lost, one by one, the historic character of Narragansett is degraded."
The 6,000-square-foot home has seven bedrooms, four and a half baths, four fireplaces, two outdoor decks and one enclosed porch. It's assessed at $2.1 million.
It's stood sentry on the shore for more than a century, and battled back winds from both the Hurricane of 1938 and Carol in 1954, until a few weeks ago, when workers with Pennsylvania-based Wolfe House and Building Movers cut into the foundation, lifted up the home four feet with hydraulic jacks and delicately placed it on two eighty-foot steel beams.
Now it's waiting patiently at the side of the road for its ride home.
The Hunt
Where does one move a 6,000-square-foot house?
That was the question on Greg's mind as he assembled a team of local experts to help him find a suitable spot close by. In the meantime, he floated other possibilities, like moving the home somewhere down the Eastern Seaboard on a barge, like homeowners on Nantucket and Martha's Vineyard have done.
Kaitlyn Pimentel, a realtor who was then with Randall Realtors Compass (and now with Fitzpatrick Team at Remax Professionals of Newport), got to work in early spring. The one caveat was the house couldn't move far: It was too wide to be moved north up Boston Neck Road, where too many trees encroach upon the road. But it could be moved south, where two telephone poles forty-seven feet apart were the only hindrance.
She scoured maps from the tax assessor's office, looking for any nearby plots that could be subdivided. She cold-called landowners and knocked on doors, finally finding Jim Bennett just a few hundred feet down the road.
He's owned two adjoining parcels of land across from the Dunes Club for forty years. His house sits on one one-acre parcel, while the lower site — also one acre — is undeveloped. One parcel is in his name and the other is in his wife's.
Bennett agreed to sell the lower parcel to Greg. It was under contract in a matter of months.
"The Bennetts have just been absolutely amazing," says Pimental. "They're so forward-thinking, and I'm just so glad that they were able to come to an agreement."
Greg hired land surveyor Amy Sonder as his site engineer to help tackle the permitting and approval processes, along with architect Laurie Keene of Keene Architecture. The town's Planning Board met Aug. 2, with four residents speaking out against the project, objecting to the size and height of the home. The board voted 3-2 to recommend that the Zoning Board approve the variances.
"We were all excited," Sonder says.
The next stop was a meeting of the Zoning and Platting Board of Review on Aug. 18. The board approved the variances and special use permits with a 5-0 vote.
The move was on.
The Curveball
The zoning decision came with a twenty-day appeal period. On the nineteenth day, a neighbor voiced objections.
It was back to the drawing board for the team. Sonder and Greg had a thought: What if Broadmoor moved to the upper parcel, which had fewer restrictions, and Jim Bennett's home moved to the lower lot?
They went back to Bennett.
"Absolutely not," he says. "Absolutely not."
He and his wife had just hosted their daughter's wedding at the house, fixing it up and adding landscaping in preparation.
"And the pool," he says. "We love the pool. And the deck I had was beautiful."
But Greg, not one to give up so easily, persisted. He'd make sure the Bennetts would have a pool in the new spot. And they'd be able to connect to the Dunes Club's sewer system instead of a septic system like in the old location.
"Ultimately, at the end of the day, you weigh all these things," Bennett says. "I think both properties are going to be really good. And Greg's going to be a good neighbor."
The move was back on.
The Move
Greg now has to move two houses to save one.
The Bennett house rests on steel beams and wheels, ready for its journey. But — cue Murphy's Law — when workers started digging the foundation they found a huge slab of granite. Workers have been using two machines for three days straight in hopes of breaking it apart.
Broadmoor will be transported to its new location in two pieces — a kitchen wing was shorn off to ensure the home would fit on the road — at 10:30 Tuesday morning. It will be put back together, Humpty-Dumpty-style, once a foundation's in place.
The only spot Greg is worried about is where those two telephone poles stand forty-seven feet apart. The house is forty-six feet wide, giving workers only six inches of clearance on each side.
The movers have guaranteed that nothing in the house will be disturbed during the voyage, that's how gentle it will be. So all of the furniture is in place, and Greg will place a glass of wine (white, just in case) on a table to see if it spills.
With the journey almost over, the team is looking back, marveling at just how much has transpired over the past few months, and how a disparate group of folks have bonded over trying to save a piece of Narragansett's past.
"So often, these houses just get demolished," Keene says. "When you come across someone going through something like this to save it, it's inspirational."
And now, with Broadmoor out of the way, the original owner can finally start construction on his new home.
"It's a treasure, it really is. It's a great house and I'm so glad everything worked out," Greg says. "The [former] owners of this house have been so gracious. They've worked so hard to save this and I just want everyone to know that. It's important. They put off their build for a very long time until we figured this out."
For his part, on Thursday Greg will hop on a plane to Florence — far from construction schedules and ledge-filled landscapes and two homes balanced precariously on steel beams — to finally reunite with his partner, Scott, and spend Thanksgiving with his 20-year-old twin daughters who are studying abroad.
"It's going to be a great house," he says. "I think it will be really nice for Narragansett. People come here to see the old houses and I think it will be nice for the town.
"My kids will love it," he says with a laugh.
RELATED ARTICLES
2022 Rhode Island Design Awards
House Lust: California Vibes in a Sweet Suburban Setting