Save this House: This Seventeenth-Century Reproduction Is Straight Out of Colonial New England
Phil Hauser built a 3,000-square-foot dream house for his family in rural Foster using traditional craftsmanship.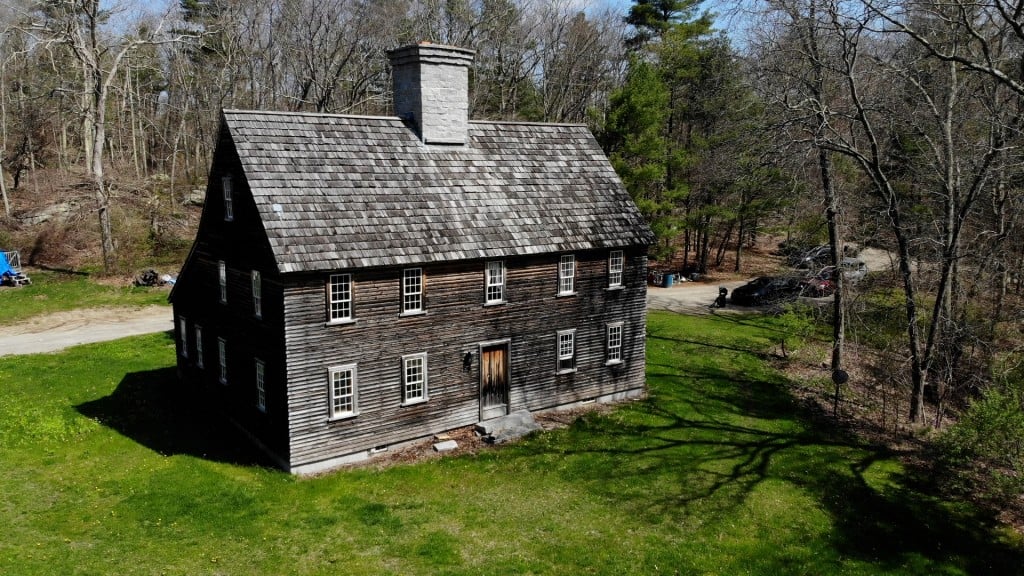 If you've always wanted to live in a historic home — minus the historic levels of upkeep and repairs — then you're going to love our latest installment of Save this House.
This four bed, two bath home just off Old Plainfield Pike in Foster is a replica of the circa-1695 Kingsnorth-Starr (also known as the Comfort Starr) House in Guilford, Connecticut. Phil Hauser, who builds timber house frame kits for a living, saw the original home in a magazine and fell in love.
He came up with plans — there were no original blueprints to borrow from — and built the home himself board by board, using trees from his family's land and planing them by hand. He moved into the home with his wife, Susan, and their three children in 2007. But now the children have grown and the couple is looking to downsize, albeit a bit begrudgingly in Phil's case.
"I hope it takes a long time to sell," he says with a laugh. "I hope it takes ten years."
The 3,000-square-foot house is propped high on a hill, with a companion garage and two-story barn on six acres of land. The sturdy home features the best of both worlds: the beautiful craftsmanship and detailing of an early American home with structurally sound design and modern conveniences like radiant floor heating.
He planed every oak beam by hand to make it look old-fashioned. The job took him weeks. Planing them in his sawmill would have taken days.
But Phil isn't the kind of person who believes in shortcuts. He even hand-nailed the wide-plank oak floorboards, using nails made to look like they're from the seventeenth century, and found original windows from old buildings, building the frames to fit.
Of all the homes he's built, this one's his favorite.
"You're not going to find another one like this," he says.
A center chimney holds four fireplaces — three on the first floor, and one upstairs. The one in the kitchen area has a built-in hearth that makes a mean pizza. The kitchen, in fact, is the one room that differs from the original: Phil added a second floor, making room for one more bedroom and a bathroom.
The home is close to the Scituate Reservoir and secluded enough that they hear owls hooting back and forth at night. They used to hear whippoorwills, too, but they haven't been around for a few years.
Although Phil has mixed feelings about letting the house go, he's hopeful that the next owner will appreciate and enjoy the home — and all the love and elbow grease that went into it — just as much as he and his family have.
The home will be listed with John Willette of Hi Homes Real Estate Team in mid-June, with open houses scheduled for the weekend of June 16-17. Contact Hi Homes at 855-4293 or john@hi-homes.com if you'd like more details about the house.
RELATED ARTICLES
The Festival of Historic Houses Returns to Providence June 4
Save this House: A Whimsical Fairy-Tale Cottage on Four Woodsy Acres in North Kingstown
House Lust: The 8 Priciest Properties Sold in Rhode Island in 2021