Save this House: A Whimsical Fairy-Tale Cottage on Four Woodsy Acres in North Kingstown
John R. Cota Sr. worked on his dream house for more than forty years. Now it needs a new owner to finish the fantasy.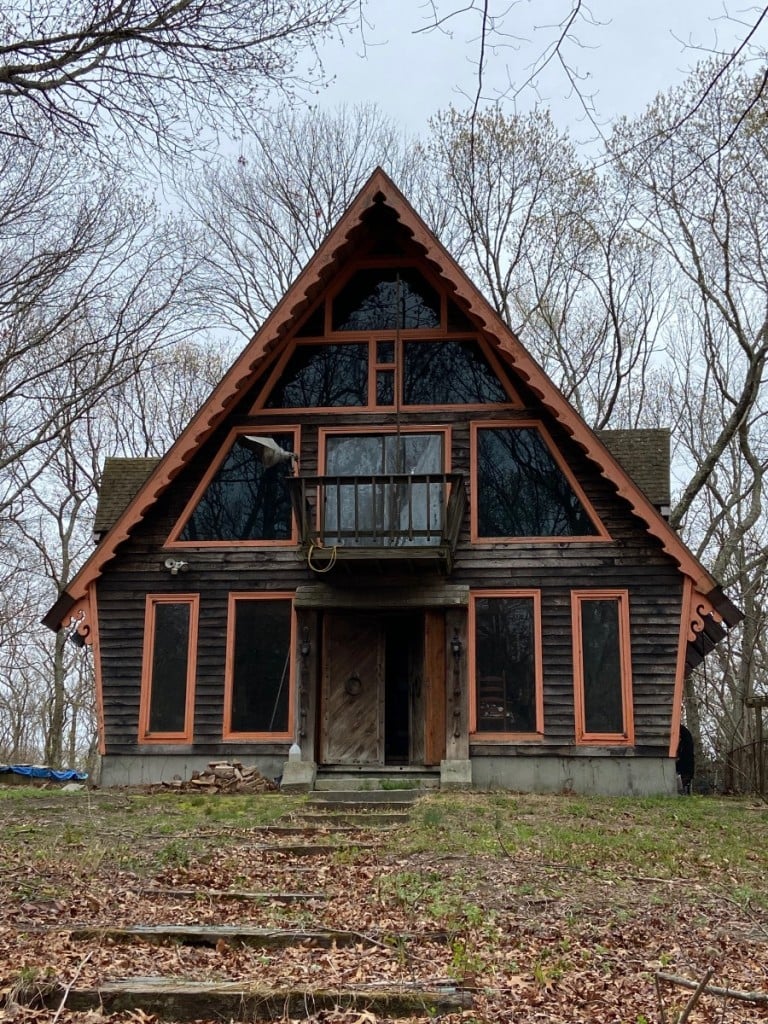 Welcome, readers, to a new feature of Rhode Island Monthly we're calling "Save this House."
We love all homes: Victorians, Colonials, capes, condos, lofts, raised ranches, contemporaries, beach cottages. They're all beautiful in their own ways, whether they're worn through with interesting details, time-honed patinas or tasteful decor. But once in a while a house comes along that has good bones and intriguing elements, but just needs a little upkeep and love to bring out its true potential.
This is one of those homes. We think someone should save it. Are you game?
'He was a termite'
John R. Cota Sr. was always working on his house, a gingerbread-style abode he built from the ground up starting in the '70s.
The three-level home, at 780 Shermantown Rd. in North Kingstown, is packed with treasures he collected throughout the years: vintage lighting fixtures, a cobalt-blue Glendale stove, an antique phone, an old elementary school bell, stones and lumber gathered from various worksites during his years at Guild Drilling (now American Equipment and Fabricating Corp.) in East Providence.
There's nary a straight line or modern convenience in sight.
"It's the most amazing property I've ever shown, and I've been doing this for twenty-two years," says John Kidd, the listing agent with Blackstone/Ocean Properties.
The house has three bedrooms and two baths within 1,304 square feet. A workshop, detached garage and outbuilding are also on the 3.97-acre lot.
"He was a termite," says Cota. "He loved working with wood."
When his children were little, he'd leave food out at night for the local critters – the raccoons were especially fond of marshmallows – and they'd all gather in the kitchen, watching the nocturnal feast in rapt joy. He was a simple man – forgoing modern conveniences like computers and cable TV for the simple thrill of crafting things with his hands.
The elder Cota died last October. He was seventy-four years old.
"He didn't want any services," Cota says. "No wake or anything. He just wanted his ashes to be scattered in the water."
He also didn't want to burden his children with the upkeep of the house. "Sell it," he told them. But his son holds out hope that someone out there may want to continue his father's dream of living simply, in the quiet backroads of North Kingstown, in a one-of-a-kind home filled with the handcrafted workmanship of a man who loved wood.
For more information about 780 Shermantown Rd. in North Kingstown, contact Blackstone/Ocean Properties' John Kidd at 401-524-5854 or visit blackstoneocean.com.
RELATED ARTICLES
The Festival of Historic Houses Returns to Providence June 4
The 1810 Corliss-Carrington House Is Here To Stay
Inside a Bright, Spacious and Eco-Conscious Farmhouse in Middletown