Tips for Achieving a Clutter-Free Kitchen
Keep your kitchen clutter-free and learn ways to implement space-saving solutions into the heart of your home.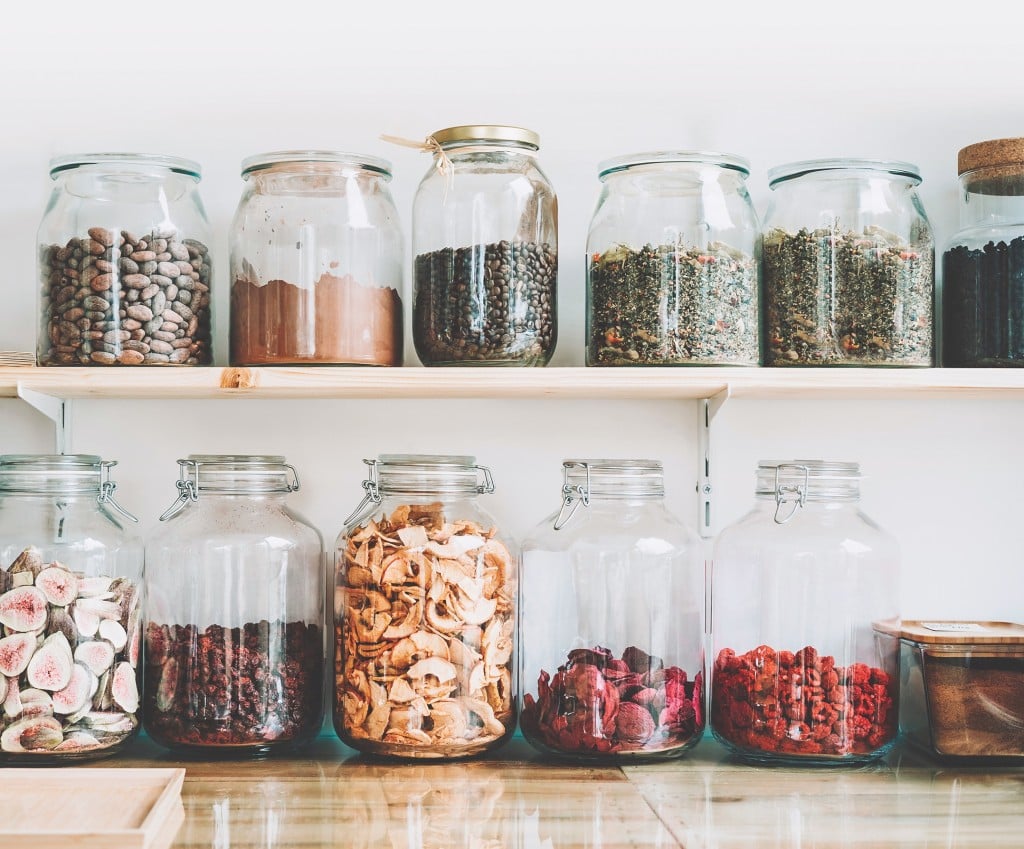 Keep your kitchen clutter-free and learn ways to implement space-saving solutions into the heart of your home. Plus, purchase a label maker, the holy grail of organization, to cure the clutter.
Shelving Solutions
Whether you tidy up the inside of your cabinets or make the switch to open shelving, here's how to keep your kitchen in check.
Turn your pantry into a Pinterest-worthy space with both clear glass and plastic containers. This helps to remove unsightly boxes and allows you to see how much of a product you have left. Containers can hold everything from flour and sugar, to cereal, crackers and more.
If you have glass panels on your upper cabinets, consider displaying pretty glassware or dishware. Group like items—by style, function or color—together. Other drab kitchen wares can be hidden in closed cupboards.
Consider removing upper cabinets for open shelving to display pretty dishware. You're more likely to de-clutter and toss cracked or old cups, plates and bowls you no longer need.
Freshly Cleaned Fridge
Your cupboards are not the only thing in your kitchen that could use some organizing! Here's some tips and tricks on how to keep your fridge feeling fresh.
Out with the Old
Dump your leftovers, rotten produce and any expired condiments. Once you trash the old food, pull out all useable products from your fridge and place them on your counter.
Clean it Up
Now that your fridge is empty, use a wet cloth or sponge to wipe down the shelves. Remove the bins and wash them in the sink with warm soapy water.
Organize
Once the inside of your fridge is dry, begin placing your produce, condiments and beverages back into the fridge… except this time, use clear plastic bins to organize and keep like items together. Groupings include deli meat and cheese, fruits, vegetables, condiments, juice boxes and yogurts. This will allow you to see how much you have left of each item and prevent you from not only overbuying at the supermarket, but also from your food going bad, too.
Everything But the Kitchen Sink
We all need a little help when it comes to organizing underneath the kitchen sink. If you've got cleaning products scattered about or items seem to get lost in the abyss, it's time to clean it up.
Toss expired cleaning products or bottles without labels.
Place a lazy Susan on one side of the cabinet. This space-saver will hold cleaning bottles and sprays.
On the other side of the cabinet, use a few small, clear bins to hold like items together. These include dishwasher pods, extra sponges, cleaning wipes and more.
Spice it Up
Spices and herbs can get pushed to the back of the cabinet, and nine times out of ten, they end up on the grocery store list over and over again. Before you know it, you have three jars of cinnamon, two jars of nutmeg and countless jars of oregano. To keep your spice cabinet tidy, think about purchasing clear jars to hold your spices. Then, place them on a three-tiered rack for an easier visual, and label each jar. Now, your spices and herbs are organized and ready to go!
Decluttering Days
A guide on how to clean your kitchen and when.
Daily
◆ Remove clutter from your countertops and put away any small appliances, food or containers that might be left out before bed
each night.
◆ Hand wash all dishes in the sink or toss them in the dishwasher.
Weekly
◆ Organize spices back where they belong in the cupboard or in the spice rack.
◆ Ensure that all dishware and glassware are neatly stored in the cupboard and that like items are grouped together.
Monthly
◆ Donate cookbooks that you no longer use.
◆ Discard dish towels that are past their prime. Wash kitchen linens that are still useable.
◆ Empty the fridge and toss food that is past its expiration date. Same goes for food in the cabinets and pantry, too.
◆ Match up Tupperware containers to their lids and toss anything that doesn't make a pair.