Take it Outside!
From She Sheds to Shedquarters, small outbuildings are having a moment.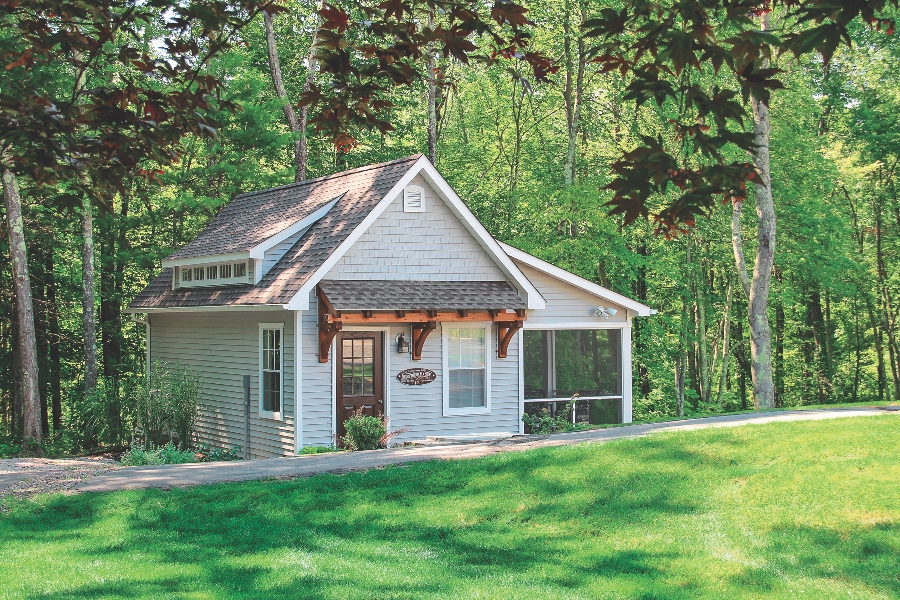 The shed has evolved from a utilitarian eight-by-eight–square-foot box meant for storing your lawn tools to beautiful structures as large as sixteen-by-twenty with posh interiors. Uses include a pool house, home office, woodworking haven, music/practice studio, entertaining/outdoor kitchen space—if you can imagine it, someone's shed has done it.
"We've seen double-digit growth in shed sales over the past ten years," says Chris Skinner of the Barn Yard in Ellington, CT. "And inside is as nice as a finished home."
They recently built one as an off-the-grid cabin for a family who owned seventy remote acres of land with no principal home on the property. "We added a little wood stove and a covered front porch. It's a nice place to get away from it all but still close enough to their main home," Skinner explains.
The best sheds solve a problem, according to Margaret Arel of Walpole Outdoors in Warwick, such as multi-purpose sheds. One of her customers outfitted a shed as a playhouse for their grandson in the summer, but it also serves as a place to store the deck furniture in the winter. Another customer built a fourteen-by-sixteen-foot hut to act as her serenity shed.
"She was going through treatment for adult-onset leukemia, but she loved gardening," Arel recalls. "So, we designed a huge copper potting bench with a built-in sink for when she feels up to gardening. On the other side, there's a daybed, lounge area and tons of books for when she wants to sit and read. She calls it her safe haven. It's beautiful, with skylights, double french doors and a pergola off the front."
Using these structures as 'man caves' and 'she sheds' has become insanely popular in recent years. It's also a perfect solution for a children's playhouse (think tea and slumber parties) or as a shaded hangout for Fido.
Depending on your zoning, you could open a business such as a barbershop or massage therapy studio. With the proper permits, you can even create a unique guest house complete with a dividing wall, sleeping loft, a wall-mounted heater / AC unit and incinerator toilet. "With growing families, it's an option to have enough space when the grandchildren and extended family come visit," Arel says.
Thanks to increased popularity, your choice of styles and finishes have also increased. Styles can mimic the look of your home, from Victorian to modern to rustic barn, while design choices include different types of siding, on-trend black aluminum windows, copper cupolas and weathervanes, timber accents, dormers, transom windows, sliding barn doors, decks and more.
"We're doing a lot more customization of the structure, finishing it off more than the typical shed," Skinner says. "That includes interior finishing, painting, finished floors, sliding barn doors with glass, pre-wired electric packages and more, so customers can get exactly what they're looking for without needing other contractors."
Arel advises homeowners to check building and zoning codes for size and set-back limitations. "On the larger sheds, you need a poured cement foundation or slab," she says. "If you go ahead without the proper permits and you build too close to the neighbor or build too large, they will likely make you take it down."