South Providence is a Mecca for Dominican-American Industry
Once an Irish and Jewish neighborhood, lower South Providence is home to Latino restaurants and shops.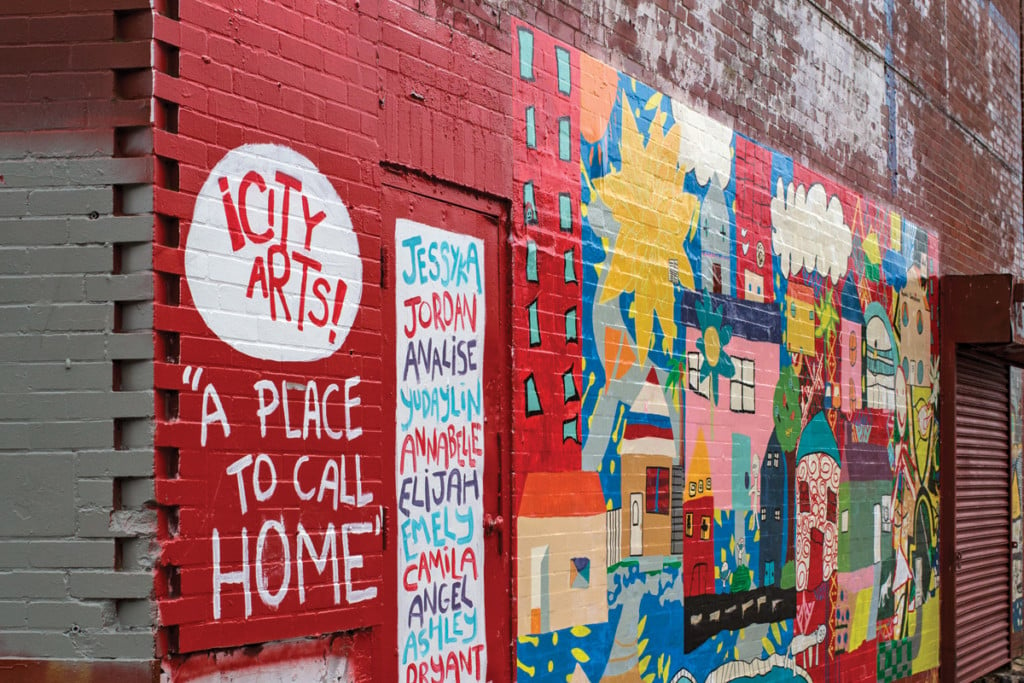 Great Places for Foodies
South Providence
Baker Street Cafe
Order up! Baker Street will have your freshly made brekkie or lunch ready to go in a jiffy, and it has plenty of options, too. Start your day with a breakfast burrito, chock full of eggs, black beans, pico de gallo and hash browns, paired with a refreshing Green Goddess smoothie. If you come back for lunch, make sure to decide your order beforehand; there are so many good options, you'll be there for a while, if you don't. Try the veggie noodle bowl for a healthy grab 'n' go or the chicken and waffle plate for something more sinful. 75 Baker St., Providence, 490-5025, bakerstreetcafe.org.
Apsara
Want to slurp down some of the best bee bong in the state? Head to Apsara, an unassuming but flavor-packing restaurant that will have you cross-eyed in ecstasy over your noodle bowl. Try the aforementioned bee bong, a dish of rice noodles, coconut milk, bean sprouts and peanuts, or experiment with the Cambodian beef salad. 716 Public St., Providence, 785-1490, apsarari.com.
Brass Monkey
It's worth a trip to Providence's port for an
affordable, indulgent meal at Brass Monkey. The place might not look fancy, but you can't beat some crispy, sauce-tossed wings (buffalo, sweet chili and garlic parmesan amongst others) paired with a cold craft draft beer. The restaurant and bar also serves up a mean barbecue pulled pork slider topped with fried pickles. 800 Allens Ave., Providence, 785-1818, brassmonkeyri.com'.
A Short Drive Away
Edgewood Cheese Shop and Eatery
More than just a place to load up on Gruyere, Edgewood Cheese Shop and Eatery serves up some wicked good rustic cheese platters and oozing paninis. Try the Adrienne, with roast beef, brie and fig jam, or for the picky eater, the Miles, described as "grilled cheese — no green stuff or anything else touching it." 1828 Broad St., Cranston, 941-2400, edgewoodcheeseshop.com.
Great Places to Stock your Pantry
South Providence and Surrounding Areas
Chinese-American Mini Market
This grocery store is anything but mini: Rows upon rows are packed with specialty Chinese, Vietnamese, Thai, Korean and Japanese goods. Need fermented mustard greens? Want crunchy, delicious Chinese spinach? This mini market has you covered. You'll be mesmerized for hours as you sort through the enchanting array of spices, sauces and frozen dumplings and rice cakes. Plan your next dinner party and come here to create an edible tour of Asia. 834 Park Ave., Cranston, 467-7690.
Restaurant Depot
Looking for a ricer to make the creamiest mashed potatoes? How about some restaurant-style metal storage racks for all your dry goods? You'll feel like a chef when you pop into the Restaurant Depot, and emerge with kitchen items that will make you look like one. 140 Kenwood St., Cranston, 275-5000, restaurantdepot.com.
A Short Drive Away
Armando and Son's Meat Market
If you revel in juicy steaks, tender cuts and aged meats then Armando and Son's is the place to be. Ask the knowledgeable staff which cut suits your cooking needs, whether you're planning a hearty stew or want something that hits the pan with a sizzle and is done in a flash. They also sell fruits and veggies, making it perfect for a post-work groceries run. 895 Elmwood Ave., Providence; 265 Pine St., Pawtucket, 727-0707, armandosmarket.com.
Great Places to Explore
South Providence
Roger Williams Park Zoo
Discover a vast variety of animals in naturalistic exhibits throughout the forty-acre grounds. Outdoor interactive play areas are available year long, and animal feeding opportunities and other special features are offered seasonally. While the winter months might send some animals into hibernation, you'll still spot some animals that aren't bothered by a little snow. 1000 Elmwood Ave., Providence, 785-3510, rwpzoo.org.
A Short Drive Away
Providence Roller Derby
Founded in 2004, Providence Roller Derby is Rhode Island's first all-female, flat track roller derby league, complete with three home teams and two travel teams. The nonprofit organization practices in Narragansett and holds bouts at both the Thayer Ice Arena and the Rhode Island Convention Center in Providence. 1 Sabin St., Providence, providencerollerderby.com.
The Columbus Theatre
This one-time vaudeville theater has become a beautiful local venue to catch intimate shows. Whether it's comedians or local and international bands like Deer Tick, Jose Gonzalez and more, there's a fun evening to be had sitting in front of the crushed red velvet curtains. 270 Broadway, Providence, columbustheatre.com.
---
Lunch break!
Places with a taste of Latino flavor
Johnny's Chimi
A chimi is a sort of Dominican burger, with a patty that's seasoned with adobo and oregano, grilled and stuck in a soft roll. Dripping with onions, cabbage, tomatoes and salsa rosa (a mix of mayonnaise and ketchup), your fingers will get messy, but it's worth a try. Also worth their weight in crispy fried gold are the bollitos de yuca, crispy fried mashed yucca stuffed with seasoned chicken or beef, and the chicharrones, skin-on, deep fried pork belly. You'll be back for more. 986 Broad St., Providence, 270-9431, johnnyschimi.com.
Poco Loco Tacos
They're hand-held, cheap and tasty, so who doesn't like a good taco? And at Poco Loco, it's only five bucks (a.k.a. a steal) for a grande. This taco shop has creative flavors and combinations, with the PB+J (pork, beans and jalapenos) and the Funguy taco with mushrooms and salsa verde. 2005 Broad St., Cranston, 461-2640, pocolocotacos.com.
Parkview Bakery Cafe
Conveniently located across from Roger Williams Park, Parkview Bakery Cafe has a smattering of everything. Whether you want a liquid latte lunch, a traditional loaded sammie or want to try something spicy and new (mofongo with shrimp will provide a much needed midday pick-me-up), you can stay in your comfort zone or go way outside of it. 1228 Broad St., Providence, 461-2253, parkviewbakerycafe.com.
What Cheer Tavern
What Cheer Tavern might have new owners, but it has the same great promise: local beer, good eats. Pair your Revival Burnside Pale Ale with pulled pork tostones, a.k.a. crispy, golden plantain slices topped with slow-cooked, shredded pulled pork. If you can squeeze a few more bites in, try the barbecue dry rub wings. 228 New York Ave., Providence, 228-6228, whatcheertavernri.com.