South Providence is a Mecca for Dominican-American Industry
Once an Irish and Jewish neighborhood, lower South Providence is home to Latino restaurants and shops.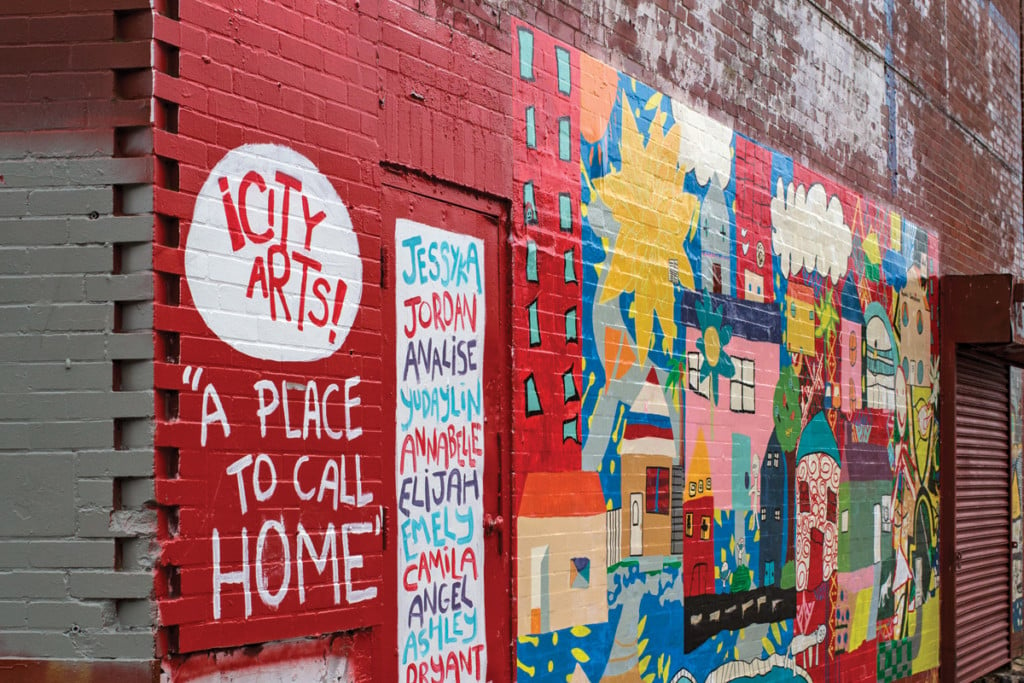 On a winter's day in 1959, a Dominican woman named Josefina "Doña Fefa" Rosario and her husband, Tony, drove from Post Road in Warwick to Broad Street in Providence. The couple was looking for a new home, and they were curious to see if there was another Spanish-speaking soul in the area.
But as they drove, they didn't hear the familiar lilt of their native tongue or see a bodega peddling plantains. Instead, they found Jewish delis and bakeries, and Irish grocery and liquor stores, displaying the ethnic makeup of the area. When Roger Williams Park came into view, they stopped to appreciate the slice of green in the bustling city, and decided, though there were no other Spanish speakers to be found, this would be their home. In 1960, they opened the lone bodega (an ethnic mini-market of sorts) in the area, called Fefa's Market, and settled in.
Almost sixty years later, Broad Street up to Thurbers Avenue has changed.
Dominican chimi trucks roll up near the park come nightfall, peddling massive burgers laden with cabbage, tomato and onion, the bun smeared with a mixture of ketchup, Worcestershire sauce and mayonnaise. Down the road, an array of more than twenty bodegas dot the bustling cityscape, selling plantains, cilantro and newspapers from Guatemala, the Dominican Republic and more. A bust of Dominican Independence hero, Juan Pablo Duarte, stares out nobly at the lush grounds in Roger Williams Park.
The area that was once home to large Jewish and Irish populations, lower Broad Street, has become informally known as the Latino Cultural Corridor, a community that elected the first Latino mayor of Providence (Angel Taveras), a community that is proud of its heritage and its identity.
Marta Martínez, executive director of Rhode Island Latino Arts and project director/oral historian for Nuestras Raíces: The Latino Oral History Project of RI, stands outside the birthplace of this community: A vacant laundromat located at 1232 Broad Street with a "for sale" sign in the window. This was once Doña Fefa's Market. "This is the birthplace of the Latino community here," says Martínez, "and it was all through a Dominican woman."
Doña Fefa came to the U.S. from the Dominican Republic in 1949, fleeing the brutal dictatorship of Rafael Trujillo after her father was murdered by his cronies. She settled in New York where she met Tony, who was from Puerto Rico. They eventually married and moved to Connecticut to work at a restaurant owned by a Greek couple. The owners eventually wound up moving to Rhode Island, and Fefa and her husband went with them. They found the state to be less hectic than New York and Connecticut — the perfect place to settle down and raise a family.
After falling in love with Providence, they opened the famous bodega.
"The first thing she missed about the Dominican Republic was the food. Food is very important to everyone, it's the first thing you look for when you arrive in a new place. So she decided that's what she wanted to do, but in order to get the food to stock her store, she would drive back to New York, load up a truck and come back, " Martinez says.
During her trips to New York, Fefa started telling people about life in Rhode Island.
"She would rave about Rhode Island, how beautiful it was, so people would come back with her," says Martínez. "She would put them up in a house she bought. I really credit her with being the mother of the Latino community, because she
created what exists today. There were other groups that came before that, but they didn't stay the way she did. She literally brought and built a community."
And when the Latinos from New York came, they knew just where to get the products to make the dishes that tasted like home.
Dominican food is unlike much of what people think of when they hear "Latino food." There's no corn and therefore no tortillas, and it bears closer resemblance to the food of Cuba and Puerto Rico than, say, Guatemala or Mexico. Fried plantains, sausages, stews and rice, bean and yucca dishes are hearty and made to fill.
In addition to carrying Dominican specialties and having a small eatery in the bodega, Fefa made sure her market was appealing to the other ethnicities in the area.
"As I started to move around and talk to other ethnic groups, I would always ask them: 'Where did you shop?'" says Martínez. "And they all said Fefa's Market."
Her products diversified, and moved beyond Dominican salami and plantains.
"She was the only place to shop if you needed platanos or cilantro or Dominican coffee, but she also started catering to the Guatemalans and even the Irish-Americans," says Martínez. "As they started requesting their food, she would carry it. She also carried sweets, Baby Ruths, Snickers, those kind of things, because a lot of local kids would stop there. It became a stop on the way from school to home." "
By the '60s, more and more Latinos arrived, concentrating towards Prairie Avenue, so Fefa moved her market.
"She lasted there until 1976, five or six more years, and then she just got tired of the business."
Fefa's Market closed its doors; it had done its job of creating a community, and it was time to pass the baton.
Today, other citizens are taking on the role that Doña Fefa held, helping people get what they need from City Hall and starting a movement to keep the streets clean: Movimiento Calle Limpia.
"Fefa's bodega birthed this community that is so involved. For example, a group of elderly men came together because they didn't like waiting for the city to come and empty the trash. So they formed a group, Movimiento Calle Limpia, that goes on the curbs and tidies up."
While the area is home to other ethnicities besides Dominicans (Martínez is quick to say that the Pequot tribe also claims this area for their heritage, and there is a growing Asian population) it holds a special place in their hearts.
"They've kind of selected this area as their own because of Fefa's Market and her history here. This is theirs."