Mystic Aquarium Releases Rehabilitated Seal at Charlestown Beach
Coasty, the female rehabilitated gray seal, finally returns to the sea after six weeks of nurture and care.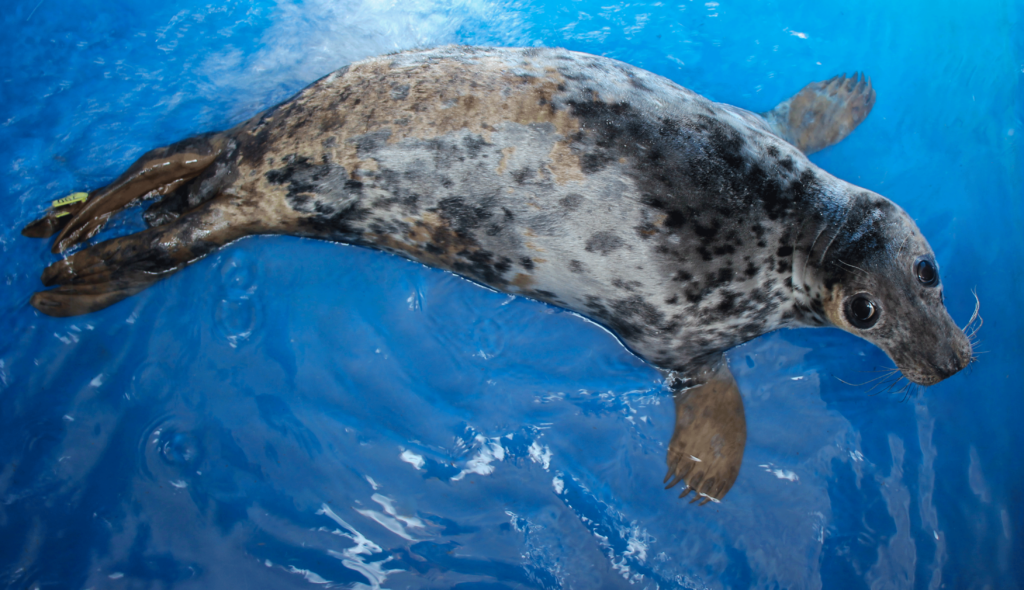 Editor's Note: This article was updated on May 16 to reflect the current events.
Sometimes, you can find your way back home.
After six weeks in rehabilitation at Mystic Aquarium, a female gray seal was released at Blue Shutters Beach in Charlestown. The rescue call came from Block Island on March 29. She was found in distress, lethargic with significant hair loss, shivering and minimally responsive. During her initial examination, she was determined to be malnourished, dehydrated and suffering from infection.
The response time and process was unusually fast, says Jules Craynock, who discovered the seal in poor condition. The New London U.S. Coast Guard immediately responded to the call and quickly made its way to the island to transport Coasty to the aquarium. Craynock, a retired oceanographer from NOAA, has volunteering with Mystic Aquarium for six years and currently resides on Block Island. He says the island may see one seal per month, or every other month, but sometimes they don't make it before they can be rescued. "There's no prayers for seals," he says.
According to Mystic's Animal Rescue Program manager Sarah Callan, there is a large population of seals on Block Island year-round. Due to the growing number since 2018, it has led to more response calls, requiring more resources. Thankfully, the program has a large number of willing volunteers to help. "They're going to go where the food is," Callan says of the seals' big draw to the downtown area. The North Light, which is a remote area, has been a popular spot for seals, but tourist population is increasing, leading to more seal and human interaction which calls for more resources to keep the seals safe. Callan says about 80 percent of calls come from Rhode Island seal spottings.
While many adult female seals can weigh between 400 to 600 pounds, this baby seal, estimated to be between one to two years old was easily lifted by two people. Due to malnourishment and a weakened state, she was about forty pounds when discovered but recovered to ninety founds when she returned home.
Coasty — fondly nicknamed "Peachy" due to her peach fuzz growing back as she recovered — made a quick, full recovery. Most injured seals recover within two to three months, but Coasty was "pretty speedy," Callan says. "We try to get them in and out as quick as possible to make room for another animal that needs help."
With her laidback personality, Callan says Coasty seemed like she was happy with a second chance at life. "I don't like to pick favorites, but she was one of my top ones, for sure," she says.
With time, patience and a little TLC from the aquarium's Animal Rescue Program, this sweet girl will be returned to the ocean, happy and healthy.
Coasty returns home! @mysticaquarium @RIMonthly pic.twitter.com/0eD4e2LmBA

— Kerri Tallman (@kerri_tallman) May 16, 2023