Local Holiday Cocktails and Brews
Get into the spirit with these holiday concoctions from Rhode Island bars.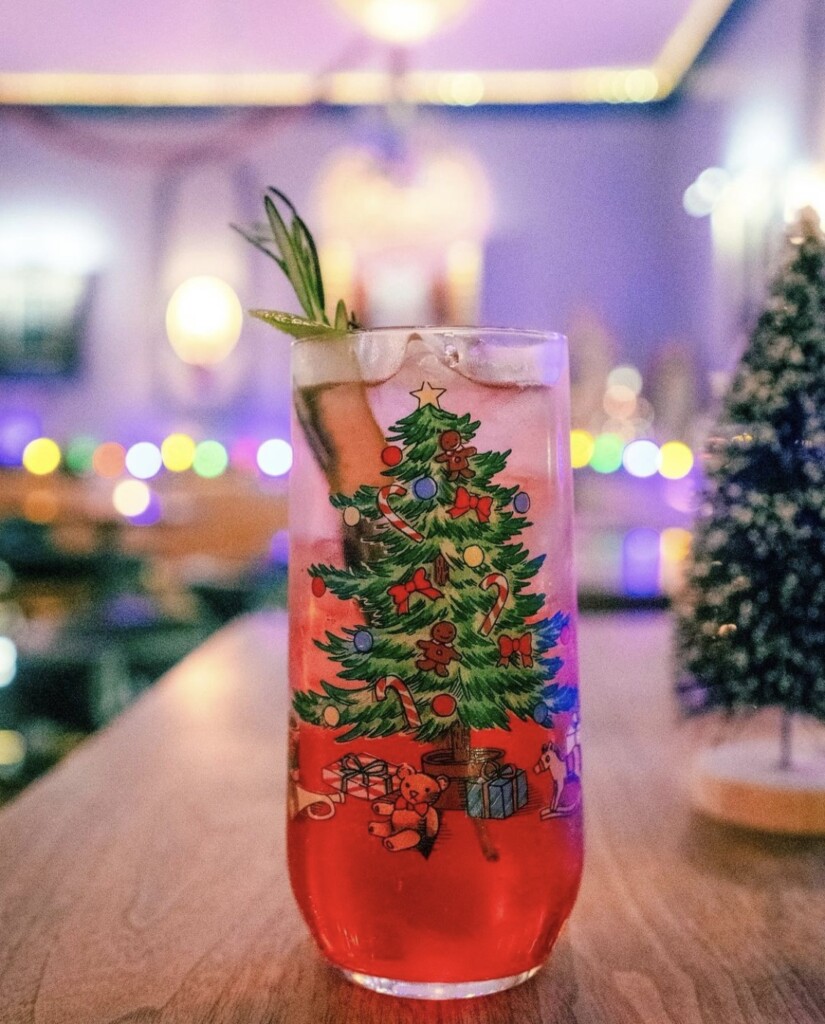 One of the most exciting moments of the holiday season is when the cocktail specials include any of the following: gingerbread, peppermint, merry, mistletoe. It's an instant mood-lifter and gets you excited to wrap presents. Here's some of our faves from local bars and restaurants.
Cocktails
Tiny Bar, 377 Richmond St., Providence
Mistletoe – Black Dog rum, Godiva chocolate liqueur, creme de menthe, oat milk, whipped cream, candy cane garnish
The East End, 244 Wickenden St., Providence
Kagura – Suntory Toki, Domaine de Canton, lemon, pear, cinnamon-gochujang cordial
Courtland Club, 5 Courtland St., Providence
Butter Boy – brown butter-washed dry gin, ginger liqueur, lemon, pear balsamic shrub, soda
Glou, 134 Ives St., Providence
B-Side – vodka, Byrrh Grand Quinquina, rum, banane du bresil, carrot, vanilla, cardamom, egg
The Royal Bobcat, 422 Atwells Ave., Providence
I'm Dreaming of a Providence Christmas – ISCO vodka, Campari, rosemary syrup, lemon juice, soda water
Black Duck Tavern, 31 Warren Ave., East Providence
Peppermint Bark Martini – vanilla vodka, Merrys white chocolate cream, crème de menthe, chocolate syrup
Kai Bar, 232 Main St., East Greenwich
Snowbird – vodka, fresh grapefruit, cucumber, elderflower
Bar 31, 29 State St., Bristol
Mistletoe Margarita – Camarena tequila, midori, triple sec, lime juice, apple cider
Winter in Brooklyn Martini – Bulleit rye whiskey, dry vermouth, Luxardo Maraschino liqueur, angostura bitters
O'Brien's, 501 Thames St., Newport
Grasshopper – creme de cacao, creme de menthe, milk
Caleb and Broad, 162 Broadway, Newport
Nutty Nog – eggnog, Bulleit bourbon, amaretto, rosemary, cranberries
Bar and Board Bistro, 282 Thames St., Newport
Gingerbread Negroni – gin, bitter bianco, Lillet Blanc, gingerbread
Festive Brews
Be it on tap or on shelves, look for these local holiday hops.
Narragansett Beer Holiday Ale – Festive ale coriander and orange peel
Beer On Earth Social Experiment – Imperial stout with dark chocolate and subtle hints of cookies and cream
Crooked Current Peppermint Mocha White Stout
Crooked Current Gingerbread Brown Ale
Lops Toy Soldier Winter Spiced Ale – Dark ale with cinnamon and nutmeg
Moniker Frau Holle – Gruit with spruce tips, pine candles and balsam tips
Tilted Barn Holly – Belgian strong dark ale
Trinity Brewhouse Holidaze – Holiday Christmas ale with molasses and sweet orange peel
Twelve Guns Marshmallow Inferno – Smoked malt with fire-roasted s'mores
Just Out of Reach
Find these neighboring brews at your local packie.
Harpoon Winter Warmer, Harpoon Brewery, Boston, MA
Two Roads Holiday Ale, Two Roads Brewing Company, Stratford, CT
Wachusett Winter Ale, Wachusett Brewing Co., Westminster, MA
Wormtown Blizzard of '78, Wormtown Brewery, Worcester, MA
Downeast Winter Blend and Cranberry Ciders, Downeast Cider House, Boston, MA