Is Saffron Rhode Island's Next Cash Crop?
Red gold blooms from the soil in a 500-square-foot plot of land in Kingston.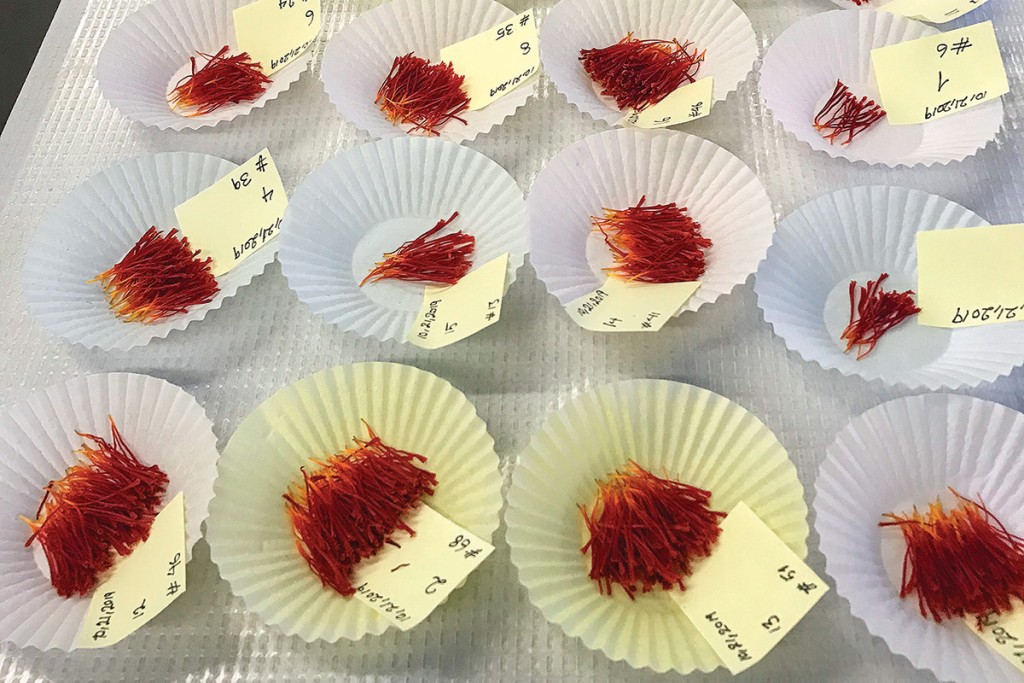 Saffron is one of the world's most expensive spices, adding up to $5,000 per pound at wholesale rates, or around $11 per gram, with some United States-grown saffron costing as much as $75 per gram.
And University of Rhode Island post-doctoral researcher Fariborz Gheshm, who spent twelve of his twenty-seven years studying agriculture with a focus on saffron, thinks the fragrant red stamens of this special crocus could be Rhode Island's next cash crop.
Currently, Rhode Island's biggest "crops," in terms of sales revenue, are cultivated trees, shrubs, flowers and turfgrass, but Gheshm and his URI colleague, Rebecca Brown, are planting rows of purple crocus sativus on the extension farm in Kingston to see if the dried red stamens of this dainty purple flower could be a contender for that top spot.
So far, the signs are promising. "I came to the U.S. from Iran in 2016, and in 2017, I decided to see if saffron would be a good alternative crop that could grow here," he says. "After two years, we found all the saffron we planted grew without any problems, and in the second and third year, we had twice the yield as Iran."
Iran is the king of saffron, and in 2019's growing season, the country produced 400 tons and exported around 186 tons of the fragrant spice. "In my country, in Iran, we have a lot of saffron. The center of saffron is in Iran," says Gheshm. But he notes that many of the major saffron-producing countries in the world, including Iran, but also Morocco, Turkey and parts of Spain and Italy, are starting to have issues with production.
"The areas between 30 to 50 degrees latitude are the best areas for planting saffron," he says. "But at present, most of the saffron producers face a rapid decline in the saffron industry due to desertification, which causes draught conditions and prevents the sustained growth of vegetation."
While saffron traditionally grows just fine in semi-dry soils, Gheshm wanted to know if it would do well in Rhode Island's moist, rich soils, and if it could survive our cold winters.
"It's pretty easy to grow here because saffron's vegetative growth phase is exactly in the winter," Gheshm says. "The season is great because the plants flower between October and November, and there are no other crops outside at that time. By planting saffron, you can extend the growing season."
After harvesting the flowers, the hardy crocus grows through winter. The saffron leaves remain green and collect nutrients from photosynthesis, then the leaves die back in the mid-spring before going dormant in the summertime.
"During the summer the saffron corms, or bulbs, are in a dormant phase, and so I'm working to see if the field can be used by other crops during that time," he says. He also hopes to hold workshops to introduce local farmers to saffron in the coming year, and the first saffron conference will be hosted by URI in 2022.
In the meantime, Gheshm continues to tend to his plot, learning and savoring the flavors of his homeland through science. "We use it in everything that we eat. We use saffron in our rice, in our stews, everything."