Inside the New Bedford Whaling Museum
The museum tells a fascinating tale of our relationship with whales and how a once-prosperous industry brought wealth to southern New England.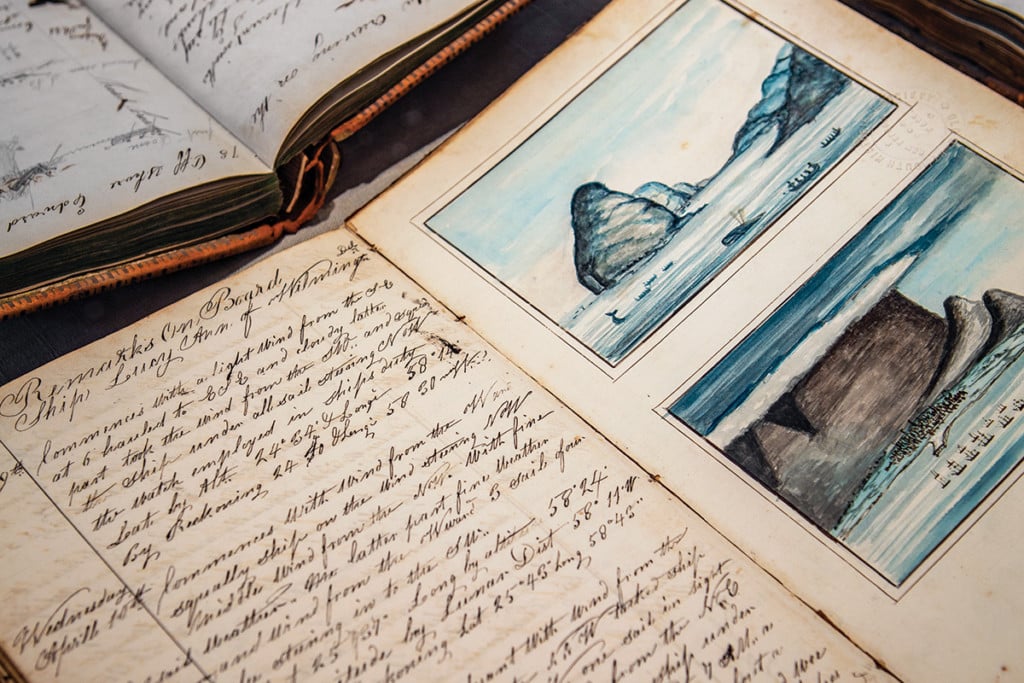 Where to eat
Moby Dick Brewing Co.
Make waves with freshly brewed ales and lagers in the heart of New Bedford's historic district. Begin your meal with distinctive pub starters like loaded potato skins or boomer nachos made with homemade chili. Then choose from a variety of juicy burgers, and of course, don't forget the libations. 16 South Water St., New Bedford, Mass., 774-202-6961, mobydickbrewing.com.
The Black Whale
Located on the New Bedford waterfront, this seafood spot and raw bar is a fish lover's delight. Enjoy classics like calamari, fried scallops or any one of the delicious shrimp options, or opt for something less mainstream like the pan-roasted monkfish or grilled swordfish. 106 Pier 3, New Bedford, Mass., 508-990-7100, theblackwhale.com.
A short drive away
Cask and Pig Kitchen and Alehouse
This gastropub serves southern barbecue alongside Portuguese-cuisine, with twenty-four beers on draft and a wide selection of wines in a casual, New England-themed environment. 780 State Rd., Dartmouth, Mass., 774-992-0183, caskandpig.com.
The Pasta House
Not just known for pasta, the menu includes fire-deck oven pizzas and gluten-free selections, using local produce and seafood while offering patrons an authentic Italian ambience. 100 Alden Rd., Fairhaven, Mass., 508-993-9913, thepastahouse.net.
Where to explore
Fort Taber/Fort Rodman Museum
More than 100 years after the massive concrete structure was built, the Fort Taber/Fort Rodman Museum is hailed as the biggest little military museum in the country. Exhibits include artifacts recovered from area waters, photos, biographies, uniforms and personal items donated by veterans. 1000 Rodney French Blvd., New Bedford, Mass., 508-994-3938, forttaber.org.
Buttonwood Park Zoo
Named one of the finest small zoos in the United States, the Buttonwood Park Zoo allows patrons to see more than fifty species of animals, including amphibians, birds, reptiles, fish and mammals. Learn all about the animals you see too, through conservation and educational programs or attend any one of the zoo's community events. 425 Hawthorn St., New Bedford, Mass., 508-991-6178, bpzoo.org.
A short drive away
Running Brook Vineyard and Winery
Open since 1998, the winery produces a variety of vinos from its Dartmouth and Westport vineyards. The tasting room is open daily or visit over the weekend for live entertainment. 335 Old Fall River Rd., North Dartmouth, Mass., 508-985-1998, runningbrookwine.com.

Lazer Gate
Step into the large, two-level arena and compete against family and friends in an out-of-this-world game of laser tag. The entertainment center also has an indoor bounce park, an eighteen-hole black light mini golf course, SpinZone bumper cars and an arcade. 288 Plymouth Ave., Fall River, Mass., 508-730-1230, lazergate.com.
Where to shop
Circa Vintage Wear
Founded by self-deemed "fashion archaeologist" Chris Duval in a restored 1920s factory, Circa has become the go-to source for costume designers, international suppliers and fashion-savvy folks alike. Duval scours attics for vintage clothing that preserves fashion from decades past. 204 Court St., New Bedford, Mass., 508-997-9390, circavintage1986.com.
Hippo
Browse larger-than-life handcrafted items from local artists in this small space, including apparel, jewelry, soaps, wall decor, bags and much more. Hippo also holds outdoor markets, workshops and special events. 741 Purchase St., New Bedford, Mass., 774-202-1347, shopathippo.com.
A short drive away
Flora-Style
With top brands as well as small independent designers, the store focuses on quality fashion with timeless style. Visit Flora-Style's sister stores, Flora-Home or Flora Etc., for all home goods and gift-giving needs. 368 Elm St., South Dartmouth, Mass., 508-996-2332, flora-style.com.
Salt Marsh Pottery
The six women behind Salt Marsh Pottery do everything from making pieces to painting each specific detail with a highly personalized touch. Purchase handcrafted baby prints, plates, welcome signs, tiles and more from the store or visit the workshop to commission your own customized item. 1167 Russells Mills Rd., South Dartmouth, Mass., 800-859-5028, saltmarsh.com.