Inside the New Bedford Whaling Museum
The museum tells a fascinating tale of our relationship with whales and how a once-prosperous industry brought wealth to southern New England.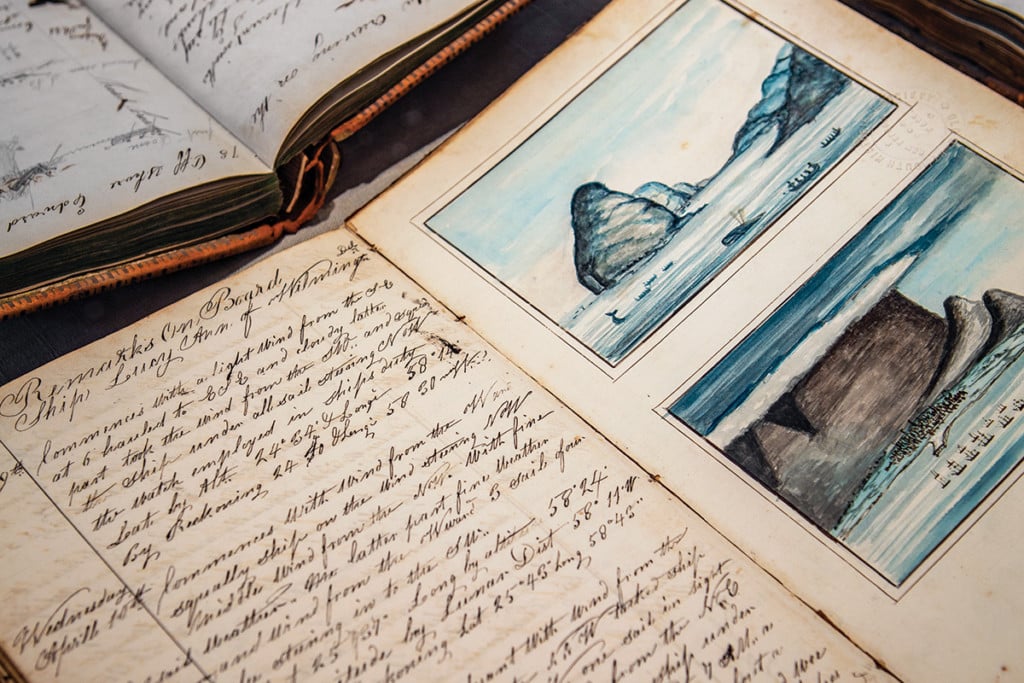 As my Jetta rumbles down the narrow, weathered cobblestone streets lining the little port city of New Bedford, Massachusetts, on an overcast afternoon, I get a sudden, overwhelming urge to tell passersby to "call me Ishmael."
Never mind that Moby Dick was one of my least favorite reads from freshman year English, or that the idea of drifting out to sea for any period longer than an afternoon is my worst nightmare. The name just feels appropriate given my destination: the New Bedford Whaling Museum.
If you're unfamiliar with the historic locale's story, let me catch you up. New Bedford was quite the whaling hotspot back in the day.
"If you look at New England's history from a mariner's point of view, geography shaped everything," says Michael P. Dyer, curator of maritime history at the New Bedford Whaling Museum. "The Acushnet River was handpicked by English mariners exploring the new world as early as 1602. Between the area's layout and wind patterns, they knew it was the perfect setting for a seaport and therefore a big draw for commerce and culture."
While the early explorers' line of thinking was correct, it would be another fifty years before Plymouth Colony settlers would acquire the surrounding 115,000 acres from the Wampanoags and dub it Old Dartmouth. It would then be another century before Bedford Village (a.k.a. present-day New Bedford) would emerge as a separate entity. By the mid-eighteenth century, neighboring Nantucket had already established itself as a leader in the whaling industry, but while Nantucketers owned and manned the ships, merchants from Boston, Newport and Providence were the ones who controlled the catch. This meant that "outsiders" set the prices of the incoming oil, bone and other whale byproducts, and they also had a monopoly on foreign export routes. Come the 1760s, however, the people who participated in the actual labor of whaling — read: sailing out to sea, hunting the whales and processing them — had grown weary of being underneath someone else's thumb.
"They wanted to skip over the middle guys completely," Dyer explains. "So, they just simply set up their own village."
The move was led not only by prominent Nantucket whaling merchants like Joseph Rotch, who had the finances to build ships and outfit crews, but also Newport Quakers like Samuel Rodman who had the knowledge and experience to pursue whaling, refine the oil and make marketable products like spermaceti candles, a semi-liquid found in a sperm whale's head cavity. The waxy substance was perfect for creating candles, making it a hot commodity before the age of electricity and thus helping to spur sperm whaling into a major industry.
"And it was completely an American invention, the idea that you can sail out into the deep ocean, kill a sperm whale, pull the blubber off, chop it into pieces, put it in the furnace, boil it into oil, put the oil in casks, put the casks in the hold of your sloop and then continue on your way until you're full," Dyer says. "You didn't have to return to shore after each kill; it was all done at sea. And then, neither the British nor anyone else quite knew how to refine and press the oil, but Newport, Nantucket and Bedford Village figured it out and perfected it."
Unlike Nantucket, however, which solely focused on hunting sperm whales, Bedford Village decided to add other species to their catch.
"Right whales are very large filter feeders, and the baleen found in their mouths is limber and flexible. It has all kinds of industrial purposes," Dyer explains. "So, Bedford merchants targeted these animals because they knew the market; they knew that they could go out on short voyages to the coasts of South America and Africa, hunt them and sell the oil and baleen all the while still sending out one or two vessels on long voyages for sperm whaling."
By the time New Bedford was formally incorporated as a city in 1847, it had surpassed Nantucket and all other whaling ports in size, tonnage of its fleet and value of its catch, whaling in virtually every corner of the world. By the mid-1850s, there were 350 whalers registered in New Bedford alone.
But then, less than a decade later, came the decline. Other industries rose worldwide (i.e. gas, coal, textiles), while the value of whale oil slowly dwindled. And with fewer fortunes being made from whaling, fewer men took to the sea, instead opting for factory work. Nowadays, commercial whaling is no longer a thing — it was banned by the International Whaling Commission in 1986 due to major population declines — but the New Bedford Whaling Museum is dedicated to keeping the industry's history alive. In fact, they've made it their mission to share the global story of human interaction with whales.
Crossing the museum's threshold, I'm floored by its size. Originally opened in 1907 by the Old Dartmouth Historical Society (an active group that still calls the museum home), the museum today spans ten buildings and a whole city block. Chief curator, Christina Connett, greets me in the main foyer, and as she graciously guides me through the museum's twenty-three galleries, it quickly becomes clear that I couldn't possibly do every single sight in this trove justice. I can, however, tease some of the highlights.
Because the museum was established nearly two decades before the last Yankee whaling voyage set sail in 1925 (from New Bedford, no less), there are plenty of artifacts that were donated during the time in which commercial whaling was still in operation. Case in point: The very schooner that went on that final voyage, the John R. Manta, now has permanent residence in the museum. Another famous vessel on display is the Lagoda, a half-scale model of a Yankee whaler, a.k.a. the largest model ship in existence. It's docked in the museum's illustrious Bourne Building and surrounded by objects that look as if they could have (and probably did) come straight from the wharf, including intimidating shoulder guns and iron harpoons.
One gallery is dedicated to showing off the intricate beauty of scrimshaw — products fashioned out of whale bones and teeth. With long stretches between whale sightings, bored seamen often used this practice to make both decorative and practical gifts for their lady friends back home. According to Connett, the museum has the largest scrimshaw collection in the world, featuring everything from yarn swifts to pie crimpers. An exquisitely sculpted ivory banjo catches my eye and I can't help thinking I wouldn't have minded waiting for a sailor if I knew he might have one of those beauties in tow.
Another section centers around the famous Ashley Book of Knots and takes a look at the way knots tie in (pun intended) to different cultures, while another illustrates the tale of Joshua Slocum, the first man to circumnavigate the world solo. There's even a room that showcases real whaling captains' logs.
The museum also, of course, provides its own whale sightings (albeit in a much different form). Just beyond the main foyer, the skeletal frames of a sixty-six-foot juvenile blue whale, a forty-nine-foot North
Atlantic right whale and a thirty-seven-foot humpback hang above.
"The first two were killed by ship strikes," Connett says. "The biggest threats to whales today are ship strikes, entanglements and noise pollution. We're really trying to draw attention to conservation issues that affect our whales. There are fewer than 500 North Atlantic right whales left today."
While a striking reminder of the sheer size and beauty of these animals, the skeletons certainly play a large role in the museum's recently expanded conservation and ecology exhibit called "Whales Today."
"Starting February 16, it will have many more hands-on activities as well as a larger focus on what species of whales live off of our coast," she says, gesturing to the expansive space below the skeletal giants. "We'll also connect the biology and ecology of specific species that make them vulnerable now to what made them vulnerable to Yankee whalers back then."
The expansion of the semi-permanent exhibition will include access to Bill Watkins's and Bill Schevill's bioacoustics collection (including the first recording of a beluga ever made), which has been donated by the Woods Hole Oceanographic Institution on Cape Cod; a fish-eye telescope and an interactive Stewards of the Sea exhibit, both on loan from the United States Navy; and a life-sized North Atlantic right whale's head and torso breaching the museum floor. Plus, the magnificent skeletons, along with a Volkswagen Beetle-sized whale heart that can be explored inside and out, aren't going anywhere.

While the magic of these animals has always been a major draw, Connett concedes that the name of the nonprofit museum is pretty limiting.
"We're still the old Dartmouth Historical Society. We're mostly known as a whaling and maritime history museum, but we're really a regional stewardship museum," she says. "We look at the entire community and region of the Southcoast."
It's true. There's also the Shapiro gallery, a room dedicated to the post-whaling American aesthetic movement and New Bedford's history as the first producers of art glass; a 3-D exhibition of "The Grand Panorama of a Whaling Voyage 'Round the World," a painting longer than the Empire State Building is tall; and contemporary shows (currently featured: Nick Whitman's Albert Pinkham Ryder-inspired photography). Plus, ever wonder why there are mill buildings in New Bedford? The museum has answers. Not sure if your kids can handle the exhibits? Its Discovery Center has you covered. Looking to fill your evening? Its 250-seat theater is a regular host to authors, scholars and lecturers from around the world.
But perhaps the most exciting piece is the museum's commitment to introducing the younger generations of New Bedford to the world of whales.
"In the last two years, we've added a multi-lesson science program for all fourth-grade students in New Bedford public schools," says Robert Rocha, director of science and education programs at the museum. "Each class comes for a two-hour visit comprising six stops around the museum. They'll get to hear some cool audio clips, see our sperm whale skeleton up close and walk inside our life-sized inflatable humpback whale. It's a chance to use marine topics as a way of teaching life science concepts; I always kiddingly say that we now are telling the whales' side of the story."
He also happily shares the museum's resources with local university professors and students regularly, and he enjoys educating the greater New Bedford community as well, having a large hand in planning the revitalized "Whales Today" exhibit and its opening.
"That first week we will have three activities planned for three of the days: The 10 a.m. activity will be biology-based, the noon activity will center around conservation and the 2 p.m. activity will be research-focused," he says. "Just a few hands-on opportunities for visitors so they can get to know these animals a little bit better and realize why they're worth admiring and saving."
While I mark my calendar before departing from the museum, I realize that I've not only learned a thing or two, myself, but I've also gained a newfound appreciation for Ishmael, Captain Ahab and Moby Dick.