House Lust: Sleek City Living With a Side of History
Built in 1855 for a famed Woonsocket industrialist, Harris Warehouse comes with a whopping 12,436 square feet of living space.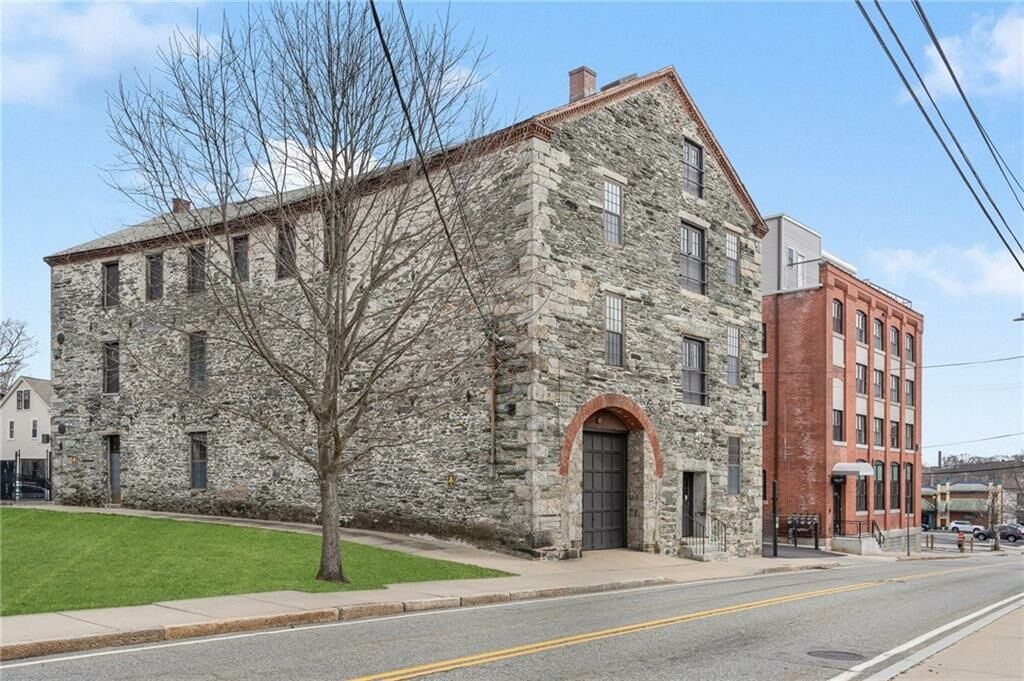 If you think city-loft living means having to live without a yard, think again.
This rubble-stone beauty, a Woonsocket warehouse built in 1855 for famed industrialist Edward Harris, has a whopping 12,436 square feet of living area within three-and-a-half floors. The space is sleek, gritty, urbane and stylish, and yes, comes with its very own grassy side yard, perfect for relaxing, catching some midday rays or dining al fresco.
"It's pretty rare in that it has a lot of land and grass," says Joshua Deaner of Mott & Chace Sotheby's International Realty. "Usually you don't get that — these buildings are usually one right next to each other with no grass."
The current owners, a woodworker and graphic artist, have used the building as a work/live space for the last twenty-three years and did much of the renovation work themselves. They live on the 3,000-square-foot second floor and converted the first level into a workshop.
The main living area features two bedrooms, two baths, a smartly renovated kitchen and soaring ceilings that give the space a NYC/SoHo-like vibe. The other floors are unfinished open spaces, just a big blank canvas ready for someone's plans.
The mixed-use building is in the Downtown Overlay District, opening up tons of options for potential owners. Some people who've viewed the property envision a business on the first floor with living space above; others want to convert it into apartments or condos, Deaner says. Some want to keep it as is, with a workshop below and living quarters on the second floor.
"It could be the ultimate live-work space for the creative type," Deaner says.
It's listed on the National Register of Historic Places, a nod to its past use as a storage warehouse for Harris, Woonsocket's first millionaire who was famous for his woolen goods, philanthropy and civic interests. He owned several textile mills, donated land for a high school, established the first free library in the state, founded two banks and ran for governor twice.
His Railroad Street warehouse is arc-shaped to take advantage of a Providence & Worcester Railroad spur (now gone) where train cars delivered goods right to the building. The walls are massive — two feet thick and crafted of rubble stone. It's just a quick walk to the Stadium Theatre, Chan's and the Blackstone River Bikeway.
The building is listed at $774,900. To learn more about 61 Railroad St., Woonsocket, contact Joshua Deaner of Mott & Chace Sotheby's International Realty at 401-556-1116, joshua.deaner@mottandchace.com or visit mottandchace.com.
RELATED ARTICLES
House Lust: This Brutalist Beauty Has Stunning Views of Downtown Providence
A Newport Manse Sees a New Light
How a Barrington Man Transformed His Yard Into a Bountiful Garden