From the Archives: Stay Tuned
Drawing the battle lines: things you never knew about your television news.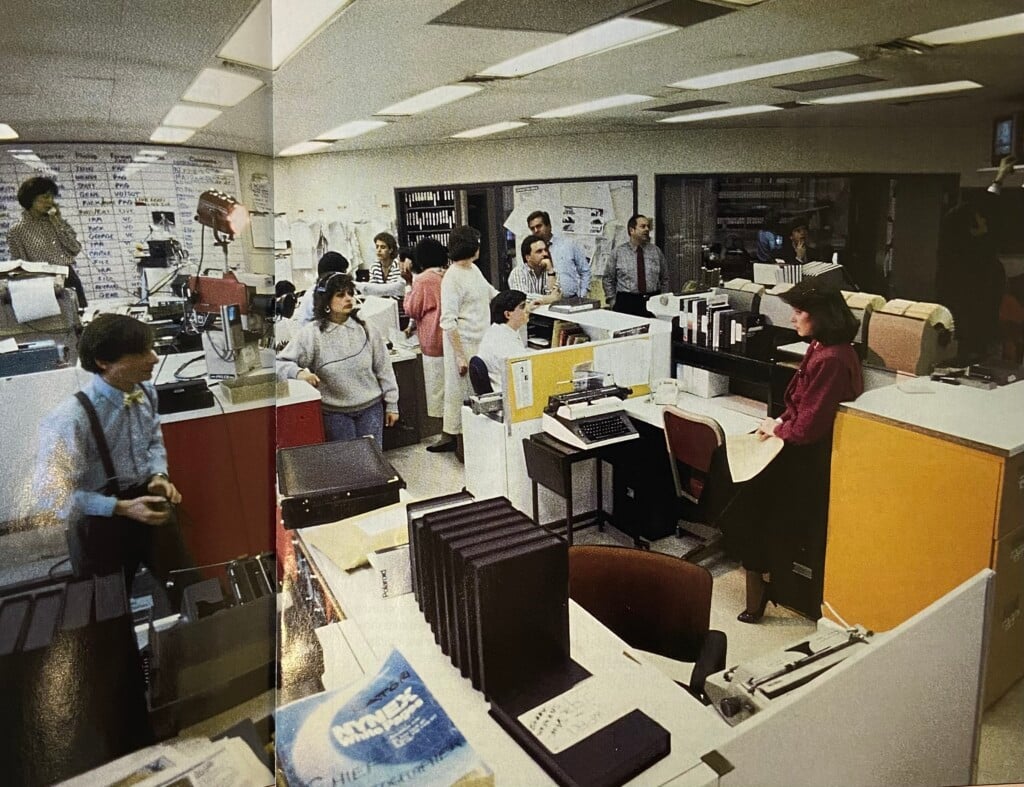 Editor's note: This story first ran in the premiere issue of Rhode Island Monthly in May 1988.
Ask anybody. Channel 10 is established, confident, credible, conservative. It is well-connected in Rhode Island politics and the Providence business establishment. It speaks with an authority that seems almost official.
Ask these same people about Channel 6 and they will describe the station's newscasts as shoddy, shallow, irresponsible, sensational, and sometimes laughable. It's the only station that revealed the victim's name in its coverage of the Big Dan's rape trial. Deserved or not, WLNE has a reputation for being more aggressive than responsible.
The perception of Channel 12 falls somewhere in between — a little harder to characterize, but more like 10 than 6.
The public perception of all three Providence stations is simplistic at best. At worst, it's plain wrong. Fair or not, these reputations are reflected in the relative success of the news shows. Overall, Channel 10 news places first in the ratings. Channel 6 finishes last. And Channel 12 gives Channel 10 a run for its money.
In the TV news business, the status quo is about as valuable as yesterday's news. Being second may count somewhere, but not in the TV newsrooms of Rhode Island, where the next rating book can make or break a career. In the coming months, Channel 6 will spend millions of dollars on new equipment and personnel. A new news director at Channel 12 will take his experience in one of the top media markets in the country and apply it in tiny Rhode Island. And Channel 10 will keep a keen eye on the competition snapping at its viewers.
All of this in the battle to be number one.
The set for the 5:30 WJAR, Channel 10, news is a lot smaller than it looks on television. Crowded and spotlit in the corner of an otherwise darkened studio, it shines out of place like a crystal chandelier in a machine shop. It's a contrast that would seriously disquiet the average TV viewer. Behind the camera, a TV studio is functional and unglamorous — jeans and running shoes and wires taped to the floor. In front of the lens, it's makeup and showbiz. Broadcast news — credibility through illusion.
It's almost 5:30 p.m., Feb. 29, 1988, and anchorwoman Patrice Wood is sitting behind the desk. She chats with the floor director about how much the lead story upsets her. The top story this afternoon is a tragedy — the recovery of an unidentified girl's body from a Warwick beach. It is assumed that the body is that of young Christine Cole, who had been reported missing for some time. Whenever Channel 12 has changed owners several times, but since 1979, it has been owned by Knight-Ridder, the well-capitalized national newspaper-broadcast chain.
Channel 12 overcame its late-start handicap and was soon just behind WJAR in the ratings. Meanwhile, fumbling around in the background, there was Channel 6, which didn't come on the air until the Johnson administration — Jan. 1, 1963.
But in 1978 an oddity of nature pushed Channel 10 so far ahead that it has taken 12 nearly a decade to get back in close contention. Or so the legend goes.
1978 was, of course, the year of the blizzard. Rhode Island was hit hard. Providence was immobilized. At the time, Channel 10 was the only Providence news station to own a "live truck" equipped to go on the air from remote locations-technology that Channel 12 wouldn't acquire for another year or so. The storm hit, and Channel 10 parked its live truck in front of the state capitol. Throughout the blizzard emergency, thousands of snowbound citizens got their news and instructions firsthand from Channel 10. Channels 6 and 12 were reduced to picking up official emergency announcement spots from WJAR while the Channel 10 news team gloated. The rest of New England — and, through coverage picked up by the networks, the rest of the country monitored Providence's survival efforts through reports supplied by WJAR. Not only did Channel 10 get national exposure and great ratings for that week — pushing it way ahead of Channel 12 for that February ratings period — but it reimprinted itself in the public consciousness as the city's primary and most reliable broadcast news outlet.
Historically, Channel 6 has always been at a disadvantage. The FCC, at the time 6 began broadcasting, wouldn't grant a third TV broadcast license to Providence because the market was, by commission standards, too small to support three stations. As a result, Channel 6 is licensed in New Bedford, Massachusetts, and is required by FCC regulations to identify itself as such on the air. (Today, WLNE is headquartered in New Bedford, but its news broadcast studio is in Providence.) Worse yet, there is a station broadcasting on the Channel 6 frequency out of Albany, New York, and to prevent the WLNE signal from interfering with that station's signal, Providence's Channel 6 was forced to put up its transmitting tower in Tiverton. That put WLNE's tower in a different direction from Providence from Channels 10 and 12, whose transmitters are situated in Rehoboth, Massachusetts. Back in the days before cable, that meant that Rhode Island viewers who aimed their roof antennas to pick up 10 and 12 were aimed away from the Channel 6 signal path. Channel 6 was a Johnny-come-lately with an out-of-state ID, and a transmitter on the wrong side of the tracks that was sending most of its signal out to sea anyway.
But WLNE's problems didn't end there. Because it was officially licensed in New Bedford, it was constrained, again by the FCC, to "service its community," which meant its news department had to pay attention to the local concerns of New Bedford, Fall River and Cape Cod. This, of course, further damaged the fledgling station's ability to establish a Rhode Island identity. The way the Channel 6 news department did its job, though, it didn't really make much difference. The air staff was inexperienced. Technical disasters were the norm. Freelance reporter-photogra-phers supplied most of the station's news coverage. Since the freelancers were paid by the story (in the $25 range) the incentive was to file often, not well. Channel 6 news was a joke.
Current WLNE news director Dave Layman freely admits, "It was a crummy television station. I don't think there's another point of view on that. Channel 6 is probably the toughest turnaround station in the country."
Could be, but that hasn't discouraged people from trying. The station has changed hands several times in its short history. It is currently owned by Freedom Broadcasting. Freedom, which now owns five other TV stations nationwide, picked up WLNE five years ago from the news-oriented Pulitzer family of St. Louis for a reported absurdly low $15 million. The Pulitzers, who bought Channel 6 around 1979, pumped some money into the station, vastly improved its technology, and tried to give its image a shot in the arm.
That turned out to be another shot to the foot. Action News they called it. Splashy promos, flashy intros. Channel 6 became the ambulance chaser of the Rhode Island airwaves, on the scene for every kitchen fire, front-end collision, and bar brawl. A Channel 6 reporter posed as a male strip-per, another went out and played hooker. It was the low road to salvation. All it did was further reduce the station's ratings and reputation.
Over at Channel 12 they call the news director Gwiz, which is a little easier to say than Dave Gwizdowski. He's 31, and he's news director of the second-ranked TV station in the Providence market. At Channel 6, Layman has nowhere to go but up. At Channel 10, they have nowhere to go. At Channel 12, they can already taste victory. In fact, the November 1987 Arbitron ratings book put Channel 12 a mere four share points behind WJAR for six o'clock viewers. In February, the spread was six share points, but still considerably closer than a year ago. (A share point represents the percentage of people tuned to a given station out of all the people actually watching TV during a given time period.) To put it in perspective, Channel 6 would have to gain 10 share points at six o'clock to equal even Channel 12. At eleven o'clock, the spread between Channels 12 and 10 is considerably greater.
Gwizdowski predicts WPRI will overtake Channel 10 at six o'clock in one year. A successful run at Channel 10's eleven o'clock newscast will take longer, he admits. But Gwizdowski notes that in Providence, where the average viewer's work hours are more likely to be 8 a.m. to 4 p.m. than 9 a.m. to 6 p.m., the six o'clock news audience is twice as large as the eleven o'clock audience.
Gwizdowski grew up in Pawtucket and graduated from Emerson College in Boston in 1980. While he was at school studying TV production, he got a job as a news writer for Boston's prestigious Channel 5 news department. where he worked until 1985, producing the station's morning news breaks and eventually the Chet Curtis-Natalie Jacobson newscast at six o'clock. While Gwizdowski was at Channel 5, he won an Emmy for the station's coverage of a major airline crash. In 1985, he signed on with WPRI as assistant news director under Ed Hart, who soon left to start his own consulting firm. During their overlap at the station, Hart left much of the day-to-day business and the hiring to Gwizdowski; which did two things for Gwizdowski — it let him show off his ability, and it enabled him to build a loyal team of his own hires. When Hart left, Gwizdowski took over the job officially. Of the fifteen full-time reporters now working for Channel 12, eight are Gwizdowski hires.
Gwizdowski came in on a rising tide, so to speak. Four years ago, Channel 12, suffering from what Gwizdowski describes as an "inability to come up with a long-term plan and stick to it," was slipping in the ratings. In 1985, Hart and Gwizdowski made several moves that reversed the trend. Walter Cryan, a twenty-two-year veteran of the station, had been anchoring the noon and six o'clock newscasts. The eleven o'clock show featured anchors Barbara Hamilton (now seen on the Channel 12 noon newscast) and Mark Wile. Hart and Gwizdowski determined that viewers weren't responding to the mixed news teams. They moved Cryan, possibly the best-known TV news face in the city, to 11 and teamed him with former Channel 7 (Boston) noon anchor Janice Glynn. In terms of looks and personality, this was something of a pairing of opposites, but the audience demographics, which had been weighted unproductively toward older females, broadened considerably in response to the shift.
Putting Cryan into the eleven o'clock newscast was more than a move toward consistency. It was an admission on Gwizdowski's part that Cryan's long-standing popularity could do the station good where it was needed most. Cyran, who grew up in Cambridge, Massachusetts, and graduated from Boston University, brags that he was in the business "B.C." — "before consultants" — he worked in radio, then moved to TV as Channel 12 news director in 1967. For years he anchored the news alone. In 1974, as a result of expansion and, according to Walter Cryan, the suggestion of those darn consultants, he stepped down as news director and covered the noon and six o'clock newscasts. Cryan has never considered leaving Providence — though in the past he has had offers from other stations — because, he says, he loves the area and is tied to it by his nine children.
Another possible factor contributing to Cryan's and other local anchor's reluctance to leave Rhode Island TV is salary.
Usually, anchors don't move directly from a medium-size market into the majors, and Providence anchors are well paid for the size of the market, earning between $100,000 and $200,000 a year. Moving up from the forty-fourth-ranked Providence TV market to, say, the thirty-fifth, probably would mean a pay cut.
White-haired and venerated, Cryan knows his value vis a vis the Providence viewership. "We reach an elderly audience," he explains. "You can't come in from the outside and try to apply some format to the news here. You have to know the history of the market, and you have to know your audience. Two-thirds of the state is Catholic, and that's a consideration, too."
Hart and Gwizdowski also did an analysis of the three Providence stations and found that in 1985, Channel 12 had the smallest news staff and budget. Backed by WPRI general manager Bob Price, Hart and Gwizdowski pitched station owner Knight-Ridder for an influx of cash and a commitment for steady growth. Today, Gwizdowski claims, his non-union staff (only WJAR is unionized) enjoys a higher pay scale than employees at either of the two other news stations.
Since Hart's departure, Gwizdowski has made more changes. He hired weatherwoman Gay Dawson away from cable TV's the Weather Channel, where, according to Gwizdowski's research, she was the most recognized meteorologist.That meant she already had a following among the Providence audience, and Gwizdowski put her on the 6 and 11 newscasts. (John Flanders, who held down those spots before Dawson's arrival, is now working the noon news and doing the morning weather reports.) Gwidowski also has built what he calls a farm system of reporters and producers to protect him from losing momentum when he loses a staffer.
Gwizdowski already seems to have earned the respect of the Channel 12 staff. Cryan describes him as "the sharpest guy I've ever seen in this business at his age." And morale at Channel 12, at least Watter Cryan's, is up under Gwizdowski. "I'm more positive about this station now than I've been in the twenty-two years I've been here," Cryan says.
Gwizdowski has encouraged the idea of anchoring the news from remote locations. When a spectacular fire erupted at the old Outlet building, Channel 12 instantly decided to move Cryan's desk to the scene. Other remote-anchor casts are planned well in advance, to coincide with some major news or feature event — Rhode Island's 350th anniversary celebration (WLNE's first remote-anchor show), or the vineyard harvest in Little Compton.
WPRI news has pulled off roughly thirty remote-anchor broadcasts, and the ratings suggest they are very popular.
Change came to Channel 10 in the early 1980s, in response to what was perceived as a crisis. Management feared that the station's serious, anti-sensationalist approach to covering Ocean State news was too sophisticated for its market. Channel 10 had long maintained a presence at the state capitol. Its newscasts were characterized by heavy investigative reports and thoughtful, talky, grown-up political coverage. In the early eighties, Channel 10 commissioned a consultant group to study its audience. The results showed that WAR news had indeed captured nearly half the Rhode Island viewership, but it was the upper half of the state's population — higher-salaried, educated, informed, well-read, well-dressed, etc. This, according to sources close to the situation, was taken by Outlet management as a criticism, not a compliment. It was decided, and announced in so many words at a news department staff meeting, that Channel 10 news would aim lower. Get the "people angle," advised the consultants. Deal with the day-to-day stuff. So Channel 10 news made a critical change of direction.
To be fair, then-WJAR news director Dave Baer, considered within the industry to be a responsible journalist and a popular manager among his staffers, did not turn Channel 10's news to mush. The station continued its sophisticated reports, but the high-quality stuff gave up air time to consumer, medical, and environmental features. Channel 6 was pouring itself into the gutter and posing no threat, but Channel 10 was working hard to, as one former staffer put it, "slip back into the mainstream."
Throughout this period, Baer harped on the idea that Channel 10 could not afford to be complacent, a theme echoed to this day by WJAR general manager Sawhill. Former Channel 10 news staffers suggest this is a legitimate concern at the station, given the low turnover rate in the news department.
The technology explosion of the mid and late 1970s created another reason why Channel 10 could not afford to rest on its laurels. The new technology opened up countless opportunities—shortening news departments' response times and lengthening their deadlines. The technology proved to be an equalizer. Punk stations like Channel 6 could catch up fast and look as good as the better-established stations (if the punk stations could learn to use the equipment, that is). This also was the era when "news consultants" were running amuck in the industry, selling "happy-talk" concepts and shallow promotional gambits to TV news departments looking for quick-fix answers to their ratings woes.
To the viewers' credit, it was ultimately a matter of how stations used their blow-dried anchormen, their hour-glass weather-girls, and their live-remote technology that were the deciding factors. Bad coverage, however dressed up, just doesn't have the legs to hold a New England audience. But out of the muddle came a keen sense of competition among network affiliates in New England, and especially in Boston and Providence. So the longstanding Channel 10 admonishment against complacency is now more meaningful than ever.
After seven years at the station, Baer recently left WJAR for a job in North Carolina. He's been replaced by Larry Price, who left a larger market in Minneapolis-St. Paul to work in Providence. Preliminary reports on Price from the inside are positive. Staffers say he's taken charge and expressed a constructive interest in the content of the news shows, not just their production aspects. Sawhill and Price are guarded about announcing any major changes. According to Sawhill, Price has been instructed to "keep doing what we're doing and do it better." And although Channel 6 is publicizing a megabucks news department expansion and Channel 12 is snapping at WJAR's heels at six o'clock, Channel 10 is maintaining a conservative stance—not exactly complacent, but confident that the Channel 10 news machine can do no better than stay on the right track.
Channel 10 is so entrenched in Rhode Island's identity that it is indeed inconceivable that any competition could do it lasting harm. Channel 10 appreciates the value of consistency-of offering the community a "broadcast family" of familiar faces. The current WJAR air staff is fairly long lived. Anchor Doug White has been with the station for twelve years. Patrice Wood is in her eighth year on Channel 10. Cathy Ray is the news-team newcomer at four years. Morning and noon weatherman Art Lake holds the record. He's been with WJAR for nearly forty years.
Asked what New England viewers value most in a news broadcast, every Providence TV news insider agrees — familiarity. The idea that times change, economies change, major events come and go, but the same people are always there to report and explain it makes people feel secure. In Providence, Art Lake's living-institution advantage is shared by Channel 12's Cryan, who, as far as many viewers are concerned, has been bringing them the news since the dawn of history. Channel 10's Price, discussing the validity of softer features, points out that in addition to getting the news, viewers need to be reassured. "They need to know that the world hasn't been blown up," he says. Getting the news, good and bad, from a trusted face goes a long way toward putting that message across.
On the down side, Channel 10 has just lost high-ranked political reporter Tom Kole, who's been with the station since 1980 and has been covering the State House since 1982. Kole is leaving Rhode Island for a job with Potomac News Service in Washington, and Price is currently searching for his successor.
If Price is sure he can stand his long-held ground by doing the same things better, Channel 6's Layman is equally sure he can gain some acreage by doing almost everything differently. Layman was raised, educated (a degree in sociology), and trained in broadcasting in the Midwest. In 1973, after working as a reporter for several heartland television stations, he turned down a job in Detroit at a station that then passed his name along to WJAR in Providence. Layman moved east and anchored the six and eleven o'clock Channel 10 news from 1973 to 1976, while finishing a master's degree at Brown. He left Channel 10 and headed for Columbus to anchor and act as managing editor for WBNS-TV, that city's number-one station in everything but local news, which it aired against the grain at 7 o'clock. After three years working to upgrade the Columbus news department and its ratings, Layman's connections brought him to a "turnaround"station in Dallas. After two years the station hadn't turned around a bit and new management failed to renew Layman's contract. Meanwhile, back in Providence, Channel 6 research disclosed that viewers remembered and liked Layman from his anchor days at Channel 10. So five years ago, then-Channel 6 general manager Gary Chapman (now head exec of Freedom Broadcasting and reportedly a close friend of Layman) brought Layman back to Rhode Island.
Freedom had just bought WLNE, and Layman was clearly meant to be part of the station's desperately needed turn-around. But Layman was hired only to be on the air. The Channel 6 news department was undergoing a painful series of management transitions — some more painful than others, but all of them disruptive. In 1981, under Pulitzer ownership, the station had hired away Channel 10 anchorman John Sweeney to be its anchor and news director. Along with Sweeney came Channel 10 staffer Bill Northup to be WLNE news' executive producer. Sweeney left and Northup stepped up to the news director slot around the time Layman arrived. Before long, Northup departed and Layman was named acting news director. Next came Ken Boles, in from Chicago to relieve Layman. Boles lasted only a few months. Again, Layman assumed the job of acting news director.
In 1984, Channel 6 brought in, partly at Layman's suggestion, George Wolf, with whom Layman had worked in Columbus. Wolf was a seven-year veteran of WKYC-TV in Cleveland, where he had won an Emmy for a half-hour news special. He did not aim WLNE's news coverage to the blood-and-guts sensationalism of yore, but he did, according to Channel 6 staff, put a lot of emphasis on what Layman calls soft features, neglecting to promote the station as a news source. Some felt he reinforced Channel 6's Mickey Mouse reputation in the Rhode Island broadcast market.
In August of 1987, Layman told Channel 6 management that he would not accept a new contract, and took a part-time teaching post at Rhode Island College while he looked for his next anchor desk. His existing contract was scheduled to expire March 1 of this year. According to Layman, he was unhappy with the "soft news" direction the station had taken under Wolf and was disappointed with the results of his own efforts.
"I came here five years ago to be number one," says Layman. "Five years later, I was still number three." Simultaneously, according to sources close to the situation, Freedom Broadcasting hired an outside management consultant to figure out what was wrong in the news department. It is widely rumored that Wolf got a fairly strong vote of no-confidence in the consultant's survey of Channel 6 employees.Wolf soon left, and Layman once again stepped in as acting news director.
Soon after Wolf was ushered out, Freedom began publicly talking big plans — a major investment (reported at from $2.5 million to $3.75 million) in more equipment and more staff, plus an expanded news day, with noon and 6:30 a.m. broadcasts. The plans represented a major commitment. Layman, admittedly ambitious, was intrigued. "They removed every reason why I was going to leave," he says.
As one might expect, Wolf's version of the story is different. According to Wolf, it was clear he was on the way out before the management consultants arrived. He and Layman had had their differences, Wolf says. The consumer spots that Layman characterizes as "soft features" were Wolf's attempt to give the Channel 6 news audience what he says it wanted and needed — money-management advice, health tips and consumer advocacy, the very sort of "reassuring" things that Channel 10 began to run a few years back and that Channel 12 is now working to perfect. According to Wolf, Layman, who today complains vociferously that superstar anchors such as Cryan seldom leave the studio, had himself resisted playing reporter. Wolf characterizes his philosophical difference with Layman as Layman's dedication to getting things on the air first, "never mind the fallout," and Wolf's dedication to being "responsible."
The most recent development in the Channel 6 reorganization was the ousting in early March of WLNE general manager John Quinlan. He was replaced by former station manager Paul Karpowicz, who has been heavily involved in the news department expansion. Wolf, who is admittedly bitter about his leaving Channel 6, explains the firing politically: "They got rid of the last person to stand up to Layman." With both Quinlan and Wolf gone, it's officially a new ball game. And it's Layman's chance to be a hero.
One thing Wolf and Layman agree on: Channel 6 used to be a farce. "When I got to Providence, Dave Layman told me that less than 50 percent of our live shots actually got on the air," recalls Wolf. "I thought he was kidding. But it was true. There are some great people who work at the station, but they kept making preventable on-air mistakes. It came from a lack of consistent leadership, and I don't think it was fair to the people who worked there. … The place was a mess. We didn't even have enough chairs for people."
Chairs now in place, Channel 6 is scheduled to unveil its new news operation on the air in early summer. By March, Layman's office was stacked to the ceiling with audition tapes. According to plans, the station will hire a total of twenty-one new staffers, including two new anchors to do the 6:30 a.m. and noon casts, another new anchor to replace Layman at 11 (so he can devote his energies to management and/or get some sleep), plus additional noon and morning producers, an overnight producer, an overnight photographer, an executive producer to assist Layman, an archivist, and numerous production people. The idea, according to Layman, is to make Channel 6 a twenty-four-hour news station, with fresh material produced during the wee hours for the early-morning broadcast.
Layman also is planning a push to make Channel 6 news more issues-oriented (Channel 10's strong suit) and to break stories. By May, if things go on schedule, the newsroom will do its work on twenty-six new computer terminals, and staff will be assigned to call contacts in every town in Rhode Island every day looking for leads. These leads will be followed up with three live trucks and a "satellite" news truck that can send a remote broadcast up to the heavens and back down to the home base (thus eliminating the need to relay remote-broadcast signals back to the studio from microwave unit to microwave unit). The live trucks also will allow Channel 6 reporters to do "on-board editing"— to edit news tape for broadcast in the truck itself. Without this ability, a reporter covering an ongoing story has to go to the scene to gather information and footage, return to the studio to edit the tape, and then drive back to the scene to introduce the story live on the air. (Channel 10 and 12 already have on-board editing technology.) Freedom also has petitioned the FCC to move its transmitter to Rehoboth and thus improve its signal quality into Providence.
Layman already has eliminated some of the regular features left over from the Wolf days. That plus the proposed anchor shifts mean lots of change. Layman thinks that is just what Channel 6 needs if it is going to shake its tacky image, but industry insiders worry that audiences resent (some use the word "hate") any change — even a change for the better.
Recent ratings that show Channel 10 holding its own and Channel 6 slipping suggest that Channel 12 is taking viewers from WLNE. Gwizdowski can neither confirm nor deny the implication, saying only that Channel 6 "has a pretty deep hole to climb out of." Though his eyes are constantly shifting between the competition on both sides, his goal is to catch WJAR. And the way to do it, he thinks, is not to steal from Channel 6, but to grab those viewers who aren't watching any of the Providence news stations.
Four Rhode Island rating points at eleven o'clock go to Boston stations. Gwizdowski guesses people watch for Boston's perceived superior sports coverage or because people who fled the Massachusetts cost of living for Rhode Island have held onto old viewing loyalties. Those four points disturb Gwizdowski. He wants them for WPRI.
Even before cable, the proximity of Boston was a problem for Providence TV stations, if for no other reason than that the two cities' signals (and therefore their viewer markets) overlap in southeastern Massachusetts. Add to that the history of Providence's not having a full complement of network-affiliate stations until Channel 6 limped onto the scene in the early sixties, and you've defined an inescapable conflict.
The highly competitive Boston TV stations, two of which (Channels 4 and 5) are considered among the best local news operations in the country, do have an influence on Providence newscasts. On a simplistic level, the Boston stations feed sports footage for the Patriots, Celtics, Bruins and Red Sox to their sister network affiliates in Providence. The cooperation works both ways. Boston viewers see PC basketball clips and such shipped up from Providence stations. Outside of sports, the cities share coverage on major stories. But beyond that, the acknowledged quality of the Boston newscasts influences what Channels 6, 10, and 12 do. At WJAR, Sawhill, though cautioning that he doesn't have to imitate the Boston sta-tions, does admit that their very presence in his market requires him to do a better job.
"Rhode Island viewers can just switch over and see what WBZ is doing. It's too easy to make the comparison. Our appearance is our means to communicate. We can't look bush by comparison," he says.
The Rhode Island TV audience is changing. Right now, the state's demographic profile describes the average viewer as a low wage-earner in his or her fifties. Rhode Island also has one of the most stable populations of any state in the union. People don't move out. People don't move in. People don't even move around much, and they attach their identities to the communities they live in, not necessarily to Providence. But it is assumed that within a decade these market aspects will change noticeably. People and money are already spilling into the state from Massachusetts. More and more Providence residents are commuting to Boston. And if Providence officials succeed in efforts to attract out-of-state businesses, more and more Boston residents will be making that trip in reverse.
Providence itself is seen as being on the verge of an economic explosion that will likely regionalize southeast New England once and for all. In five years, the Rhode Island television audience will look more like Boston's than it does today — younger, more affluent, more career oriented, better educated and more mobile. Whatever the Providence TV news departments are doing to and about each other, they are all — with varying degrees of consciousness — preparing for the impending regional boom. Direct competition between Boston and Providence news stations will always be limited by economics of scale, hometown interests and geography. But any changes in the market that do take place probably will benefit Providence, as Boston businesses see more of their customers boarding the commuter train south.
What it all means is that local TV news viewers are in store for good seasons for many years to come as Channel 10 defends its championship in a changing, vibrant market, Channel 12 challenges, and Channel 6 fights its way onto the field.