Flashback: Rhode Island Monthly Through the 90s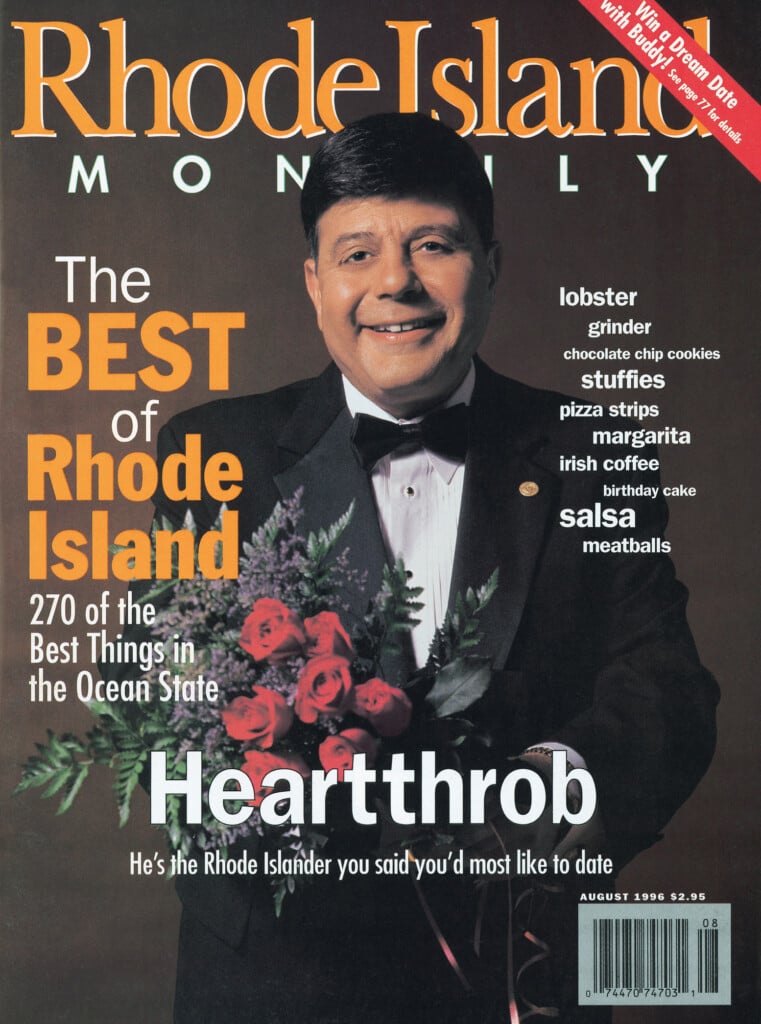 While the rise of the internet forever changed the way people communicate, we couldn't get enough of the "Friends" theme song, sugary cereal mascots and Bill Clinton's scandalous exploits (we'll also never look at a white Bronco the same way again — thanks O.J.). Meanwhile in Rhode Island, Providence Place opened its doors and brazen politicians gained notoriety: We saw the end of Joe Paolino's term as mayor of Providence followed by an unsuccessful gubernatorial campaign and his refocus on real estate; the rise of Governor Bruce Sundlun and the decade-long comeback of Mayor Vincent "Buddy" Cianci before prison came calling. Rhode Island Monthly also chronicled how Joe Mollicone triggered the banking crisis and followed forty-eight hours in Rhode Island through the eyes of local photographers. It was the best of times, it was the worst of times, and we documented it all along the way.
August 1990: "48 Hours in Rhode Island"
Rhode Island's best photographers were set loose across the state over forty-eight hours from May 18-19, 1990, to shoot anything and everything. Highlights included a baby being born at Women and Infants Hospital, the making of Del's lemonade, a late night at Haven Brothers and taking the inventory of gold and silver bars — gold was valued at $350 an ounce at the time, while silver was at $5 — at Providence's Hospital Trust Tower.
April 1991:
In a bit of April Fool's satire, we featured a fake Joe Mollicone on the cover in his "secret hideaway." The real Mollicone, who triggered the 1990 RISDIC crisis, turned himself in to authorities in mid-April 1992, after hiding out for eighteen months in Utah.
December 1992: "A Night in the Life of the Condom Hut"
Our intrepid reporter spent a night at Cranston's Condom Hut — a former Fotomat kiosk (remember film?) — chronicling all the evening's ups and downs.
October 1995:
We caught up with everyone's favorite Channel 10 news anchor, the late Doug White, who looked right at home behind the grill.
March 1996: Surf's Up!
Rhode Island Monthly's new and revolutionary website — radical!
May 1996: "Rocky Point's Final Ride"
Visitors enjoyed Rocky Point, Rhode Island's beloved amusement park, for the last time in 1996.
August 1996: "Heartthrob"
Buddy Cianci appeared on our cover several times for his foibles, including for the Rhode Island Red Awards in January 1992 and the cover of our Best of Rhode Island issue in August 1996, where Cianci was voted the person residents most wanted to date. We even held a contest to win a dream date with Buddy, complete with a limo and dinner for two.
January 1998: "Hail from the Chief"
President Bill Clinton sent us a letter, telling us how much he loved his Rhode Island Monthly swag. Really, who wouldn't?
Whatever Happened to WBRU?
For those of us who came of age in the '80s and '90s, 95.5 WBRU will always hold a special place in our hearts. It was the one place on the dial where you could listen to good alternative tunes and hear vintage ones on the Retro Lunch. The station also held annual events like the Rock Hunt (a local battle of the bands competition) and summer and birthday bash concerts that drew the likes of Linkin Park, Guster, Hole, Ben Folds Five and the Cold War Kids. The station, owned by the Brown Broadcasting Service, held its first FM broadcast in 1966 before going off the air in 2017. You can still catch the cool tunes online, though, at wbru.com, through the WBRU app, iTunes playlists and more, while WBRU 360° also airs on 101.1 FM Sunday–Tuesday. —Dana Laverty
RELATED ARTICLES