Excellence in Nursing Awards 2021
After the last year and a half, these dedicated caretakers earn their place in the spotlight.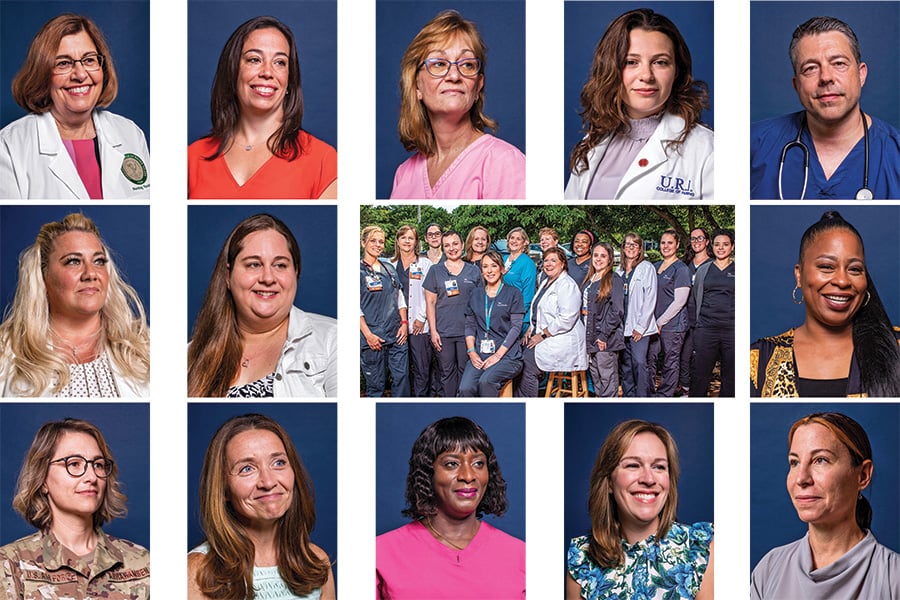 Clinical Nurse Educator of the Year
Alison Kelley, MSN, RN
Clinical Nurse Educator/Coordinator of the Emergency Department at Hasbro Children's Hospita
How did you get into nursing?
Growing up, my mom was an ER nurse. Seeing the impact she had on her patients helped me decide to go to nursing school. Between hearing her stories and my clinical rotation in the ER, I truly could not see myself doing anything else.
What's your favorite part of being a clinical nurse educator?
Watching the new nurses connect theory and practice truly makes me feel like I am making a difference. I love seeing the expressions on their faces as they practice what I have taught them and seeing them develop strong practices and become amazing nurses.
Tell us about a career accomplishment that makes you proud.
Becoming the clinical educator in a Level 1 Trauma Center all while being a mom to three young children at home and my husband was in college for nursing. Being a clinical educator was always a dream of mine since I went into nursing.
What do you wish more people knew about your role?
Teaching adult learners is extremely difficult. There is a wide variety of diversity when it comes to educating nurses. Each person learns in a different way, from hands-on to auditory learning. For difficult concepts, I have to present specific topics in multiple ways for all learners to understand.
---
Home Health Nurse of the Year
Sharon E. Gittens-Duke, BSN, RN
Case Manager/Infection Control Nurse at Assisted Daily Living, Inc.
How did you get into nursing?
When I was about eight years old, I spent most nights caring for my Aunty who suffered from seizures. At that time, I did not like the hospital or anything to do with health care, but I loved helping people. Then, at fourteen, I had a life-changing crisis when civil war robbed me of my innocence. I left my home and country with nothing but what I was wearing. Years later, in the twelfth grade, I was strongly led to go into nursing. To make sure it was what I wanted to do, I volunteered at the Meeting Street School as a senior project. I really loved it! That summer I volunteered in the Women and Infants Ambulatory Care Unit. It was very rewarding and gave me more assurance. I went on to Salve Regina University and worked as a Student Nurse Associate at Rhode Island Hospital throughout college. After graduation, I took a job at the Pawtucket Memorial Hospital for about five years before deciding to come into the community. I enjoy spending time with my clients, teaching them about their illness, medications and how to care for themselves, and helping them get back to wellness.
What's your favorite part of your role?
I get to spend time with my clients, help decrease whatever anxiety they may have about their current situation, give them a listening ear and teach and encourage them. The best part is knowing that you're a light in that person's darkest hours. I always want to leave someone better than the way I found them.
What impact has COVID-19 had on you as a nurse?
It has affected the personal touch in home care. I prayed the psalm 23, verse 4 each day: "Yea though I walk through the valley of the shadow of death, I will fear no evil: for thou art with me; Thy rod and Thy staff they comfort me." I went out and made people feel loved and cared for as always. I had to go back to the infection control training I received in the hospitals to assist and train my fellow colleagues. We had to (and still do) wear masks, face shields, gloves and gowns to protect our patients and ourselves. As a nurse, you are the first one on the scene and you don't always know what you're walking into. It can be scary, but we have to be courageous and have faith that God will protect us. Because we are serving others.