Excellence in Nursing Awards 2021
After the last year and a half, these dedicated caretakers earn their place in the spotlight.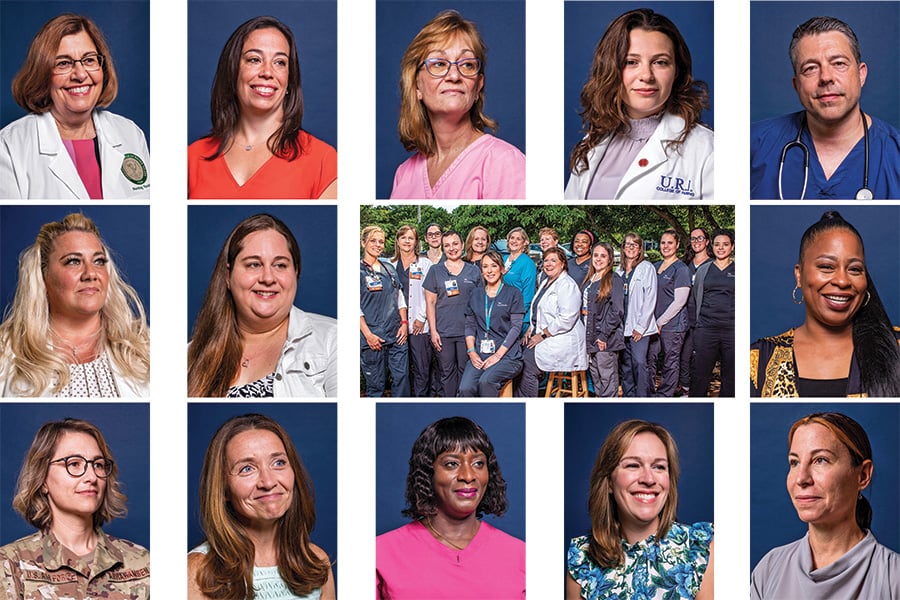 To nominate a nurse for the 2022 Excellence in Nursing Awards, click here.
In Rhode Island, our six degrees of separation are more like three, so chances are you know a local nurse.
Maybe they're your mother, brother, neighbor or friend. You've likely shared a laugh with a nurse while they distracted you from a blood draw, or welcomed a hug from one following some difficult news. In one way or another, nurses have touched all of our lives — but never more so than in the past year. In the following pages, we, in partnership with the Rhode Island State Nurses Association, proudly honor and highlight fourteen leading examples of courage, strength and care in this field — from home health nurses to nurse educators — and we'd also like to take a minute to recognize the efforts put in by all the state's nursing heroes. And who better to help us than Margaret Clifton, state director of the Rhode Island Board of Nurse Registration and Nursing Education?
For the last eighteen months, Rhode Island's nurses have worked countless hours in hospitals, field hospitals, long-term care facilities and other types of health care facilities to care for patients, families and colleagues affected by COVID-19. That was where people would expect to see nurses working.
What Rhode Islanders may not realize is that there were also nurses who worked behind the scenes on the COVID-19 Response Team at the Department of Health (RIDOH) to do case investigation, contact tracing, education for other providers and the public. They also provided clinical input on COVID-19 protocols, managed the department's clinical COVID-19 hotline and assisted with the planning and implementation of the statewide COVID-19 vaccination clinics.
Outside of the health department, nurses came out of retirement to assist in all aspects of the pandemic. RIDOH was able to issue temporary licenses to bring more nurses into the state to work in facilities that had staffing shortages. Nursing faculties changed their teaching practices from in-person to virtual classes and testing. They also increased the use of simulation practices when students could not enter health care facilities to care for patients.
Like many other front line health care workers and essential workforce members, nurses did all of this while simultaneously facing the day-to-day challenges that COVID-19 brought for all Rhode Islanders. On behalf of the Department of Health and the Rhode Island State Board of Nursing, I'd like to extend our collective thanks, gratitude and appreciation to all of the nurses who stepped up and answered the call to help respond to this pandemic. You all make us proud. – Margaret L. Clifton, MS, RN-BC, CLNC
Nominated by their colleagues, this year's honorees were selected for recognition by a panel of nursing professionals organized by the Rhode Island State Nurses Association. Interviews were conducted by Rhode Island Monthly and have been edited for length and clarity. Look out for extended interviews on RIMonthly.com.
---
Community/Public Health Nurse of the Year
Wendy A. Chicoine, RN, MSN PHNA
Associate Vice President of Clinical Operations and Education at Providence Community Health Centers
How did you get into nursing?
When my second child was born, I noticed there was something different about the alignment of her eyes. After consulting with a specialist, she was diagnosed with Duane syndrome, a congenital eye movement disorder characterized by horizontal eye movement limitations. When my husband and I got the diagnosis, I began researching. We were fortunate it was not life-threatening, but I wanted to understand how it would affect our daughter's life. In her case, surgery was an option, and we decided that it would be best. I remember how frightened and helpless I felt when she was brought to the operating room. I also remember how kind and supportive the staff were, especially the nurses. The surgery went well, and while sitting with my daughter at a follow-up appointment, I had an "ah-ha" moment. I realized what I was meant to do with my life. I wanted to care for others during their time of need, just as those nurses did for us. That afternoon, I told my husband I was quitting my job and enrolling in the nursing program.
What's your favorite part of your role?
My favorite part is being in the community. I began my career at Providence Community Health Centers as a clinic nurse, and during that time, I learned about community health centers and primary care. I had the opportunity to build relationships with our patients and understand their needs. In this setting of community health nursing, we get to care for individuals across the lifespan and often have the privilege of caring for the next generation. My role within the organization has evolved over the years. Yet no matter what I am working on, I remind myself to ask, "How will this improve the lives of our patients?" I genuinely feel we change lives and have the potential to change many more.
Tell us about your role in creating more COVID testing for South Providence neighborhoods.
In April 2020, Providence Community Health Centers implemented the state's first walk-up and drive-through COVID-19 testing site. As an organization, we recognized our patients and community were being disproportionately affected by the pandemic. We knew we needed a testing site that was not only accessible in location, but also accessible for those who did not have transportation. Developing testing within our organization would help maintain continuity of care and give our patients the opportunity to speak with their own provider, get tested within their community and receive their results from the primary care team they trust. It was very much a team effort. My role included assisting with developing procedures for our registration tent, specimen collection and handling, infection control practices and identifying patient education. During the implementation phase, I spent weeks with my education team providing on-site training at the testing tent. I also supported daily operations and assisted our providers inside the tent when our testing volume increased. I was willing to do everything I could for our patients and staff to feel safe and supported during a time when there was so much uncertainty.
---
Nursing Team of the Year
Hope Health Hulitar Hospice Center
*Interview with clinical director, Virginia Magnan, RN
What do you think makes for a successful nursing team?
First and foremost, we all must have the same goal. We all must head in the same direction. We are here to serve those who are seriously ill and dying and to make sure that they are as comfortable and in as dignified surroundings as possible. All of us who work here realize we have a purpose that is larger than ourselves. We want to treat everyone not only as we would want to be treated, but also as we would want our family members to be treated. Every single piece of that puzzle — nurses, chaplains, social workers, physicians, aides, grief counselors and administrative assistants — is present and we're able to work together to provide what the patient and family wants. As the clinical director, my goal is to have ten-minute huddles every day with the team. We talk about levels of care and about any social or psychosocial issues that patients and families might be having. For instance, you might have a family that is hesitant about morphine so there's a lot of education surrounding that. We explain why morphine is needed and how it's administered, and that it does not hasten or cause death.
Tell us about some of the challenges your team faced as a result of the pandemic.
Uncertainty and fear were the biggest challenges we had to overcome. All we knew was that the virus was highly contagious, there was a global shortage of PPE and that we needed to care for COVID-19 patients because it's our mission. If we can't take care of patients who are dying, then who will? Our first COVID-19 patient arrived on April 3 — I still remember his name. The anticipation was so heavy. When he came through, we were all preparing ourselves: What is this going to be like? How is this going to affect the building, the staff, everything? And then, you see him come through and you think, "Oh, this man is dying. Like all our patients, he deserves dignity at end of life." Once I saw him, I said, "We can do this." We reserved eight rooms on the third floor for COVID patients. It was good for staff to see these patients and talk with them. The families were, in many cases, much more scared and were so grateful to be able to see their loved ones at the Hulitar Hospice Center, especially because they weren't able to see them in other settings like the hospital. Since the beginning of the pandemic, we followed CDC guidelines, limiting the number of visitors and putting screening measures in place to ensure the safety of our patients, families and staff. There was this need for connection and this desire for families to be together at the worst time in their lives. We were the only people who were able to provide that.
What are you most proud of when it comes to your team?
Our total staff numbers eighty to eighty-five, including physicians, nurses, hospice aides, social workers, chaplains, grief counselors and administrative assistants. I'm most proud of their ability to consistently come together to do this sacred work. They show up every single day, and it takes a lot of skill and a lot of heart. We try to ensure that we create as much comfort and joy as possible within what is perceived to be a very sad framework. Just because someone is not going to recover, it doesn't mean there can't be hope. There can be hope for comfort.