Excellence in Nursing Awards 2021
After the last year and a half, these dedicated caretakers earn their place in the spotlight.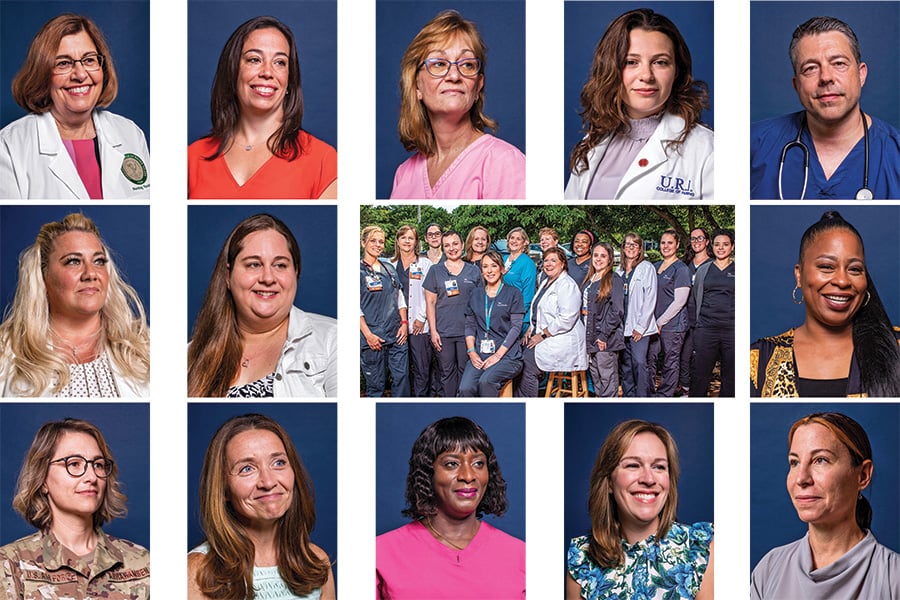 Senior Student Nurse of the Year
Emily Louzon
Student nurse at URI School of Nursing—Class of '21
Affiliations: Certified Nursing Assistant at Clipper Nursing Home; Westerly Hospital Emergency Department; Charlestown Ambulance Rescue Service (EMS – License EMT-B)
What made you want to go into nursing?
I have known I wanted a career in medicine since I was a little girl, but I didn't become interested in nursing until around age fourteen. I researched job options and I liked the fact that with nursing I would not need to specialize. I have been a Certified Nursing Assistant in a nursing home for more than six years and I truly love working with every resident that comes through the doors, whether it be for rehab or long-term care. I enjoy my coworkers and being able to work together as a team to make sure all the residents' needs are met during our shift. However, I also enjoy working in fast-paced environments, and after being in EMS for six years and an EMT for three years, I believe I would love working as an emergency room nurse. Emergency medicine allows you to see diversity in the health care setting. During a shift in the ER, you can see many patients with different medical problems, such as diabetic emergencies or traumas.
What are you most looking forward to in your role as a nurse?
Being able to build a connection with patients. This will allow me to give each individual the best care that they deserve, including being an advocate and supporting them in making the right decisions for their health care. Also, I believe I will enjoy being able to meet different people with different cultures and getting to know them and their support systems.
How has COVID-19 affected your nursing education?
In March 2020, I went from going to school and clinicals in person to abruptly being placed in online lectures and clinicals. What was only supposed to be one week of online schooling led to an entire semester. At the same time, many students who were employed in some sort of health care facility were thrust into the frontlines of the pandemic, putting themselves and those they love at risk. Many of us also picked up full-time hours while continuing school full time. I worked three different jobs: the nursing home, the rescue and the hospital. I was wearing N95s for more than eight hours a day. I had acne breakouts and irritated skin from the overuse of cleaning supplies. Through the rescue, I became trained in how to COVID-swab individuals, and we set up weekly testing for our town employees. All while trying to acclimate to the difference that online schooling created.
What advice would you give to an aspiring nurse?
Do not be afraid to ask questions. Be confident and learn from all your experiences, both lecture and clinical. Focus on creating good studying habits, and if you need to, make a study group or go to a tutor. Also, don't worry about how long school may take you. If you do not graduate in four years, that is okay. The degree will be there, and the job offers will still come.
---
Certified Registered Nurse Anesthetist of the Year
David Dawson,
CDR, NC, USN-R, MSNA, CRNA
Certified Registered Nurse Anesthetist at Narragansett Bay Anesthesia and Kent Hospital
How did you get into nursing?
It started with a series of unfortunate events. During my senior year high school homecoming football game, I injured my shoulder on the opening kick. While being checked out on the sideline, the next play made its way to where I was standing and took my legs out from under me, leaving me with a broken collarbone and a leg fracture. During my recovery at home, a Navy recruiter called and asked me a question that I will never forget: "What do you plan on doing with the rest of your life?" So, you guessed it, I joined the Navy! I began my enlistment as a Hospital Corpsman with the Marines and later became a Nurse Corps Officer after using my GI bill to complete my nursing degree. As for choosing this specialty, I was inspired by a Navy mentor who was a CRNA and educator. She expressed that she thought this career path would be a great fit after the experiences I had both in the Navy and as a pediatric trauma nurse and TICU nurse.
Tell us about the hand you had in protecting Kent Hospital anesthesia staff during the pandemic.
In the beginning of the COVID outbreak here in the U.S., there were still a lot of unknowns. Health care providers were reaching out to each other to find out best practices both locally and overseas. PPE shortages were a main concern, and it was apparent that we needed to focus on the conservation of masks, particularly N95s. During this fearful time, I felt compelled to find alternative means to keep myself and co-workers safe. I was inspired by the Italian health care workers who constructed PPE out of snorkel masks and decided to build one that could work for us not only locally, but for shipmates who were being deployed for COVID response. The masks were used by peers working out of state, and fortunately for us, our supply of N95s, CAPR and PAPRs were replenished. Despite not needing to be used at a high demand, it offered a sense of protection for those who were at risk every day. The full scuba masks were easy to clean, offered complete facial coverage and helped ease the stress of not having available PPE during an uncertain time.
What do you wish more people knew about your role?
We can administer anesthesia in every anesthesia setting. CRNAs have a long history as wartime anesthesia providers, dating back more than 150 years. In the military, nurses first provided anesthesia during the American Civil War, and during World War I, nurse anesthetists became the primary providers to care for wounded soldiers on the front lines. Throughout every branch of the military, CRNAs have full practice autonomy, and we provide anesthesia care to U.S. military personnel on the front lines, aboard naval ships and within military hospitals nationally and abroad.