Excellence in Nursing Awards 2021
After the last year and a half, these dedicated caretakers earn their place in the spotlight.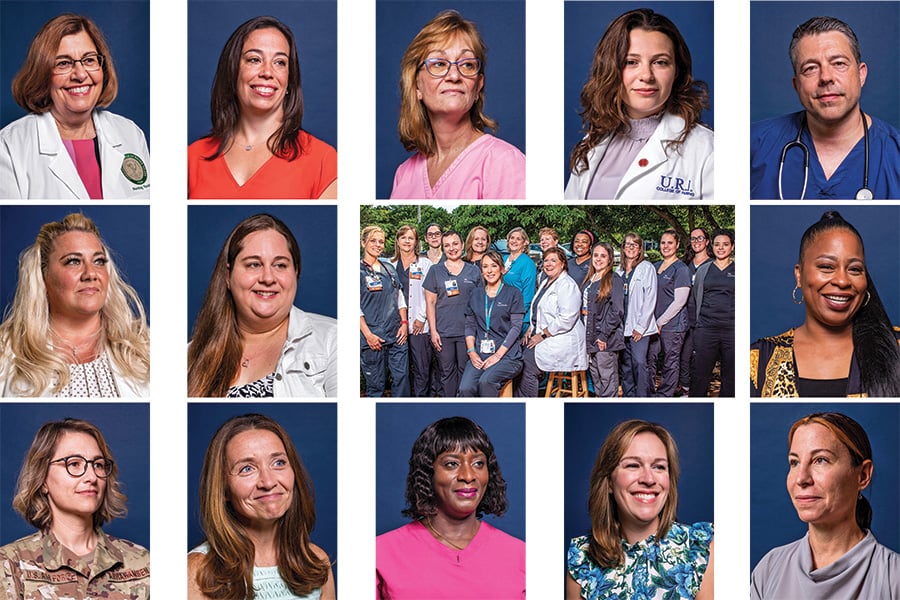 Nurse Executive of the Year
Dana Palka, MSN, RN, CPHQ
Director of Clinical Operations for Adult Ambulatory Services at Rhode Island Hospital
How did you get into nursing?
My dream as a young girl was to be a Harlem Globetrotter — I can still spin a basketball on one finger! Nursing never crossed my mind until it was suggested by one of my college professors. The details as to how I finally landed on nursing are a blur, but what is not a blur is when nursing became more than a job. My nephew, Nate, was born in December 1995, with an undiagnosed congenital heart defect. A week later, he was rushed through the emergency department doors in cardiac arrest and my sister and I were told it was unlikely he would make it through the night. No forever goodbyes were said that night, nor ever, but he did return to the hospital around his first birthday for open heart surgery. During this time, my sister approached me with the idea that I become a pediatric ICU nurse. Until then, I had only worked with adult patients. When I explained my concerns of not having any pediatric experience, I was quickly hushed with, "Dana, this is not optional. I am going to bring my sick son home and I can't do this without you." A few weeks later, I started Pediatric ICU orientation at University of Maryland Medical Center.
What's your favorite part of your current role?
I oversee six outpatient centers with more than twenty different specialties/subspecialties affiliated with the hospital, including primary care, endocrinology, urology, orthopedics, GI, pulmonary, surgery, burn, ENT, the Sleep Lab, phototherapy treatment and dental. Building and fostering high functioning, diverse, compassionate and resilient teams is my favorite part. As Nate has grown, I have grown as a nurse and as a leader with a clear sense of purpose. I actively seek opportunities where I can positively affect the lives of our patients, employees and community.
Tell us about your work with adult ambulatory services in Rhode Island.
Health outcomes should not be dependent upon the zip code we are born in nor on the color of our skin. Sadly, that is not the case for so many, and it is unacceptable. Over the last several years, Rhode Island Hospital (RIH) Adult Ambulatory Services has partnered with many Lifespan departments, Brown Medicine and Brown Emergency Medicine to develop, support or initiate a number of programs to address societal disparities and inherent justice system inequities. One of the ambulatory care sites I oversee is the RIH Center for Primary Care in Providence. It includes two subspecialty clinics: the Transitions Clinic, which provides primary care for patients released from incarceration who have multiple chronic conditions, and the Recovery Clinic, which treats patients who are recovering from opioid use or addiction. Both clinics use Community Health Workers (CHWs) and Peer Recovery Specialists (PRSs) — frontline professionals who are representative of the patient population they serve — to assist vulnerable patients in improving their health by ensuring they have access to comprehensive care. They also act as a bridge between the hospital and the community by connecting the patients to social supports and health education and helping coordinate their overall care. My role has been to develop and support these programs operationally and to advocate for their sustainability. Why? As my sister would say, "It's not optional." It is the right thing to do.
---
Nurse of the Year in a Non-Traditional Setting
Erin Abrahamsen, MS, RN
Lieutenant Colonel in the Rhode Island National Guard – 143d Medical Group; served as a Clinical Lead on the Congregate Setting Support Team in support of the state's COVID-19 response
How did you get into nursing?
When I was young, I knew that I wanted an exciting and challenging job that would allow me to help people. Nursing seemed like it could be that way. I was right!
What's the most rewarding part of your role?
Being able to accompany patients or staff on some of the best or worst days of their life and trying to support them through it. Nurses have rare access into people's lives when they are most vulnerable. This has been especially true with my time in the military. I've cared for several people experiencing their worst days far from home. The kindness and care you give feels especially meaningful and deeply appreciated.
Tell us about your time as a nurse planner on the Health care Surge Planning team.
The field hospitals were built with the ability to treat many patients during the first wave of the pandemic when a large surge of patients was predicted. As a nurse on the team, I paid attention to planning care for the patients in such a large and unique setting. How far would patients be able to walk to the bathroom? Did we have enough wheelchairs, portable oxygen and bedside commodes? The field hospitals were used later on for inpatient care and were also a site where community members received Monoclonal Antibody Treatment. They helped provide enough beds in the state to care for the increased numbers of sick Rhode Islanders during the pandemic. It has been challenging and grueling at times, but I've been inspired every day to see the tireless efforts of my fellow health care workers.